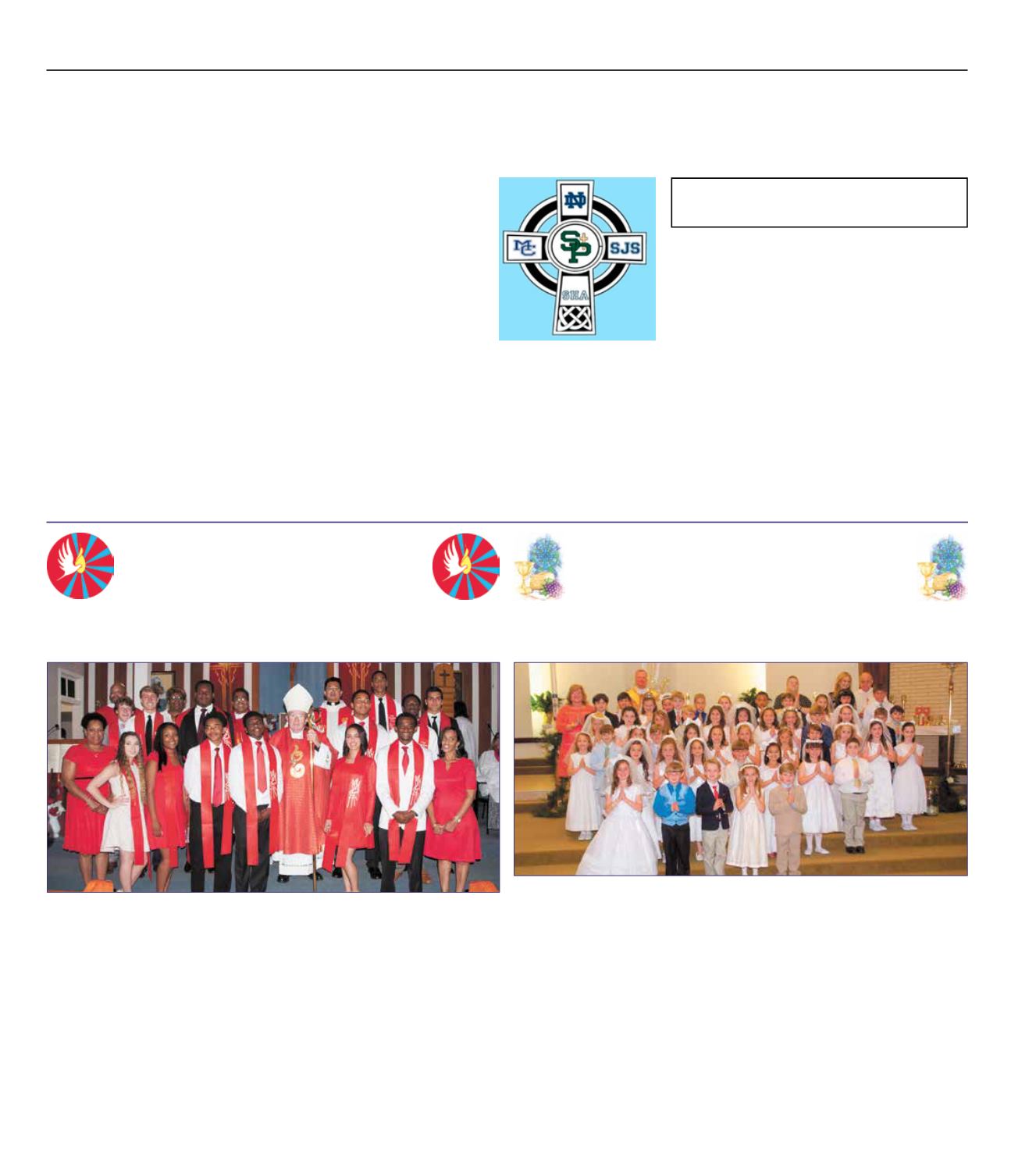 Gulf Pine Catholic
•
July 1, 2016
9
Confirmation 2016
Bishop Roger Morin confirmed young people from Our Mother of Mercy
Parish in Pass Christian and St. Rose de Lima Parish in Bay St. Louis onMay
17 at Our Mother of Mercy Church. Our Mother of Mercy pastor Father
Michael Vu and St. Rose pastor Father Augustinus Seran concelebrated the
Mass. Deacon Gerald Norris, of St. Therese of Lisieux Parish in Gulfport,
assisted Bishop Morin. Confirmandi from St. Rose de Lima were Brianna
Authement, Dorwin Bowman, III; Ian Dedeaux, Conner Kurka, Seth
Taylor and Dillion Whavers. Joan Thomas is the DRE. Confirmandi from
Our Mother of Mercy were Regina Charlot-Instructor, Pamela Davillier-
Instructor, Justin Brown, Alexander Charlot, Cassidy Davillier, Rashad
Irving, Makia Johnson, Volme Swanier, Jr.; Landon Wimberley. Anna Mae
Swanier is the DRE.
Our Mother of Mercy Parish, Pass Christian
St. Rose de Lima Parish, Bay St. Louis
The St. James Parish First Communion Mass took place on Sunday, April 10.
The children receiving Communion were: LydiaAlexander, Leah MarieAlvarez,
Peter Matre Barhono, Lillieann Bentz, Joelly Blackledge, Karoline Burroughs,
David Lee Callecod, Carter Carriere, Parker Centanni, Sofie Centanni, Olivia
Colbet, Lydia Dennis, John Dreger, Georgia Emmer, Hayden Guild, Olivia
Jones, Isabella Jordan, Carli Khalifeh, Maiken Killebrew, Sarah Kish, Addison
Ladner, Megan Laville, Kaitlyn Le, LaLa Lee, Sarah Matthews, Lucy McHugh,
Cameron Messer, Tripp Mullen, Mason Owens, Crosby Parker, Ty Palazzo,
Mary Powers, Alaina Romero, Austin Romero, Court Salloum, Ellie Schofield,
Preston Shaw, Logan Spain, Ayden Spear, Gigi Spence, Jadyn Spraberry, Chase
Spring, Charlie Stelling, Payton Taylor, Sam Tindell, Abbie Warburton, Mac
Ware, Amelia Weatherly, Carson Werner, and Haley Wilson.
St. James Parish, Gulfport
First Holy
Communion 2016
St. Patrick Alumni Association celebrates rich legacy of
Catholic education in Harrison County
BY TERRY DICKSON
BILOXI -- Organizers of the newly formed St.
Patrick Catholic High School Alumni Association have
not lost sight of the school's rich heritage.
That's why they're inviting graduates of four
defunct schools – St. John High School, Gulfport;
Mercy Cross High School, Biloxi; Sacred Heart High
School, Biloxi and Notre Dame High, Biloxi – to join
as honorary members or what are referred to as "legacy
In the aftermath of Hurricane Katrina, St. John and
Mercy Cross merged to form St. Patrick Catholic High
School, which opened its doors in 2007.
St. John alumnus Maureen Neumann and Mercy
Cross alumnus Marshall Eleuterius are hoping to attract
alumni from their respective schools, as well as Sacred
Heart School for Girls and Notre Dame School for
Boys to facilitate more meaningful lifelong relation-
ships within the global St. Patrick family.
The association's logo was created to include the
logos from each of these schools.
tions, all of our legacies
create a sense of community pride and some school
pride, as well as maybe to do some things to help the
Eleuterius said the ultimate aim is to give graduates
of St. John, Mercy Cross, Sacred Heart and Notre
Dame a sense of ownership in St. Patrick.
An interest group, comprised of graduates from
each of the schools, was formed in December to deter-
mine how members could be of assistance to St.
"We got a lot of traction, a lot of good ideas and so
we just started running with it,"
The group is registered with the Secretary of State's
office and has a board of directors, inclusive of repre-
sentatives from all the different schools, including the
legacy schools and the elementary feeder schools,
which include St. Alphonsus, Ocean Springs; Nativity
BVM, Biloxi; Our Lady of Fatima, Biloxi; Sacred
Heart, D'Iberville and St. James, Gulfport.
There will be a $25 annual membership fee to join
the association. Neumann chairs the membership com-
mittee. One of the events that are being planned is an
annual kickoff Mass/reception.
"We're looking for fun things like that to do to cre-
ate a stronger community and to get alumni up to our
school in order to create some school pride," Eleuterius
SEE SPAA, PAGE 11
For more information, visit