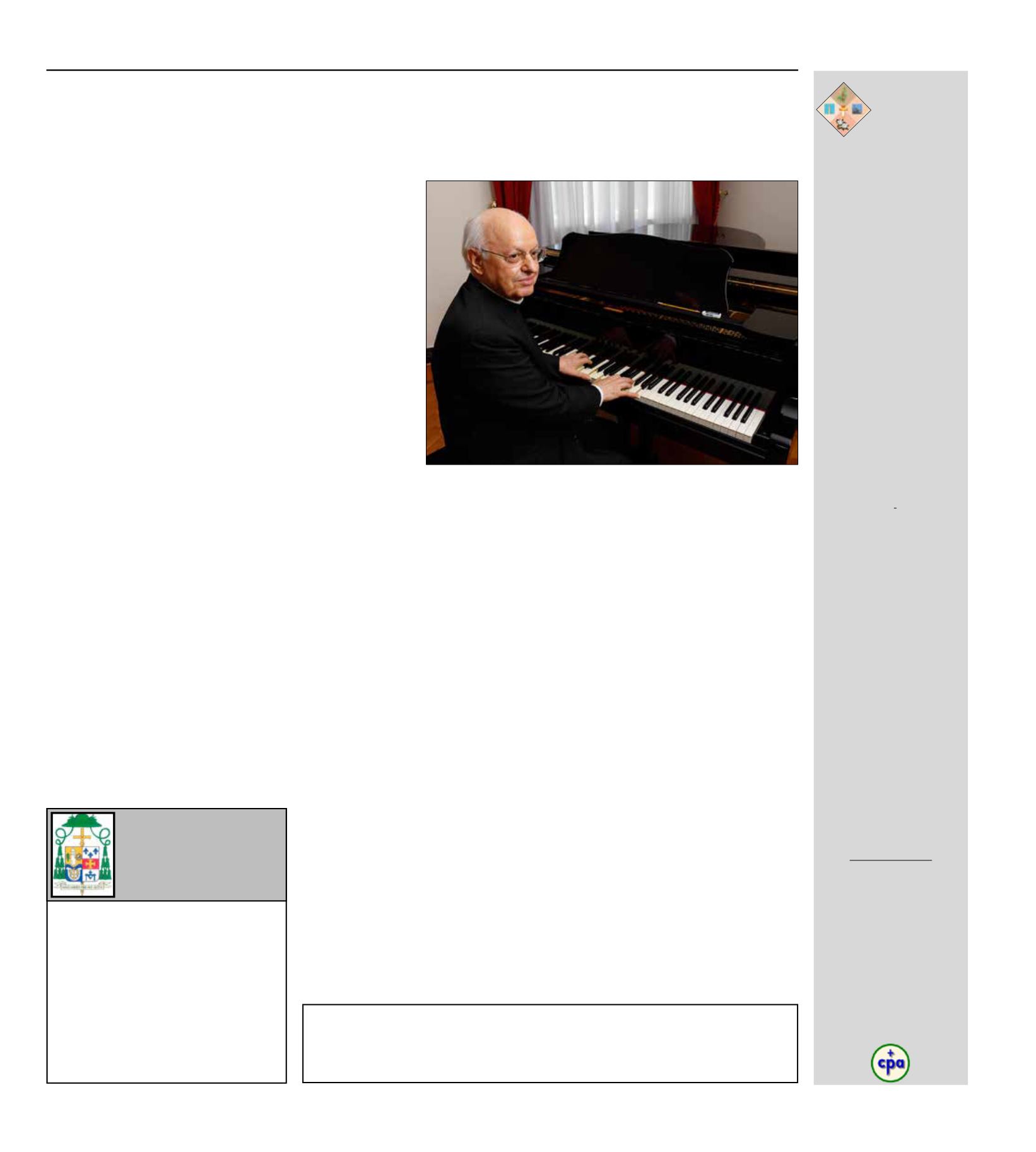 Gulf Pine Catholic
•
July 1, 2016
3
Bishop Morin's
Calendar
Gulf
Pine
Catholic
(ISSN No. 0746-3804)
July 1, 2016
Volume 33, Issue 22
published every other week, is an
the Catholic Diocese of Biloxi.
Editorial offices are located at
Periodical postage paid at
—POSTMASTER—
—PUBLISHER—
—EDITOR—
—PRODUCTION/
ADVERTISING —
—CIRCULATION—
—OFFICEHOURS—
—PHONENUMBERS—
Circulation: 228-702-2127
—EMAIL—
News:
Production / Advertising:
Circulation:
—OFFICEAND
MAILINGADDRESS—
—WEBSITE—
—SUBSCRIPTIONS—
Subscription rate is $18.00 per
year. When changing address,
renewing or inquiring about a
subscription, customer should
include a recent address label with
old address and new address. Allow
three weeks for changes of address.
—DEADLINESfor
JULY15EDITION—
News copy and photos:
Advertising:
ad copy due JULY 7, 10 am
July 9 Mass, Knights of Columbus
State Officer Installation,
St. Michael Parish, Biloxi, 4
pm; Mass, 5 pm
July 10 Mass, Nativity BVM
Cathedral, 11 am
July 16 Mass, Installation of Pastor,
Father Piotr Kmiecik, St.
Peter Parish Bassfield, 4 pm
Vocational support: Cardinal uses music as part
BY CINDYWOODEN
Catholic News Service
VATICAN CITY (CNS) -- Cardinal Lo-
renzo Baldisseri's priesthood always has had
a musical soundtrack. In fact, he bought a
piano while living in Haiti and shipped it to
his new posts first in Paraguay, then India,
Brazil and on to his Vatican apartment.
The well-traveled piano is still in his
apartment. Another medium grand Yamaha
sits in a large reception room next to the
chapel in the Vatican offices of the Synod of
Bishops, where the Italian cardinal serves as
In an interview June 15, not long after
the Italian release of his third CD, Cardinal
Baldisseri said he began playing the piano at
the age of 10. Sixty-five years later, he still
tries to play at least two hours a day, "maybe
three." Although when the Synod of Bishops
is in session, that's obviously impossible.
Born in Barga, a town in Tuscany, he en-
tered the minor seminary in nearby Pisa at
the age of 12. He said he was convinced even
then that he was called to priesthood.
Before his voice broke at the age of 14,
he said, he was in great demand as a singer in
the choir. After that, he focused on the black
The superiors of the seminary, he said,
understood "my vocation not only for the
priesthood, but for music at the same time."
His formal music training continued
throughout his years in the seminary and,
after priestly ordination in 1963, his bishop
sent him to the conservatory in Lucca, the
birthplace of Giacomo Puccini. His next stop
was the Pontifical Academy of Sacred Mu-
sic in Rome, where he earned a bachelor's
Cardinal Lorenzo Baldisseri, general secretary of the Synod
of Bishops, plays the piano in his office at the Vatican June 15.
Cardinal Baldisseri, who just released his third CD, said playing
the piano helps his priestly vocation to reach others with the
Gospel.
can diplomats are trained. Graduate studies
in canon law and theology followed, then a
string of assignments at Vatican nunciatures
But the foreign postings -- representing
the Vatican to the local church and the na-
tional government -- gave him an opportu-
nity to meet "many important pianists and
musicians" from Zimbabwe to Paraguay. He
studied with Joao Carlos Martins, the pianist
and conductor, in Brazil and was honored to
play with the maestro's orchestra.
Cardinal Baldisseri spent decades play-
ing at receptions hosted by the Vatican dip-
lomats. In Haiti, when there often was no
electricity and little to offer guests, he said
he could always treat people to a concert.
His music helped him communicate with
people in Japan long before he picked up the
basics of Japanese and always has been a
way to connect with young people, he said.
Some priests, he said, make those
connections with young people through
sports. "My talent was music."
"As a priest, I have the vocation to live,
to testify and to preach the Gospel," he said.
Priestly ministry comes first, the cardinal
said, but the musical talent God gave him
also helps him approach people.
"I start with music and then we continue
to the faith," the cardinal said. "We establish
very good relations, then I bring my experi-
ence not only as a musician but as a man of
"Music is prayer," he said, especially
classical music. Although when he is prac-
ticing for a concert, the cardinal said that is
pretty much just plain work.
"All artists are open to transcendence,"
he said. They take materials or sounds and
transform them into something beautiful,
which reflects the beauty of God. "It's very
close to the faith, very close to God."
Shortly after Easter, Cardinal Baldisseri
celebrated Mass for inmates at Rome's Re-
gina Coeli prison. Afterward, he played for
them, mixing a repertoire he thought they
would enjoy: the theme songs from the films
"Doctor Zhivago"
"Love Story,"
Neapolitan classics and, of course, his be-
"It was an exciting moment," he said.
Priesthood and music "always went to-
gether," the cardinal said. "It was an excel-
lent medium to evangelize, to share the Gos-
Pray for an increase of vocations to the priesthood, to the diaconate, and
to the religious life, especially in the Diocese of Biloxi