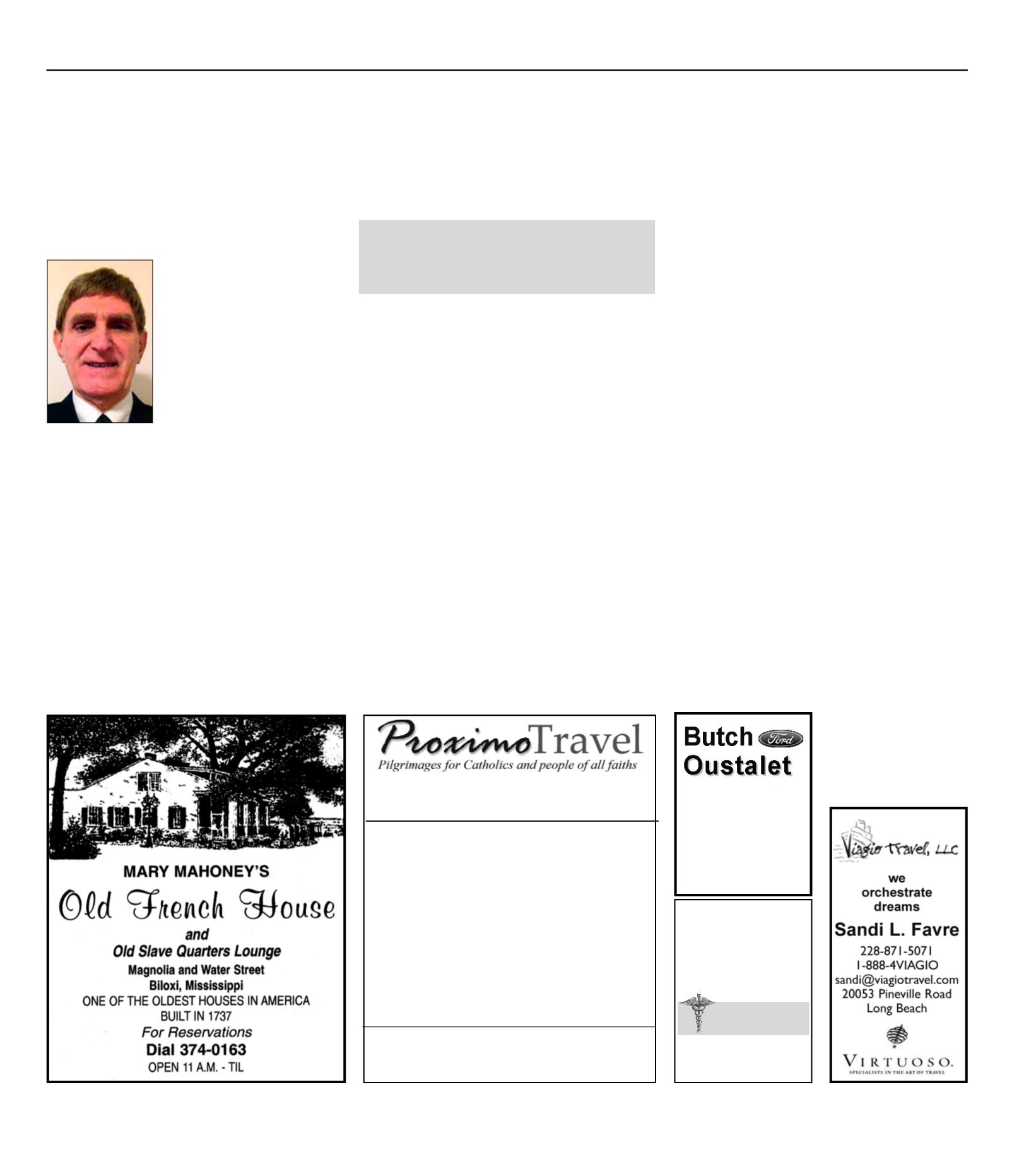 Gulf Pine Catholic
•
July 1, 2016
5
Walk-In Clinic is a primary
care medical facility offering
an affordable alternative...
Office Visits
$
60
00
1009 Byrd St. (at Hwy. 90)
MIDWAY FAMILY CARE
Walk-In Clinic
Prices starting at $2,499 ~ with airfare included
in this price from anywhere in the USA
Many trip destinations: the Holy Land; Italy;
France; Portugal; Spain; Poland; Medjugorje;
Lourdes; Fatima; Ireland; Scotland; England;
Austria; Germany; Switzerland; Turkey; Greece;
Budapest; Prague; Viking Cruises; Caribbean
Cruis-es; Our Lady of Guadalupe; Colombia;
Brazil; Argentina; Domestic Destinations; etc…
We also specialize in custom trips
for Bishops, Priests, and Deacons
(Hablamos Español)
855-842-8001
508-340-9370
9274 Hwy 49/Airport
Gulfport, MS 39503
228-863-5525
1-800-880-2446
FAX: 228-863-9612
For things really important I much prefer to speak
with people face to face or write a letter. But not every
bit of communication carries the same weight. So for
those lighter issues texting is my
One popular texting acronym
used in signatures is LOL (Laugh
Out Loud). And since laughter is
said to reduce stress I suppose it
is reasoned that laughing out loud
(LOL) is good medicine. But, is
it really? Most of us have at the
same time laughed on the outside
while crying on the inside because
we all have a public face and do
not usually wear our troubles on
our sleeve. While I see the value
of laughter there is a better way
to reduce stress and have God's
peace that is often illogical but reaches into our heart
and soul. For this we turn to the Scriptures where the
joy promised is lasting because it relies on the presence
Our first reading is from the last of three books that
make up the Book of Isaiah. The first book, Chapters
1-48, warns the people of Israel that their infidelities will
cause separation from God and put them in bondage.
Instead of relying on God to defend them in battle they
formed alliances with other nations. It was not God's
punishment but their poor choices that played into the
enemy's hand, caused their defeat, and resulted in a 70
year period of exile -- certainly no joy here. Chapters
49-55 introduces a note of hope with prophecies to the
exiles that God has not forgotten them, has heard their
cries of repentance and will restore them to himself.
The final Chapters 56-66 and especially today's
reading, speaks to the end of their exile and mourning
and introduces a period of joy and peace that include
promises of a new land and a return to communion with
God wants to defeat our enemies also; thoughts and
actions that lead us away from rather than toward Him.
Won't you allow him to fill your life with joy?
Our Psalm response, "Let all the earth cry out to
God with joy," is key to a heart full of thanksgiving
and praise and a spirit of worship overflowing with joy.
Here the Psalmist shares his joy at being rescued by God
and fulfills a vow to offer a sacrifice of thanksgiving.
His witness inspires the entire community to follow
suit. Imagine how contagious it would be if you and
I habitually, freely and publically acknowledged
God's goodness with praise and thankfulness and our
countenance reflected the joy of the Lord. Who will be
first with the courage to actually do it?
Boasting is usually inward focused. I accomplished
this. I performed that. I went on vacation here, there and
everywhere. I live in a very expensive house and drive
a very expensive car. In his letter to the Galatians, Paul
boasts of embracing the cross of Christ through which
he has been crucified. The diocese of Trenton (New
Jersey) where I was ordained published a monthly
newsletter for the deacon community titled, "In the
Footsteps of Stephen." Stephen was one of 7 deacons
chosen by the Apostles (Acts 6:5) and the first Christian
martyr (Acts 7:54ff). I always thought of Stephen as a
great model for modern Deacons. But how many of us
would follow in his footsteps and be stoned to death
because we preached the love of Christ? So what is
In today's Gospel, Jesus is preparing for his final
entry into Jerusalem where he will accomplish God's
plan of salvation through the cross. But first he must be
certain his disciples will continue the work he began.
In the preceding chapter (Luke 9) Jesus sent the twelve
and confirmed he will build His church on these chosen
Apostles. But today he expands the mission to seventy-
two, a larger number showing that all faithful have a
part in the work of salvation. Because they followed the
Lord's instructions on this mission journey the disciples
experienced true joy and lasting peace.
Here is the prescription:
Pray
(ask the master of the harvest to send
out laborers) Pray for vocations to the priesthood,
diaconate, religious life, lay evangelists and all with a
Go
(on your way) Do it without excuses, hesitation,
Expect resistance
(shake the dust from your feet).
Don't let resistance hinder your mission. Pray more
fervently and keep going.
Rely on the Lord
(Carry no money bag etc.) don't
let sin, fear and doubt encumber you.
Keep the mission a priority
on the way). Detours, if followed, will stifle progress.
Be a Peace Witness
the assurance God is with you
and it is His not your work that is being accomplished.
Make the message simple
here -- Jesus is alive, he cares and is real). You can only
believe and make the message your own if you have
walked with the author of the message.
Rejoice
(let your smile, joy and peace radiate so
it can be infectious). Your name is written in heaven
-- this is where God wants
you to be for eternity. Only
you can change the course.
SEE TORRELLI,
PAGE 6
1st Reading: Isaiah 66:10-14
Responsorial Psalm: Psalm 66:1-3, 4-5, 6-7, 16, 20
2nd Reading: Galatians 6:14-18
Gospel: Luke 10:1-12, 17-20
14th Sunday of Ordinary Time
Deacon Torrell
i
Sunday
Scripture
Commentaries