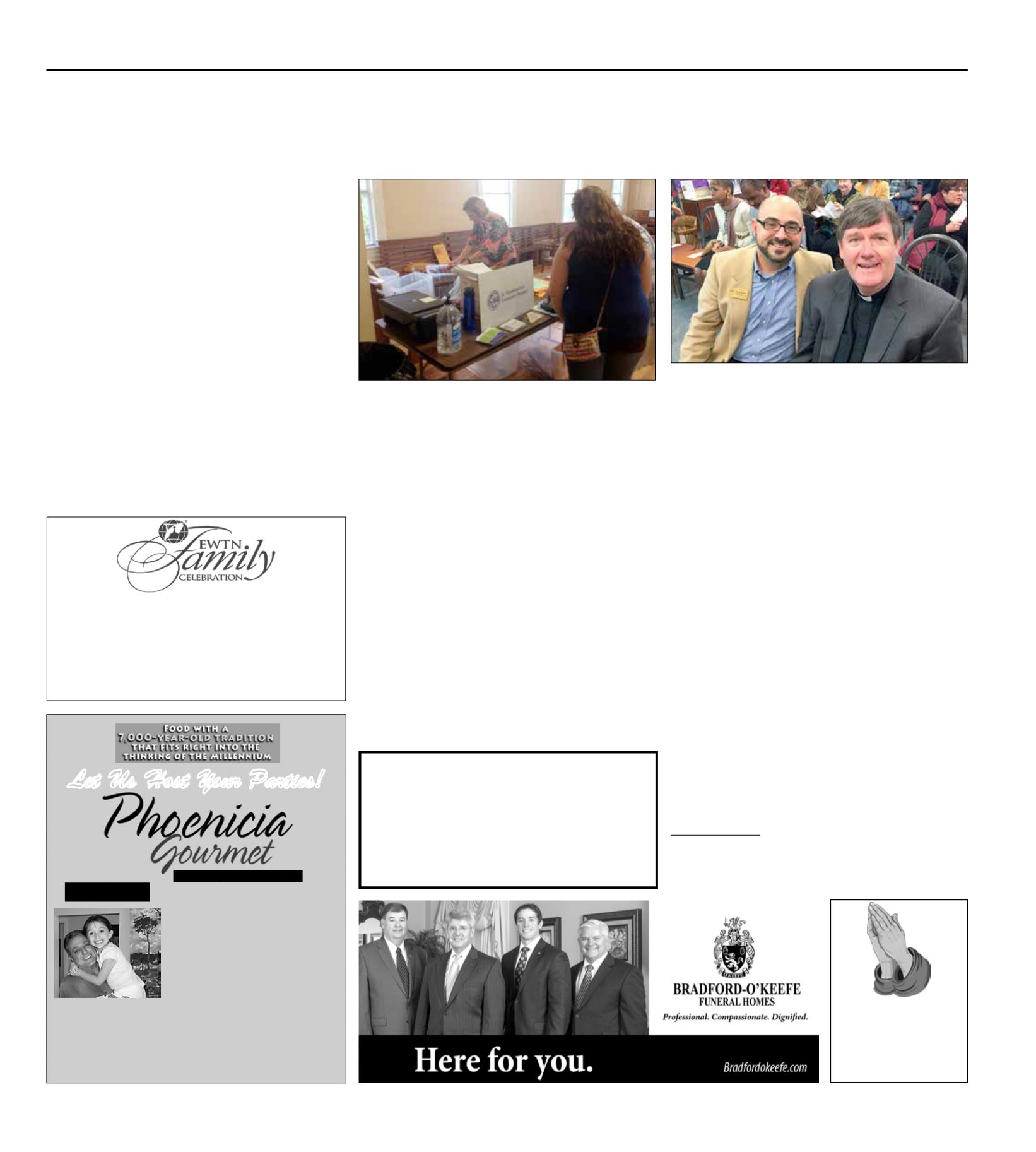 Gulf Pine Catholic
•
July 1, 2016
7
Let Us Host Your Parties!
Restaurant of the Year
AwardedbyOceanSpringsChamber
Chef & Owner Sam Sabagh
reminds you,
"Bring your favorite
bottle of wine to dinner!"
1223 Government Street, Ocean Springs
(228) 875-0603
GREEK & LEBANESE CUISINE
Breakfast Special
Monday through Friday
7 am - 10 am
or
one egg, two strips of bacon,
toast or three dollar-size
$
5.50
Religious Gift & Book Shop
NOTICE!
The Religious Gift & Book Shop
has moved to Ocean Springs, MS.
We are now located in Market Reneaux
on Government Street next to
Broome's Grocery Store.
HOME: (228) 267-0074
DAN & BEVERLYWILLIAMS
YOUR CATHOLIC CHRISTIAN RESOURCE CENTER
Spread the Word & Jump on the Bus
September 17th & 18th, 2016
Registration Deadline Aug. 1st
601.463.0491 or
for more information
In thanksgiving
to the Holy Spirit,
Blessed Mother and
St. Jude of prayers
answered. BAB
St. Vincent de Paul Community Pharmacy finds increasing
Clients check in to the St.Vincent dePaul Community
Pharmacy's Hattiesburg branch, which is located at
1919 Edwards Street.
SVDP Community Pharmacy Executive Director
Sam Burke and Father Tommy Conway, who saw
the need for the SVDP Community Pharmacy to
expand its services to Hattiesburg.
BY SAM BURKE
SVDP Executive Director
The St. Vincent de Paul Community Pharmacy has
been serving the Diocese of Biloxi since 1998 by pro-
viding prescription medication and wellness education
to those in need. Numbers served by the program which
is physically located in Biloxi continue to rise annually.
In fact, in just the last 5 years, the total prescriptions
filled each year has double from just over 10,000 in
2010 to 22,599 in 2015. One of the major contributors
of the growth has been the Pharmacy's willingness to
expand its geographic reach by opening satellite loca-
tions throughout the Diocese. In addition to the physi-
cal location in Biloxi, the Pharmacy also operates satel-
lite locations in Bay St. Louis, Moss Point, and now
The Hattiesburg location is the newest satellite loca-
tion, but is rapidly becoming the largest. The St.
Vincent de Paul Community Pharmacy has partnered
with a number of other agencies which recently opened
the Fellowship Health Clinic located at 1919 Edwards
Street. Fr. Tommy Conway (St. Fabian's) serves on the
steering committee which formed the clinic, and was
the person who introduced the pharmacy to the other
partners. Other key partners involved with the clinic
include: Edwards Street Fellowship Center, William
Carey School of Medicine, and USM Schools of
Nursing and Social Work. The clinic is providing health
and dental services to qualifying individuals, and the
SVDP Pharmacy is providing medicine to those indi-
viduals that can't afford to purchase it themselves.
Since opening the Hattiesburg Extension site a little
over a year ago, the pharmacy has filled over 1,100
This continued growth has created an immediate
need for additional volunteers to help screen clients and
fill meds. The pharmacy is constantly looking for indi-
viduals who are looking for an excellent way to help
serve those less fortunate in the community. We have
opportunities for screeners at all four of our locations.
Screeners are the frontline staff which engage prospec-
tive clients in a very intimate way. Screeners help deter-
mine eligibility by working through a thorough applica-
tion process. We also have a need for volunteers to
serve as pharmacy technicians to fill the actual medi-
cines. Our volunteer pharmacists will work closely
with the technicians to ensure that proper procedures
are followed ensuring efficiency and accuracy.
It is important to note that current pharmacy volun-
teers come from vast backgrounds and employment
histories. Work experience in the medical field is NOT
a must. Of course, the pharmacy is always looking for
prospective pharmacists licensed in the State of
The main pharmacy location is open for operations
Monday-Thursday, and is open to the public on Tuesday
and Thursday. The Hancock County Extension Site
meets the first Monday of each month, the Jackson
County Site meets the second and fourth Mondays of
each month, and the Hattiesburg location meets the
second Wednesday and third Friday of each month.
There are volunteer opportunities in every facet of the
For more information about the St. Vincent de Paul
Community Pharmacy you can go to their website at
There you will find eligibility require-
ments, volunteer applications, and general history of
the organization. You may also call the main office at