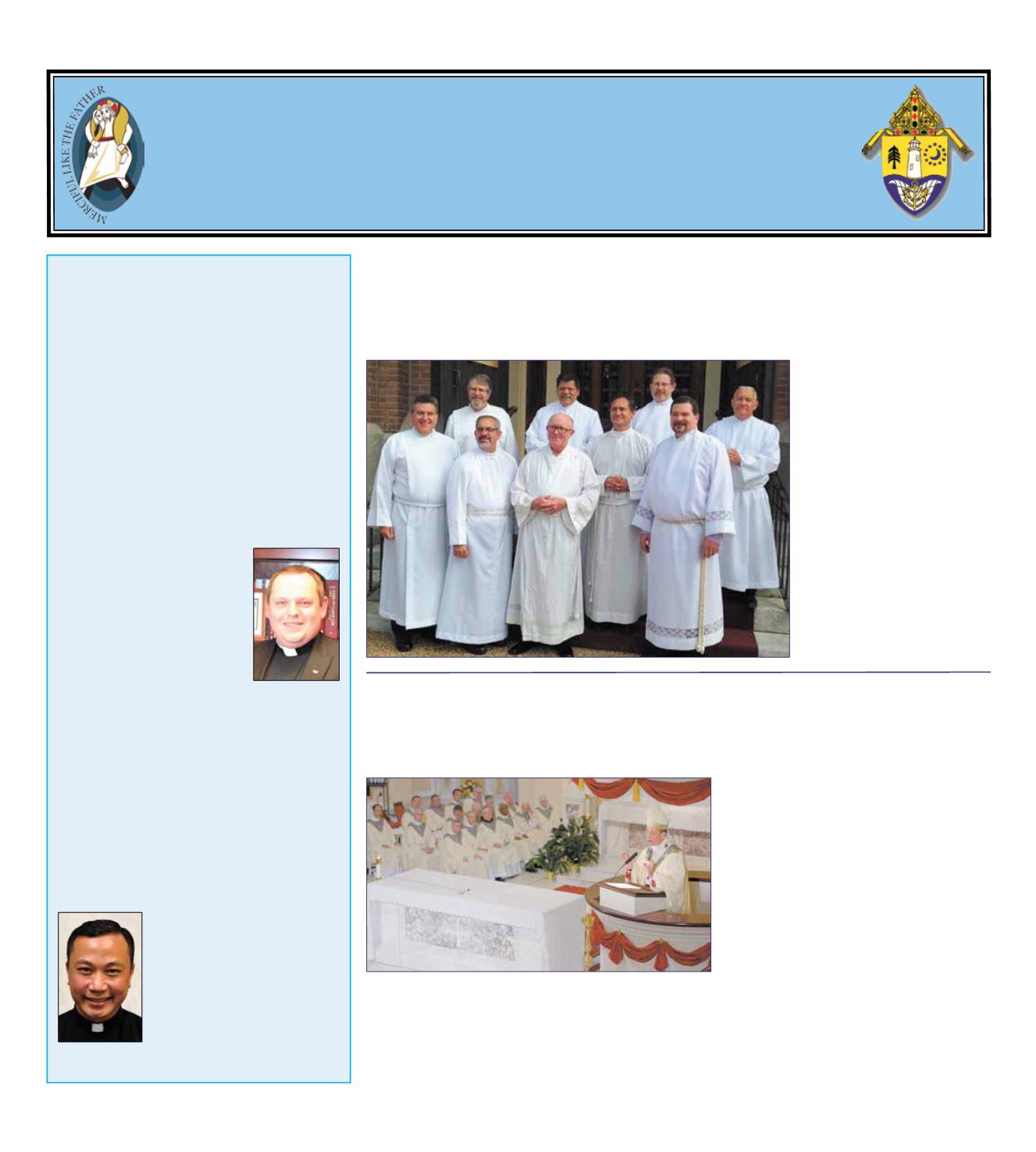 G
ulf
P
ine
C
atholic
VOLUME 33 / NUMBER 22
JULY 1, 2016
BY TERRY DICKSON
BILOXI -- Bishop Roger Morin has appointed
Father Adam Urbaniak Director of Vocations and
Father Dominic Pham Assistant Director of
The appointments have already gone into effect.
Father Adam succeeds Father Dennis Carver,
who has served as vocations director for the past 18
Father Adam, 30, is a native of
Gizalki, Poland. He is the young-
est of three children born to
Kazimierz and Bozena Urbaniak.
He graduated from Professional
High School, majoring in admin-
istration and economics in
Pleszew, Central Poland. He
received his Bachelor's Degree in
Philosophy from the Prime of
Gniezno. In 2010 he joined SS.
Cyril and Methodius Seminary in Orchard Lake,
South Michigan from which he received a degree of
He was ordained to the priesthood by Bishop
Morin on June 7, 2014. He has served as parochial
vicar of Nativity BVM Cathedral in Biloxi and Our
Lady of the Gulf Parish in Bay St. Louis. Later this
month, he will lead a group of young people to
Poland for World Youth Day and the opportunity to
On July 1, Father Adam became pastor of Holy
Spirit Parish in Vancleave and Christ the King
Dominic, 41, is the third of nine
children -- five boys and four girls.
He came to America in 1979 and
attended Biloxi public schools,
until high school, when he trans-
ferred to Immaculate Conception
Apostolic High School in New
SEE VOCATIONS, PAGE 12
Nine approved for candidacy to
permanent diaconate program
Bishop Roger Morin has
approved the recommendation
of the diaconate office and the
deacon board to advance the
formation class of nine men
from aspirancy to candidacy.
Pictured, front, l-r-, are Earl
Saucier, Tyrone Necaise, James
Balentine, Mardo Magana, and
Sean Fink. Back row: William
Stentz, Norm Cantrelle, John
Williams and Robert Wescovich.
The Rite of Candidacy will be
held on July 31 at Nativity of the
Blessed Virgin Mary Cathedral.
Saints' relics seen as reminder of
today's threats to religious liberty
Baltimore Archbishop William E. Lori offers a history of the
sacrifices made by Sts. Thomas More and John Fisher during
his June 21 homily at the Fortnight for Freedom opening
Mass at the Basilica of the National Shrine of the Assumption
of the Blessed Virgin Mary in Baltimore. The relics of the two
saints, on loan from Stonyhurst College in England, are on a
national tour.
CNS photo/Kevin J. Parks, Catholic Review
BY PAULMCMULLEN
Catholic News Service
BALTIMORE (CNS) -- BaltimoreArchbishop
William E. Lori linked urgent matters of "immi-
gration, marriage and the church's teaching on
sexuality" to a pair of 16th-century martyrs dur-
ing a June 21 Mass at the Basilica of the National
Shrine of the Assumption of the Blessed Virgin
Mary in Baltimore that began the fifth annual
The theme of this year's fortnight is
"Witnesses
to Freedom."
It features relics of St. Thomas
More and St. John Fisher, an English layman and
bishop, respectively, who were martyred in a
16-day span in 1535, when they refused to accept
Parliament's Act of Supremacy, which had
declared that King Henry VIII was head of the
SEE FORTNIGHT-OPENING-MASS, PG. 12
Father Adam
Urbaniak
Father Dominic
Pham