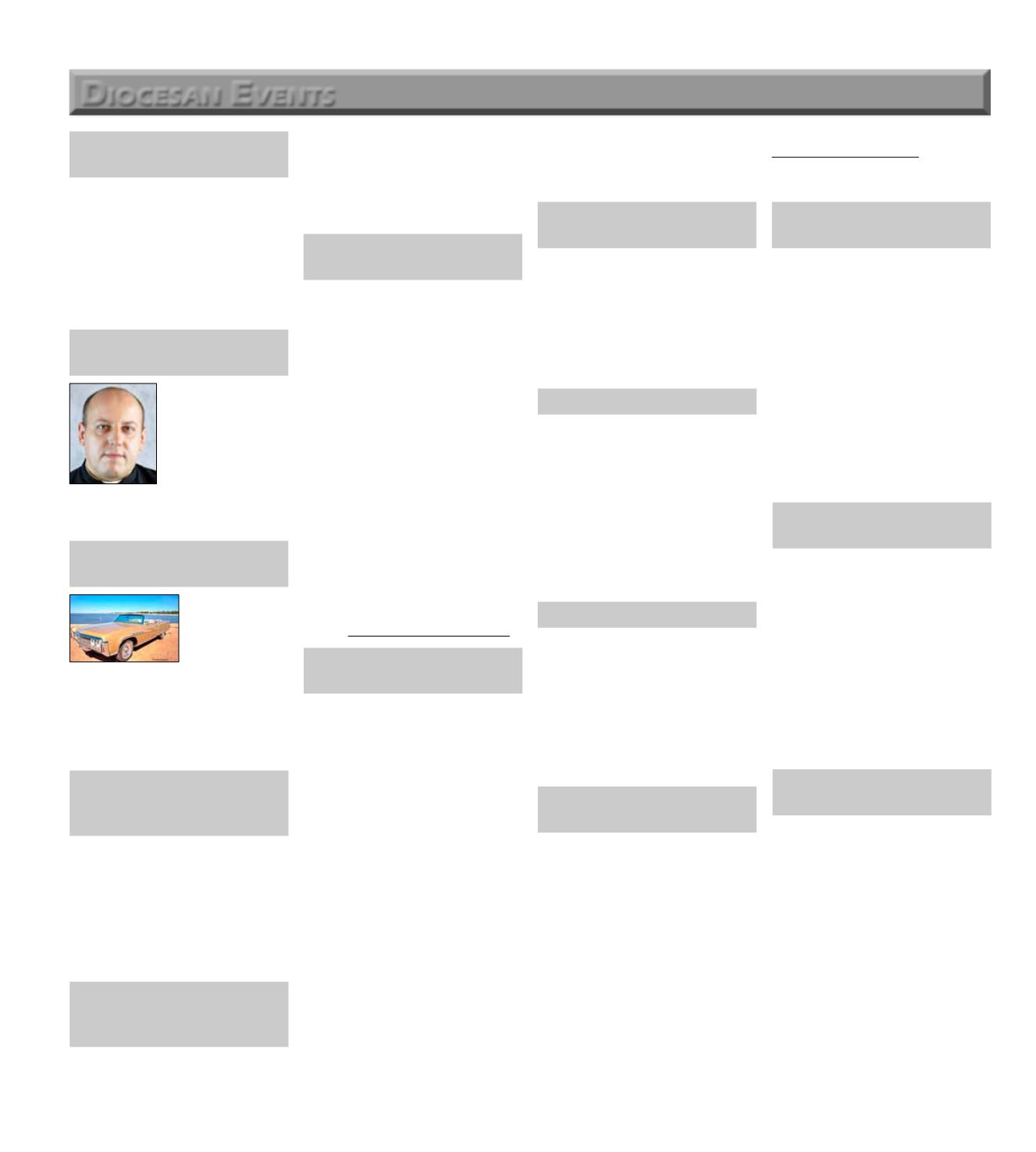 2
Gulf Pine Catholic
•
July 1, 2016
Benefit Dinner /
Silent Auction
GULFPORT -- Benefit Dinner/Si-
lent Auction for Katherine Lingenfelder:
She is discerning religious life and has
been accepted into a discernment home
in Wisconsin. During her time at the for-
mation home she will visit different reli-
gious communities, learn the rhythms of
religious life, take formation classes and
volunteer in the local diocese. There will
be a spaghetti benefit dinner and silent
auction to help offset her costs on Sat-
urday, July 9, from 6-8 pm at 733 34th
Street, Gulfport. Tickets are $10 for an
adult plate and $5 for a child plate. The
fundraiser is sponsored by the Knights of
Columbus Bishop Gunn Council 1583.
BILOXI -- Our Mother of Sorrows
will have Eucharistic Adoration on Mon-
day, July 11, at 6 pm. Eucharistic adora-
tion is a practice in the Catholic Church
in which the Blessed Sacrament is ex-
posed and adored by the faithful. Come
spend an hour with Jesus! For more in-
formation please call (228) 435-0007.
Eucharistic Adoration
Our Mother of
Sorrows Church
Our Mother of
Sorrows Church
$ 5,000 Drawdown
BILOXI -- Our Mother of Sorrows
Catholic Church will have a $5,000
Gentiva Hospice
Volunteers Needed
Gentiva Hospice, an affiliate of Kin-
dred at Home, is looking for volunteers
to provide support to patients and care-
givers. Volunteers can provide caregiver
relief, emotional support, etc. If you are
interested or you would like more infor-
mation, please contact: Ken Hembree,
Manager of Volunteer Services, at (228)
Installation of Father
Peter Kmiecik
pm Mass at St. Peter Church. A reception
will follow in the parish hall.
Fr. Peter
Cathedral Convertible
Raffle
vertible. Proceeds will be dedicated to
ongoing maintenance needs and to the
assistance of Nativity BVM School.
Tickets are $25 or five chances for $100.
For more information, call (228) 374-
Cathedral Wine
& Beer Tasting
BILOXI -- Nativity Parish will be
hosting its 4th annual Wine & Beer
Tasting on Saturday August 27, 5:30-8
pm in the Sacred Heart Center. In order
to make this a successful event we are
asking our parishioners to consider do-
nating an item to the silent auction. We
are looking for hand-crafted items, em-
broidery items, wood working, furniture
pieces, paintings, wreaths, food items,
service opportunities, etc. We are ask-
ing you to share your special talents in
our silent auction. We would need you to
put a dollar value on the item and a de-
scription for us to use. Please know that
we are looking for NEW items, however
antiques would be accepted and appreci-
ated. All items have to be turned into the
Rectory no later than August 20 in order
for us to have them ready for setup and
display. For questions please call the Ca-
thedral at (228) 374-1717 or email Linda
The Gospel According
to John
BILOXI -- Upon This Rock Scripture
Study (UTRSS) has begun registration
"The Gospel According to John"
Catholic Scripture Study International.
"The Catholic Encyclopedia"
John as the author of the Gospel of John.
It also states of the gospel, "For all time it
remains for the Church the most sublime
testimony of her faith in the Son of God,
the radiant lamp of truth for her doctrine,
the never-ceasing source of loving zeal
in her devotion to her Master, Who loves
The 28-session program commen-
tary is written by Scott Hahn and Mark
Shea, both well known Catholic writers
and speakers. The DVD program is pre-
sented by Father Patrick Winslow.
The program will begin Wednes-
day, September 7, and will meet each
Wednesday morning through April 12,
2017 from 9-11 am at St. Mary Parish
on Woolmarket Road in Biloxi. The fee
is $57 and includes the study set and a
DVD presentation. Payment by August
3 will ensure that you receive your ma-
terials on September 7. For more infor-
mation please call Sharon Jones at (228)
Holy Infant of Good
Health Triduum
CLERMONT HARBOR -- The Holy
Infant of Good Health Triduum will be
held at St. Ann Church, 5858 Lower Bay
Rd, July 13-15. On July 13, there will be
Adoration of the Blessed Sacrament at
5:30 pm followed by Rosary at 6 pm and
Mass at 6:30 pm. Masses on July 14 and
XLT Adoration
GULFPORT -- XLTAdoration is held
every Tuesday, at 7 pm at St. John the
Evangelist Church. Come enjoy some
one-on-one time with Jesus for an hour.
He wants to hear your troubles, your
needs, your joys, your prayers...come
and ADORE Him! If you've never been,
let this be your invitation. The evening
includes adoration with live worship mu-
sic. Confessions will be available. Ev-
Contact Katherine at (228) 354-8377 or
tickets or for more information. Tickets
can also be purchased at the door.
Financial Peace University
(FPU) Class
GULFPORT -- Having issues with
spending and saving? Do you wish you
gave more? Need help developing a bud-
get, or saving for retirement? Are you
tired of all the monthly debt payments?
Need to save for your kids' college?
Dave Ramsey's FPU class addresses
these concerns and much more. The class
will be offered at St. Joseph's Church
(Orange Grove) in Depew Hall on Mon-
day nights at 6:30 pm starting on July 11
and lasting 9 weeks. Cost is about $100
per family. Preview class is Monday
June 27 at 6:30 pm. Contact Ed Brennan
at (228) 234-7601 for details.
St. John the Evangelist
Parish Drawdown
GULFPORT -- The Annual Parish
Drawdown and Silent Auction is sched-
uled for Saturday, November 12, in Pre-
sentation Hall. The doors will open at 6
pm and the drawdown will start at 6:30
pm. There will be delicious food and
drink available for everyone. The tick-
ets are $100 and will admit four people.
Tickets are now available in the parish
office, located at 2414 17th St., which is
open Monday-Friday from 10 am-5 pm.
For more information, call (228) 864-
SEE DIOCESAN EVENTS, PAGE 6
St. James Movie Night
Risen
will be shown on July 8 at 6:30 pm in
the St. James Parish Center, 366 Cowan
Road. Admission is free and please bring
snacks if you like. Pontius Pilate, in or-
der to disprove the news of the Resur-
rection of Jesus Christ, assigns two of
his officers to thoroughly investigate the
rumors circulating in Jerusalem.
Bill Seal Charity
Golf Tournament
LONG BEACH -- The fifth annual
Bill Seal Memorial Charity Golf Tourna-
ment will be held at Windance Country
Club on Saturday, Aug. 20. The four per-
son scramble will kick off with lunch at
12 with a 1 pm tee time. $100 registra-
tion fee includes cart, food, beverages
and door prizes. Hole sponsorship and
corporate sponsorship are both available.
All funds are used to support schools in
the Biloxi Dioceses and Catholic educa-
tion by assisting parents who are dealing
with temporary financial struggles thus
upholding the ideals of giving to others.
Registration forms on FB: Bill Seal char-
ity golf tournament (228) 860-7556.
drawdown on Saturday, August 13, at the
Gruich Community Center in Biloxi.
Dinner begins at 6 pm and the Drawdown
begins at 6:30 pm. Tickets are $50 each
and admits 2 adults. For tickets, please
call the parish office at (228) 435-0007.