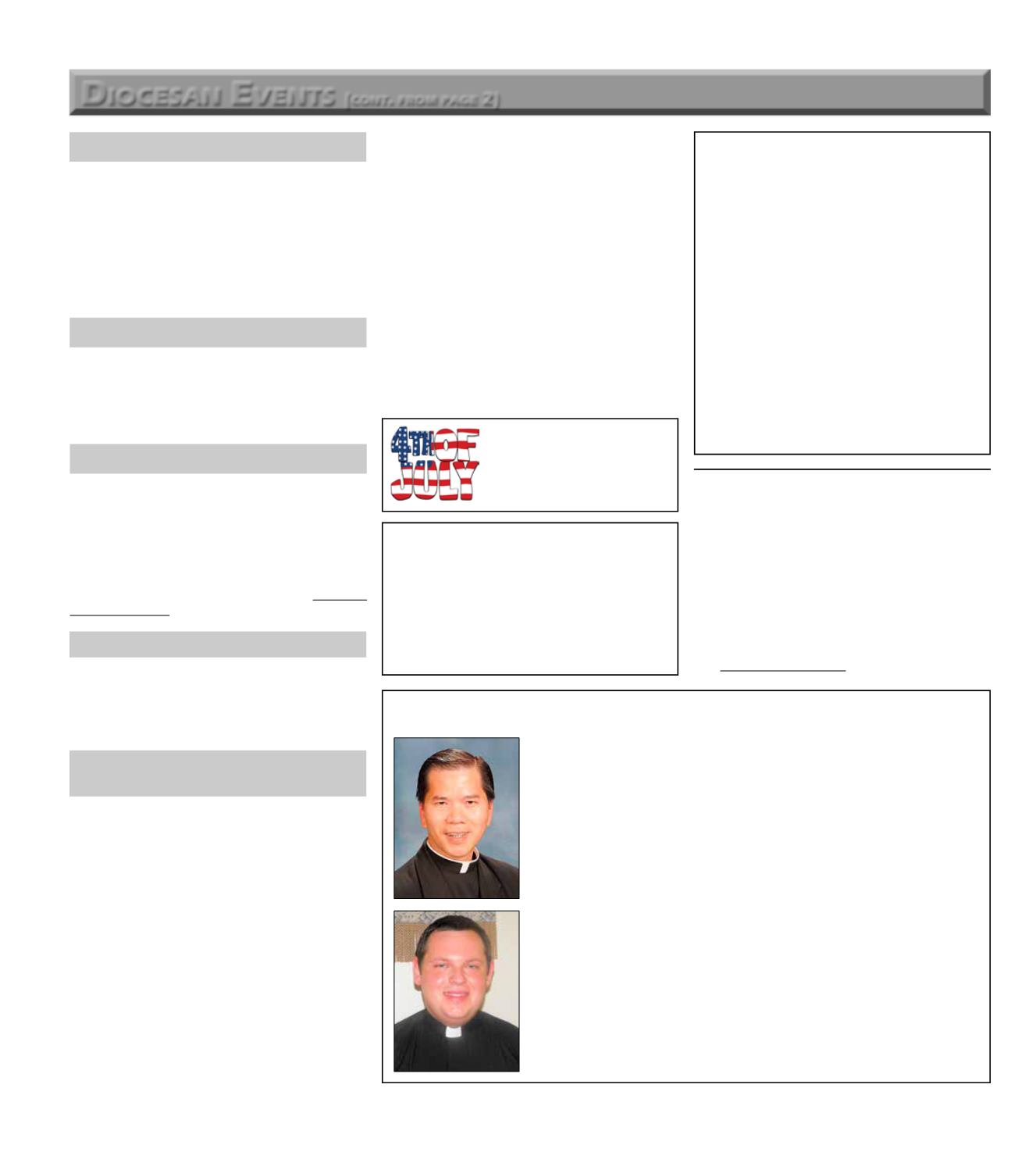 6
Gulf Pine Catholic
•
July 1, 2016
Rev. Thang Pham, appointed Pastor, Vietnamese
Martyrs Parish, Biloxi, effective July 1, 2016.
Rev. Adam Urbaniak, appointed Pastor, Holy Spirit
Parish, Vancleave, and Christ the King Mission,
Latimer, effective July 1, 2016.
Most Reverend Roger P. Morin, D.D.
Bishop of Biloxi
The Lord provides everything we need to break
our cycle of rebellion, infidelity, and sin; to return to
him, accept his call to mission, and experience lasting
and deep seated peace and joy. So what will it be, LOL
(laugh out loud) or PAJ (peace and joy)?
Deacon Ralph Torrelli lives in Hattiesburg and is
assigned to St. Thomas Aquinas Parish. Visit his web-
site:
.
Official Appointments
Class of 2016, Most Holy Trinity
Parish, Pass Christian
Marilyn Anna Shumway is an honor graduate
from Hancock High School and a member of Most
Holy Trinity Parish. She is also a Spirit Mover and
on the Search Team. Shumway's name was omitted
from the parish's list of graduates.
Sickle Cell Foundation Golf
Tournament at The Oaks
PASS CHRISTIAN -- The 3rd Annual Knights and
Ladies of Peter Claver Sickle Cell Foundation Golf
Tournament will be held at The Oaks Golf Course in
Pass Christian, on Saturday, July 9. The four-player
scramble format will begin with a shotgun start at 8 am.
Golfers of all levels are invited to participate. Prizes
will be awarded for first, second and third place. Ad-
ditional prizes will be awarded to the first hole-in-ones
made on designated par three holes.
The entry fee is $320 per team ($80 per person). In-
dividual players are welcome and will be assigned to
a team. Lunch and beverages will be provided to each
Individuals or businesses may support the Sickle
Cell Foundation Golf Tournament by purchasing tee
box signs ($100 per). Also, ball drop tickets may be
purchased from members of the organizations at a cost
Holy Family VBS
PASS CHRISTIAN -- Holy Family Parish will be
holding their VBS Monday, July 11-15 from 9 am-
ceive more info. Registration deadline is week of June
OLG 4th of July Crab Festival
BAY ST. LOUIS -- Our Lady of the Gulf Parish's
4th of July Crab Festival will take place July 1-3 on
the parish grounds, 228 South Beach Blvd. The festival
begins on Friday at 11:00 am (food service begins at
Noon) and continues until 10 pm on Sunday evening.
Friday 11-11, Saturday 11-11, Sunday 11-10. There are
various raffles, including a $15,000 drawdown and a
$1,000 raffle. There will also be plenty of good food
Father O'Connor to record new CD
BAY ST. LOUIS -- Father Michael O'Connor, pas-
tor of Our Lady of the Gulf Parish, will be recording his
second CD this summer, July 6, at 6:45 pm at Our Lady
of the Gulf Church, 228 South Beach Blvd., to experi-
ence, first hand, as he unravels the mystery of grace.
Bethel Free Health Clinic
BILOXI -- Bethel Free Health Clinic, located at
1650 Carrol Drive, is a free clinic that offers medical
care to those who do not have insurance or cannot af-
ford it. The clinic is open on Tuesday, Wednesday and
Thursday from 8:30 am to 11:30 am. Patients are seen
on a first come, first serve basis. Bethel is always look-
ing for medical professional volunteers. For more infor-
mation, call (228) 594-3640 or send email to bethelkat-
The Sickle Cell Foundation Golf Tournament is
jointly sponsored by The Knights of Peter Claver and
Ladies Auxiliaries Councils and Courts #6 and #26 (St.
Rose de Lima in Bay St. Louis and Our Mother of Mer-
The Knights of Peter Claver and the Ladies Auxil-
iaries are sponsoring this event because it is consistent
with their national organization's goals and because the
money raised will go directly to supporting families af-
fected by sickle cell disease in Mississippi.
Registration forms may be picked up from any
member of the Knights of Peter Claver and Ladies Aux-
iliary, or golfers may register at The Oaks website. For
more information, contact Joe Piernas, (228) 323-2372,
Melvin Cook, (228) 243-3205, or Maurice Singleton
Prayer for Protection
against Storms and
Hurricanes
Our Father in Heaven through
the intercession of Our Lady of
Prompt Succor, spare us during this
Hurricane season from all harm.
Protect us and our homes from all
disasters of nature. Our Lady of
Prompt Succor, hasten to help us.
We ask this through Christ our Lord.
Amen.
The Catholic Diocese of
Biloxi's Pastoral
Center will be closed Monday,
July 4, in observance of
Independence Day.