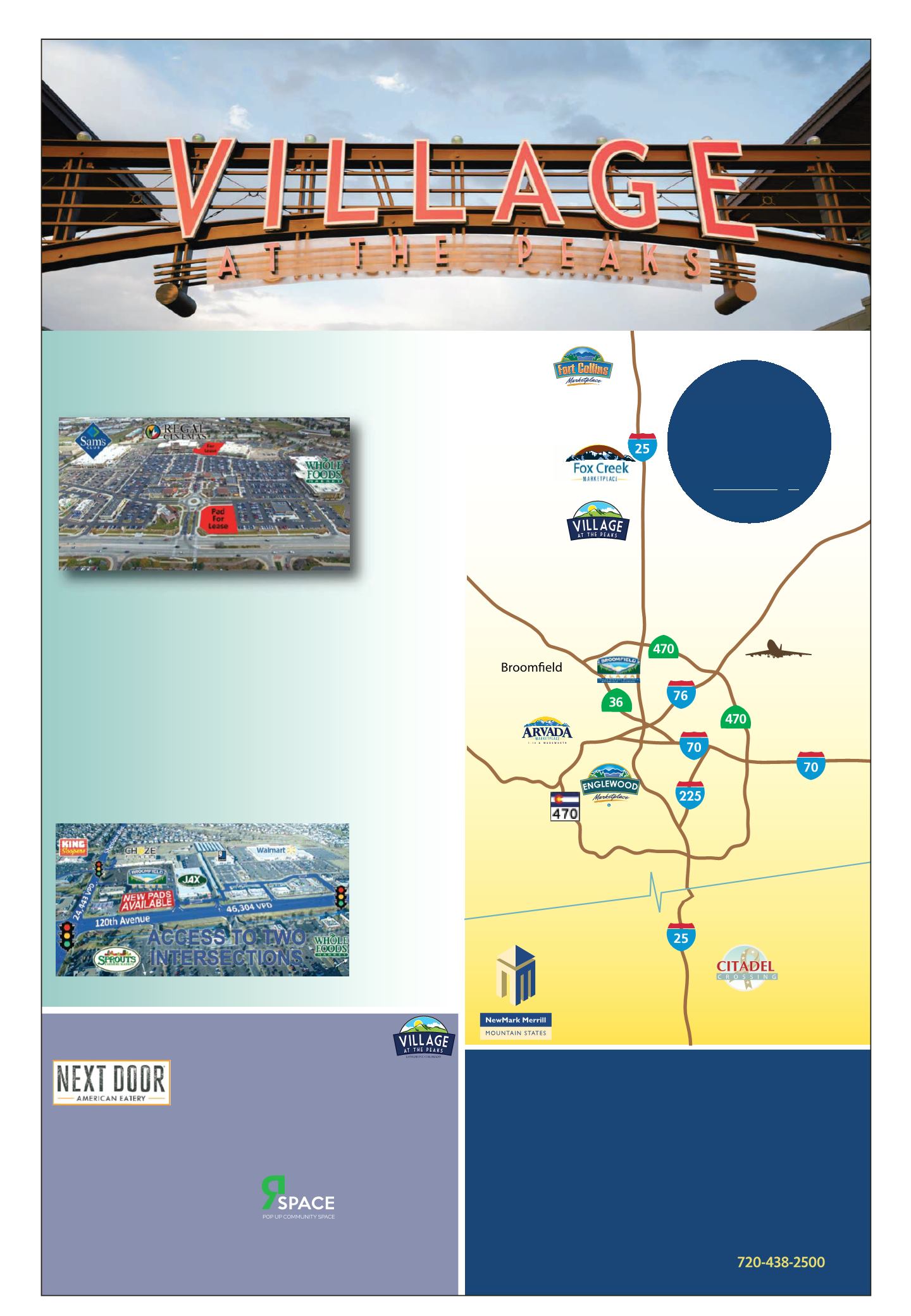 February 2018 — Retail Properties Quarterly —
Page 3
www.crej.com
ACTIVE ACQUISITION & DEVELOPMENT
NewMark Merrill is an opportunistic buyer specializing in neighborhood and
community shopping centers with a focus on properties with redevelopment
and rebranding potential.
THIRD-PARTY MANAGEMENT
NewMark Merrill Companies is a full service management and leasing company
with over 70 properties totaling more than 10M sf and a value of more than $1B
in 3 states. We have a selective approach in accepting properties to manage
allowing us to devote our complete team of retail professionals to ensuring the
implementation and achievement of very specific financial goals to maximize both
the short and long term cash flow and value of the property.
Arvada Marketplace
Arvada, CO
164,611 Sq. Feet
Broomfield Plaza
Broomfield, CO
105,064 Sq. Feet
Citadel Crossing
Colorado Springs, CO
470,000 Sq. Feet
Fort Collins Marketplace
Fort Collins, CO
79,071 Sq. Feet
Village at the Peaks
Longmont, CO
555,602 Sq. Feet
COLORADO PROPERTIES
Denver
Littleton
Aurora
Lafayette
Arvada
Fort Collins
Colorado Springs
Longmont
Boulder
Denver
International
Airport
NewMark Merrill
Mountain States
continues to experience
Fox Creek Marketplace
Longmont, CO
80,454 Sq. Feet
Boulder County's Newest Regional Destination
COMMUNITY BUILDING
NewMark Merrill understands that the enduring success of a development
is based on its community appeal and brand. In addition to its exceptional proprietary
operational, leasing and development platform, NewMark Merrill focuses on creating
experiences and "third places" that bring together municipalities, merchants and
community members in creating lasting neighborhood landmarks.
NewMark Merrill
Mountain States
continues to achieve
solid growth
throughout Colorado.
Village at the Peaks in Longmont, nearly fully leased. See front entry pad remaining.
Next Door, an American Eatery
Now Open
The Kitchen Restaurants are a family of restaurant concepts, focused on sourcing
and preparing real food at every price point, with a special emphasis on
strengthening the local food economy. Next Door, an American Eatery is a family
of urban casual, American eateries serving affordable real food sourced from
American farmers.
Allen Ginsborg, Principal
aginsborg@newmarkmerrill.com
Ken Pratt & Hover St.
Academy Blvd. & Platt Rd.
I-70 & Wadsworth Blvd.
120th Ave. & Sheridan Blvd. College Ave. & Horsetooth 17th Ave. & Pace St.
dmccoy@newmarkmerrill.com
The updated tenant mix at Broomfield Plaza on 120th & Sheridan is well underway with JAX Outdoor
Goods and Chuze Fitness recently added. New pads are now available. Call for more information.
.
HampdenAvenue EnglewoodPkwy
NewMarkMerrill.com
Danaria McCoy, Director of Operations
Ross Carpenter, Senior Leasing Associate
rcarpenter@newmarkmerrill.com
Englewood Marketplace
Englewood, CO
98,228 Sq. Feet
Hampden & Englewood Pkwy
NewMark Merrill understands community and focuses on creating experiences
and meeting places that bring together merchants and community
members to meet and create. RSpace is Village at the Peaks' new pop-up meeting
and event space.
RSpace Is Your Place
NewMark Merrill
M O U N T A I N S T A T E S