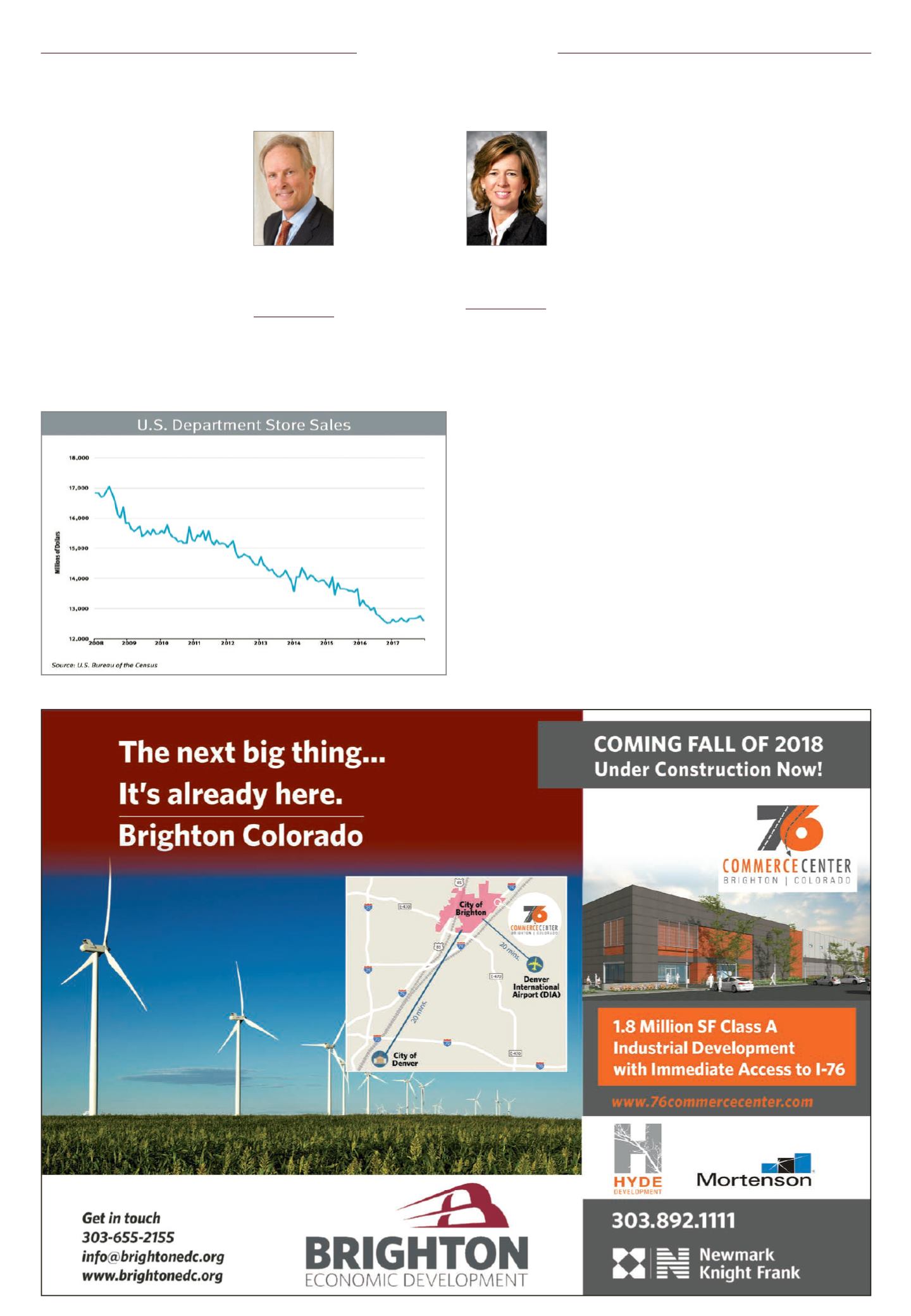 Page 4
— Retail Properties Quarterly — February 2018
www.crej.com
Market Update
R
etail sales have been
declining for several years
nationwide, particularly in
department stores. A look at
U.S. department store per-
formance from 1993-2017 highlights
sales decelerating since 2000. A closer
look shows that the downward trend
has accelerated in recent years, since
the Great Recession began mid-2008.
There are many possible explana-
tions for declining retail sales, which
were discussed thoroughly at The
Counselors of Real Estate Annual
Convention, held in Montreal in
September. Some attendees pointed
to the overabundance of per-capita
retail square footage in the U.S, which
is at least twice that of Europe and
Canada. Others blamed the country's
aging population, noting that spend-
ing in households with heads aged
65 or older is just
half that of those
headed by people 40
to 54 years of age.
Most agreed that
online sales have a
significant impact.
Back in 1993, online
retail purchases
accounted for just 1
percent of the total,
whereas in 2017
online transactions
peaked at 9 percent
overall.
Department
stores historically have been the
slowest in creating a viable online
presence, which may explain why
their store sales have been so nega-
tively impacted by online retail. Some
forward-looking stores have bucked
this trend and
changed their busi-
ness models to cre-
ate a dynamic and
user-friendly online
presence; the most
prominent exam-
ples include retail
giantsWalmart and
Nordstrom.
Department
stores – traditional
anchors for regional
malls – have been
closing at historic
rates, with over 300 announced in
2017, mainly from three major retail
chains (Macy's, J.C. Penney Co. and
Sears).With only approximately 1,100
regional malls in the country – and
that number is rapidly declining – a
significant portion of malls are affect-
ed.
There is a historic and ongoing
trend of shuttered malls being trans-
formed into mixed-use communities
to create a work-live-play atmosphere
with office, retail, hospitality and
residential components. In Colorado,
we have seen this evolution of older
malls. Villa Italia, the megamall built
in 1966 in Lakewood, was demolished
in 2001 to make way for the lifestyle
community Bel Mar. Southglenn
Mall in Centennial, which originally
opened in 1974, was closed in 2006
and succeeded by The Streets at
SouthGlenn, another mixed-use life-
style community.
Declining retail sales have affected
more than just department stores.
Inline shops, predominantly in
the electronics and apparel sec-
tors, have felt pressure as well, with
approximately 6,000 store closings
announced as of third-quarter 2017.
This thinning has led to high vacan-
cies at many shopping centers.
While bankruptcy declarations
often precede closure announce-
ments, many smaller inline retailers
(whether located in regional malls
or strip centers) that did not invest
in a significant online presence are
impacted negatively by missed oppor-
tunities with customers. Examples
include Office Depot, American Eagle
Outfitters, Bed Bath & Beyond, Game-
Stop and Finish Line, all of which
announced store closings last year.
Inline retailers can be particularly
vulnerable to online competition,
as barriers to entry are much less
strenuous for online retailers than
brick-and-mortar establishments.
Look at the successes of Fabletics, All-
bird, Athleta, Birchbox and others for
inspiration. Online retailers can focus
their operating costs on advertising
and building a brand name, deciding
later if having a physical presence in
a community is the appropriate next
step. Conversely, a brick-and-mortar
presence requires significant upfront
investment in retail space and per-
sonnel, the highest budget line items
along with merchandise.
Since declining retail sales is not
a new topic, much conversation
throughout the retail industry, par-
ticularly in commercial real estate
circles, has focused on how to man-
age this decline, with ample discus-
sion around troubled mall redevelop-
ment and tenant remerchandising.
Retail operators know that proactively
reconfiguring their tenant mixes is
critical to maintaining a healthy
2018 will bring nimble retailers opportunities
Raymond Cirz,
CRE
Senior managing
director, Newmark
Knight Frank, New
York
Carolyn
Martinez
Director, retail,
Newmark Knight
Frank, Denver
Newmark Knight Frank
Please see Cirz, Page 27