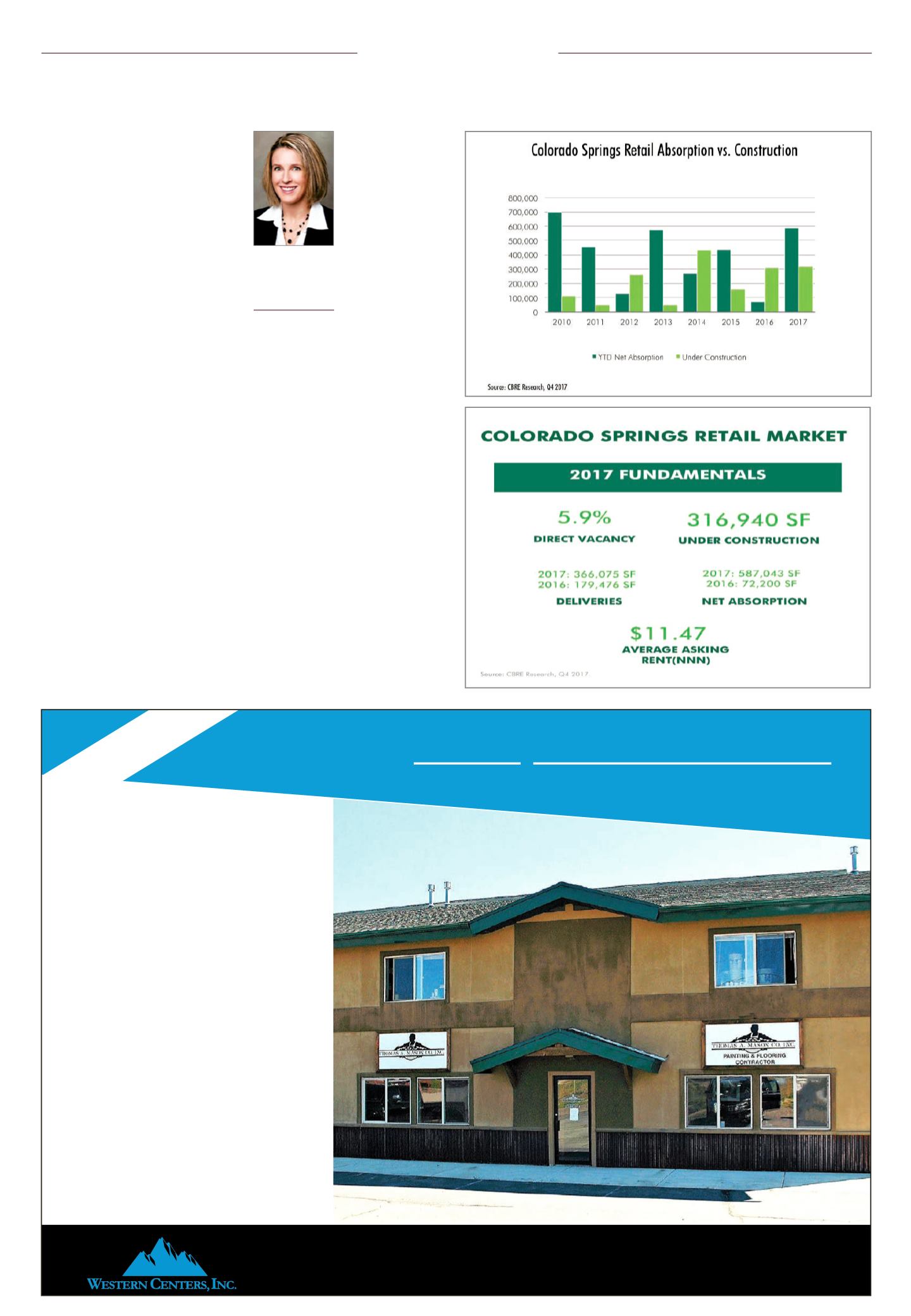 Page 8
— Retail Properties Quarterly — February 2018
www.crej.com
Market Update
10555 East Dartmouth Avenue, Suite 360
Aurora, Colorado 80014
WesternCenters.com
Corey R. Wagner
303-306-1000 Ext 126
Garrett P. Walls
303-676-8206 Direct
Garrett@WesternCenters.com
Corey@WesternCenters.com
The Granby Business Center was developed in 1999 and converted
to office condominiums in 2004. The project consists of 12 units and
approximately 23,704 square feet of space in the development.
Unit A is occupied by Comcast with a lease term through June 30,
2020. The lease has annual 3% increases.
Unit J is occupied by Thomas A Mason Companies with a lease term
through June 30, 2022. The lease also has annual fixed rate increases.
This investment has very minimal landlord responsibilities, the
commercial HOA provides all the exterior maintenance, the tenants
are responsible for all interior maintenance.
•
Purchase Price
- $504,000 - 2 condo units free and clear
•
Property Size
– 23,704 Square Feet
•
Condo Units
- 12
•
Unit A
- Comcast 3,050 square feet
•
Unit J
- Thomas A Mason Painting 3,074 square feet.
•
Price per Square Foot
- $82.30
•
Net Operating Income
o
Year One - $45,345
•
Capitalization Rate
o
Year One – 9.00%
•
Occupancy
– 100%
2 Commercial Condominium Units
Two Fully Leased Condo Units to Credit Tenants
No Landlord Responsibilities
62543 US Highway 40, Granby Colorado 80446
Granby Business Center
Priced to Sell
M
ost people start the new
year out with a new year's
resolution, but I am going
to start with a new year's
prediction: 2018 will be a
booming year for Colorado Springs
commercial real estate. Yes, the
Colorado Springs commercial real
estate market is thriving. It's filled
with new development projects to
a degree I have never seen since
becoming a commercial broker.
One significant trend we see right
now is reinvestment in the Colora-
do Springs market spurred by larger
development projects. This is result-
ing in the footprint of our com-
munity continuing to expand and
rising retail lease rates, up $1.22
per square foot in the last three
years. From a retail perspective, we
have several exciting developments
underway.
In the northeast, the dramatic
population growth over the last 15
years has changed the Interquest
area from "farm land" to a destina-
tion with more than 316,000 sf of
space under construction. Innova-
tive developments are underway
including Victory Ridge, home to the
new VIP theatre Icon Cinema, Colo-
rado's first In-N-Out Burger and the
Field of Dreams youth sports com-
plex. Nearby, Interquest Commons
has Marriott and Hilton hotels com-
ing, in addition to the newly opened
Fuzzy's Tacos. Interquest Market-
place is finishing up the available
retail surrounding Great Wolf Lodge.
Activity in the northeast corridor
continues to increase, and it isn't
just limited to retail commercial
real estate, reinforcing its status as
a new trade area within the market.
Moving south
along Interstate 25,
significant retail
attention remains
on Nevada Avenue.
University of Colo-
rado at Colorado
Springs continues
its expansion,
which brings fresh
investment into
the area. New
UCCS develop-
ments include an
indoor sports prac-
tice facility, national cyber security
center and a 92,000-sf community
arts center. The redevelopment isn't
limited to North Nevada Avenue, as
2018 also brings the continued rede-
velopment of South Nevada Avenue
where Chick-fil-A and several new
restaurants, such as Tokyo Joe's,
Mad Greens and Zoe's Mediter-
ranean, are reimagining the previ-
ously underutilized retail corridor
located near the Broadmoor.
On the west side of the city,
Penrose-St. Francis Health Services
announced the development of an
80-acre site at Fillmore and Centen-
nial Boulevard. Across the street is
a recently announced new devel-
opment for a retail and restaurant
building along with a new 7,000-sf
medical building to be located east
of Grandview Marketplace. Addi-
tionally, since the development of
the interchange off I-25 a couple
of years ago, there is a new Best
Western Plus hotel, IHOP and Les
Schwab Tires. Several properties in
West Colorado Springs also are up
Retail growth on deck for Colorado Springs
Whitney
Johnson
Associate, retail
services, CBRE,
Colorado Springs
Please see Johnson, Page 26