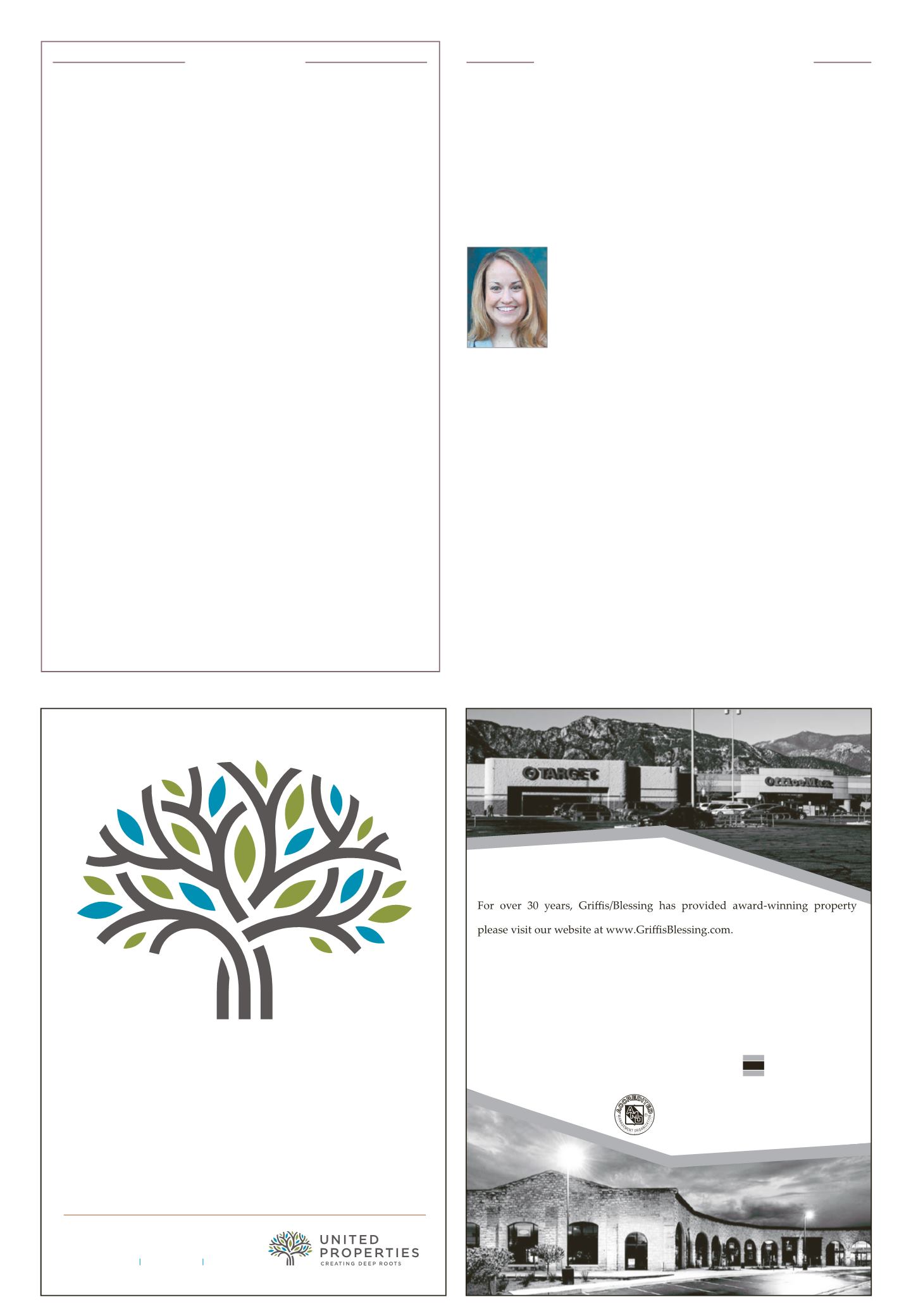 Page 2
— Retail Properties Quarterly — February 2018
www.crej.com
Contents
Letter from the Editor
A
few themes run throughout
this issue of Retail Proper-
ties Quarterly and, for the
most part, these observa-
tions are positive for the
retail market.
For example, I learned in an arti-
cle authored by experts from HFF,
on Page 16, that for every company
closing one store,
2.7 companies are
opening one. Also,
in 2017, there was
a net gain of more
than 4,000 stores
opening, the arti-
cle states.
Further, holiday
sales were up locally and nation-
ally. According to a market update
on Page 6 from Marcus & Millichap,
95 percent of all holiday shop-
pers bought some merchandise
from brick-and-mortar stores, and
spent a total average of $842 on
gifts this season. But that's not all
– these shoppers also splurged on
nongift-related items during the
same period, spending an average
additional $261 on entertainment,
personal services and food-related
purchases.
While these statistics bode well,
one negative statistic also caught
my attention while researching this
issue. The retail industry lost the
most jobs from November 2016 to
November 2017 in the 15 industries
the U.S. Bureau of Labor Statistics
tracks. However, this statistic alone
isn't news – retail lost the most jobs
the previous year as well. What is
new is the gender disparity. Despite
overall job loss in the retail indus-
try, men gained retail jobs, accord-
ing to a study by the Institute for
Women's Policy Research. Women's
share of all retail trade jobs fell
from 50.4 to 49.6 percent, the study
found.
"We've seen many news reports
of the decline in retail jobs, but
few have noted that the picture in
retail is much different for women
and men," said a statement from
Heidi Hartmann, IWPR president.
"The majority of the losses in retail
comes from general merchandising
stores, where men have actually
gained jobs."
She goes on to acknowledge that
there is very little known about
what's driving this trend – for
example, could it be women are
exiting retail jobs to enter higher-
paying industries or could it be
because men sell durables and
families are finally catching up on
delayed purchases on cars, furni-
ture and household appliances? If
this is the reason, Hartmann won-
ders if durables are the future of
general merchandise stores.
I'm curious to follow employment
numbers in the next few months
as retailers realign after the holi-
day season. In addition to watching
the gender component, I'll also be
keeping my eye on how the mini-
mum wage increase continues to
impact retailers. As of January, the
new minimum wage in Colorado is
$10.20.
Michelle Z. Askeland
maskeland@crej.com
303-623-1148, Ext. 104
Tracking employment
2018 will bring nimble retailers opportunities
Raymond Cirz and Carolyn Martinez
Strong holiday sales propel healthy expectations
Ryan Bowlby and Drew Isaac
Retail growth on deck for Colorado Springs
Whitney Johnson
New rooftops energize Colorado Springs retail
Jay Carlson
Investors' herd mentality is beginning to shift
Peter Keepper and Michael J. Salzman
As retail landscape changes, look to positive trends
Jason Schmidt
A collection of investor sentiments and trends
Chad Murray, Mark Williford and Andrew Yaroma
4 ways to make a national owner hyperlocal
Rick Turner
Are we witnessing an apocalypse or resurrection?
Allen Ginsborg
Industrial space can support new retailer needs
Ryan Good
Space activation key to create successful centers
Bryan McFarland
A new retail rises as consumer lifestyles change
Matt Writt
From click to cha-ching: Enticing online shoppers
Ilene Vivinetto-Suter
Small businesses thrive in Cherry Creek North
Brian Phetteplace
4
6
8
10
12
14
16
18
19
20
21
22
23
24
Imagining new possibilities.
Creating lasting communities.
Commercial real estate with a proven past and future focus
UPROPERTIES.COM
MINNEAPOLIS DENVER
services along Colorado's Front Range. To learn more about our services,
• Accounting
• IT Management
• Asset Management
• Lease Administration
• Budgeting
• Leasing Strategies
• Construction Services
• Maintenance/Technical Support
• Consulting
• Property Management
• Emergency/Crisis Response
• Receivership Services
• Human Resources
• Support Services
• Insurance/Legal Risk Management • Tenant Relations
102 North Cascade Avenue, Suite 550,
Colorado Springs, CO 80903
Phone: 719-520-1234 • Fax: 719-520-1204
www.GriffisBlessing.com
AMO
®
Accredited Leader in
RETAIL MANAGEMENT
GRIFFIS BLESSING
5600 S, Quebec St, B141
Greenwood Village, CO 80111
Phone: 303-804-0123 • Fax: 303-804-9508