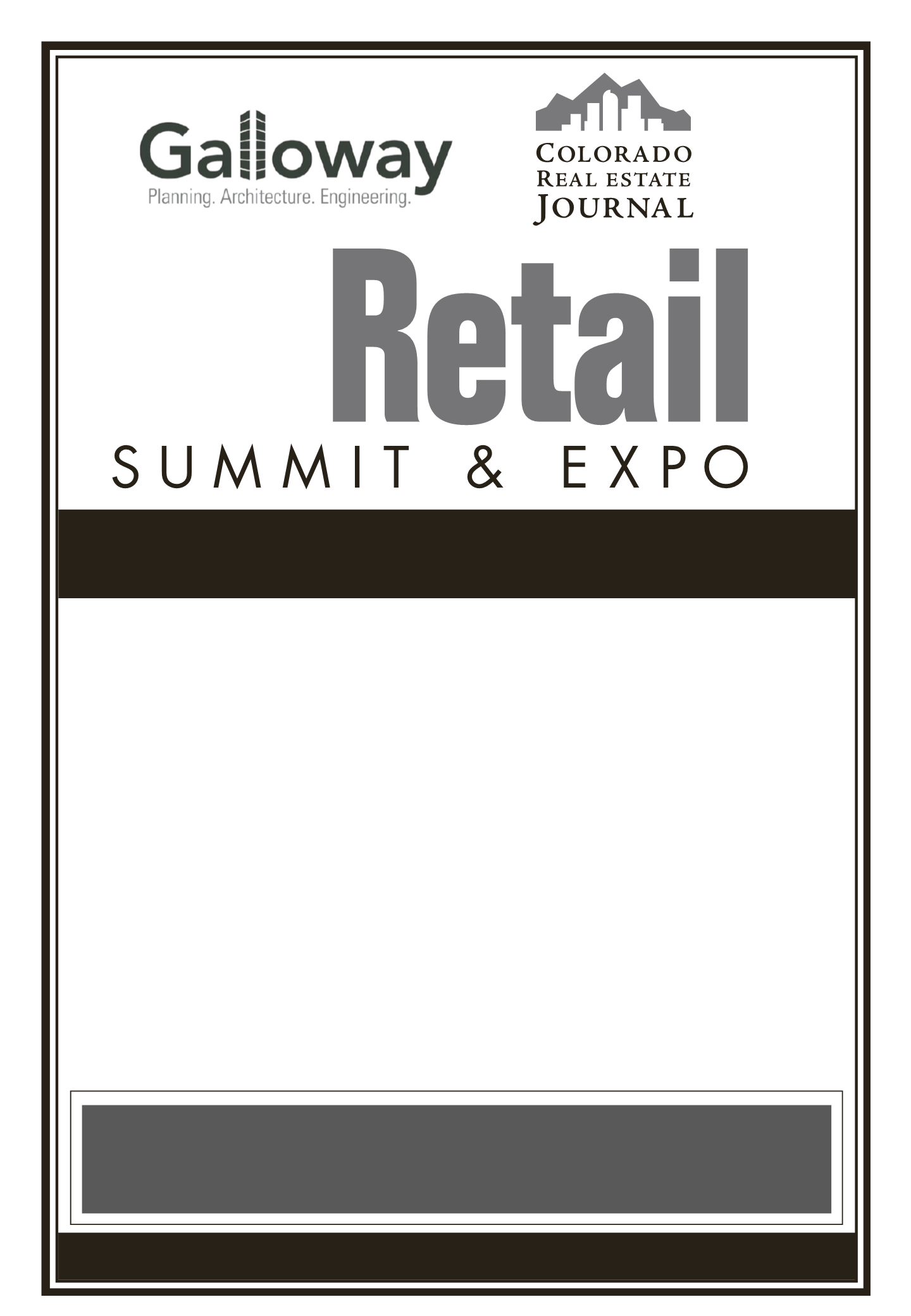 February 2018 — Retail Properties Quarterly —
Page 7
www.crej.com
Thursday, February 8, 2018
The Hyatt Regency Aurora-Denver Conference Center 13200 E. 14th Place, Aurora, CO 80011
l
Space is limited to 350!
REGISTER NOW!
$85 per person
12:00 p.m. - 12:25 p.m.
Check In, Registration and Networking
12:25 - 12:30 p.m.
Welcome and Opening Remarks
Carl Schmidtlein -
Principal, Galloway
Diana Fiore -
2018 Chapter President, Rocky Mountain
Shopping Center Association
12:30 - 1:00 p.m.
Broker Market Update & Forecast
Michael McCormick -
President, McCormick Equities, Inc.
Brian P. Shorter -
Managing Partner, SullivanHayes
Brokerage
Tiany Colvert -
Commercial Broker | Retail, NAI Highland, LLC
Moderator: Jon Weisiger -
Senior Vice President, CBRE
1:00 - 1:30 p.m.
Changing Colorado Consumer and
Retailing Trends
Tom Shane -
Owner, Shane Co.
1:30 - 2:00 p.m.
Restaurant Panel
Susan Lintonsmith -
President and Chief Executive Oˆicer,
Quiznos
Frank Bonanno -
Principal, Bonanno Concepts
Kelly Greene -
President, Urban Legend
Moderator: Pat McHenry -
Partner, Larimer Associates
2:00 - 2:45 p.m.
Networking Break
Food & Beverage in Expo Hall
2:45 - 3:15 p.m.
The Future of Retail Space
Jerey Sheppard -
Principal, Roth Sheppard Architects
3:15 - 4:00 p.m.
Investment Panel
Steve Shoflick -
President & COO, Miller Real Estate
Investments
Thomas M. Yockey -
President, Broad Street Realty
Gary J. Dragul -
President, GDA Real Estate Services, LLC
Paul DeCrescentis -
President, DePaul Real Estate Advisors
Allen Ginsborg -
Managing Director & Principal,
NewmarkMerrill Mountain States
Moderator: Matthew J. Henrichs -
Senior Vice President,
Retail Capital Markets, CBRE
4:00 - 4:45 p.m.
Development Panel
Bryan McFarland -
Principal, Development, Alberta
Development Partners, LLC
Rick Turner -
Director of Real Estate, Colorado, Kimco Realty
Erika K. Shorter -
Director, Colorado Acquisitions, Evergreen
Jimmy Balafas -
Principal, Kentro Group
Bradley T. Kornfeld -
Managing Partner, The Kornfeld
Companies, LLP
Ashley Stiles -
Vice President, Development, Northern
Colorado, McWhinney
Moderator: Kristoer Kenton, AIA, NCARB, LEED AP -
Director of Architecture, Partner, Galloway
For more information, including exhibitor and sponorships opportunities, please call Jon Stern at 303-623-1148 ext. 101 or e-mai
l jstern@crej.com
Checks, Visa, MasterCard and American Express accepted.
Four hours of continuing education credit have been applied for
&
Present
2018