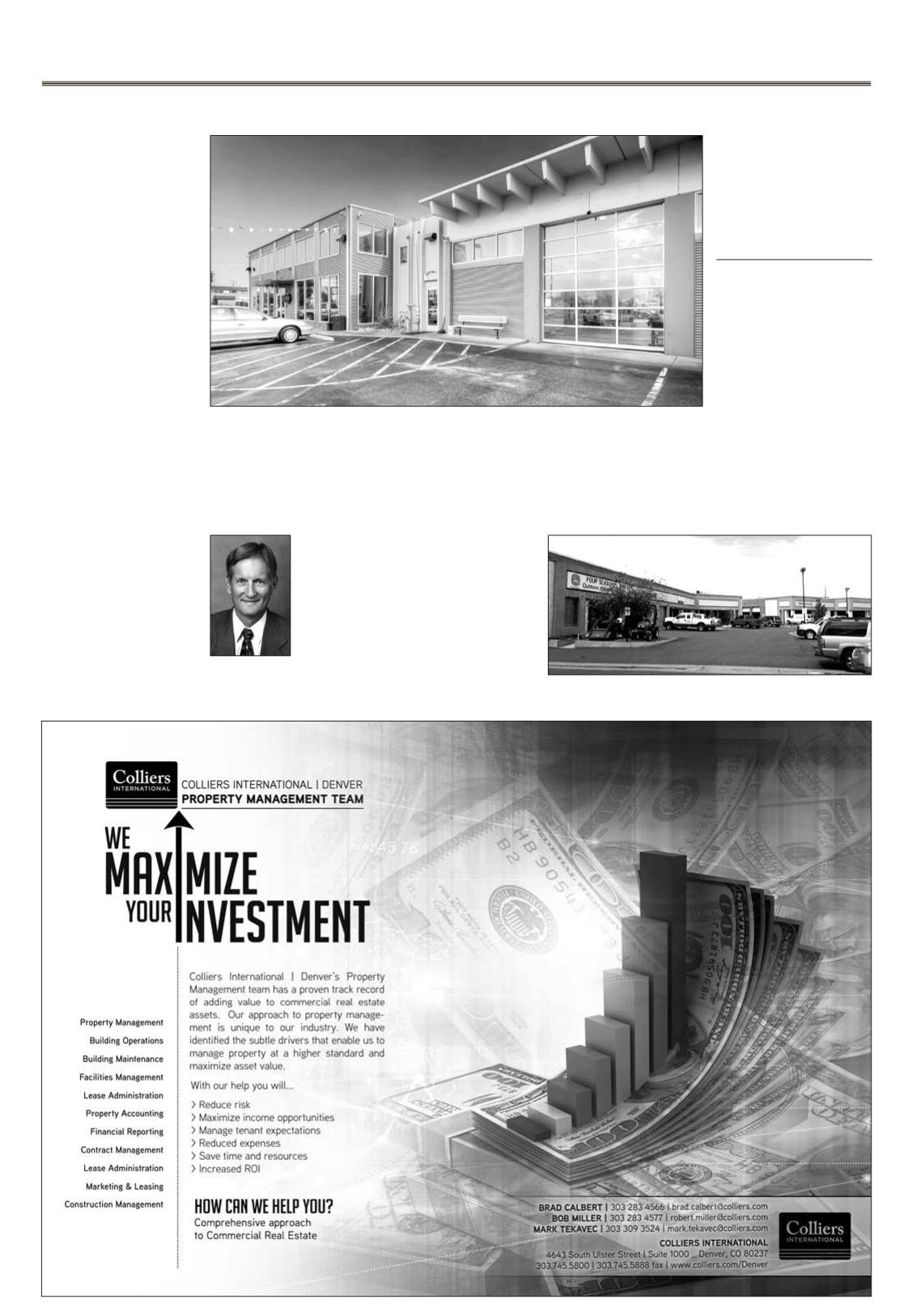 COLORADO REAL ESTATE JOURNAL
— September 16-October 6, 2015
Greater Denver
by Jill Jamieson-Nichols
A real estate investment trust
that invests in net-leased prop-
erties paid $8.3 million for a
used car dealership on West
Alameda Avenue near Inter-
property at 1298 and 1300 W.
Alameda, and 1373 W. Nevada
Place to Spirit Realty Capital
in a sale-leaseback deal. Best
Car Buys signed a 15-year lease
with the new owner, accord-
ing to CBRE's Jeremy Ballenger,
who represented the seller with
CBRE's Tyler Carner and Matt
There are three buildings
comprising 34,395 square feet
on the property. They include a
20,144-sf main building built in
1980, a 13,048-sf parts and ser-
vice building built in 1977 and
a 1,203-sf storage building that
dates to 1933. The site encom-
Best Car Buys has occupied
the property for many years
and invested $1.4 million in
upgrades, including renovation
of the two large buildings, in
Spirit Realty Capital, based in
Scottsdale, Arizona, invests in
single-tenant, net-leased prop-
erties, often through sales-lease-
backs. It owns approximately
2,600 assets leased to more than
450 tenants in 49 states, accord-
Other News
Artis US Holdings LP
recently paid $9 million, or
$20.79 per square foot, for 9.94
acres next to the DirecTV build-
ing at 161 Inverness Drive West
in Englewood. Company rep-
resentative didn't return phone
calls about the transaction.
Jim Capecelatro, David
Fried, Mike Kboudi
Doug
Wulf
DTZ
Dividend Capital Diver-
sified Property Fund Inc.
Artis US Holdings is affiliated
with Artis REIT, which owns
the 256,767-sf DirecTV office
Scottsdale, Arizona-based Spirit Realty Capital bought Best Car Buys' property on West Alameda Avenue near
Interstate 25.
by Jill Jamieson-Nichols
A 44,291-square-foot multiten-
ant automotive complex in Den-
ver traded to a local group for
a price that exceeded the seller's
Parker Car Care Partners LLC,
which is affiliated with the own-
ership of Denver-based Western
Centers Inc., paid $4.95 million
for Parker Road Car Care Center
at the northeast corner of South
owned the property since the
1980s. "He'd been operating it for
quite a while. He initially antici-
pated a $3½ million sale, but we
were able to lease it up at rents that
supported the sales price of $4.95
million, so he was very happy
when this deal closed," saidKluck.
"We think it's a great infill
piece," saidWestern Centers Exec-
utive Vice President Corey Wag-
ner. The company expects to be
Parker Road Car Care Center was 92 percent leased when it sold.
Paul Kluck