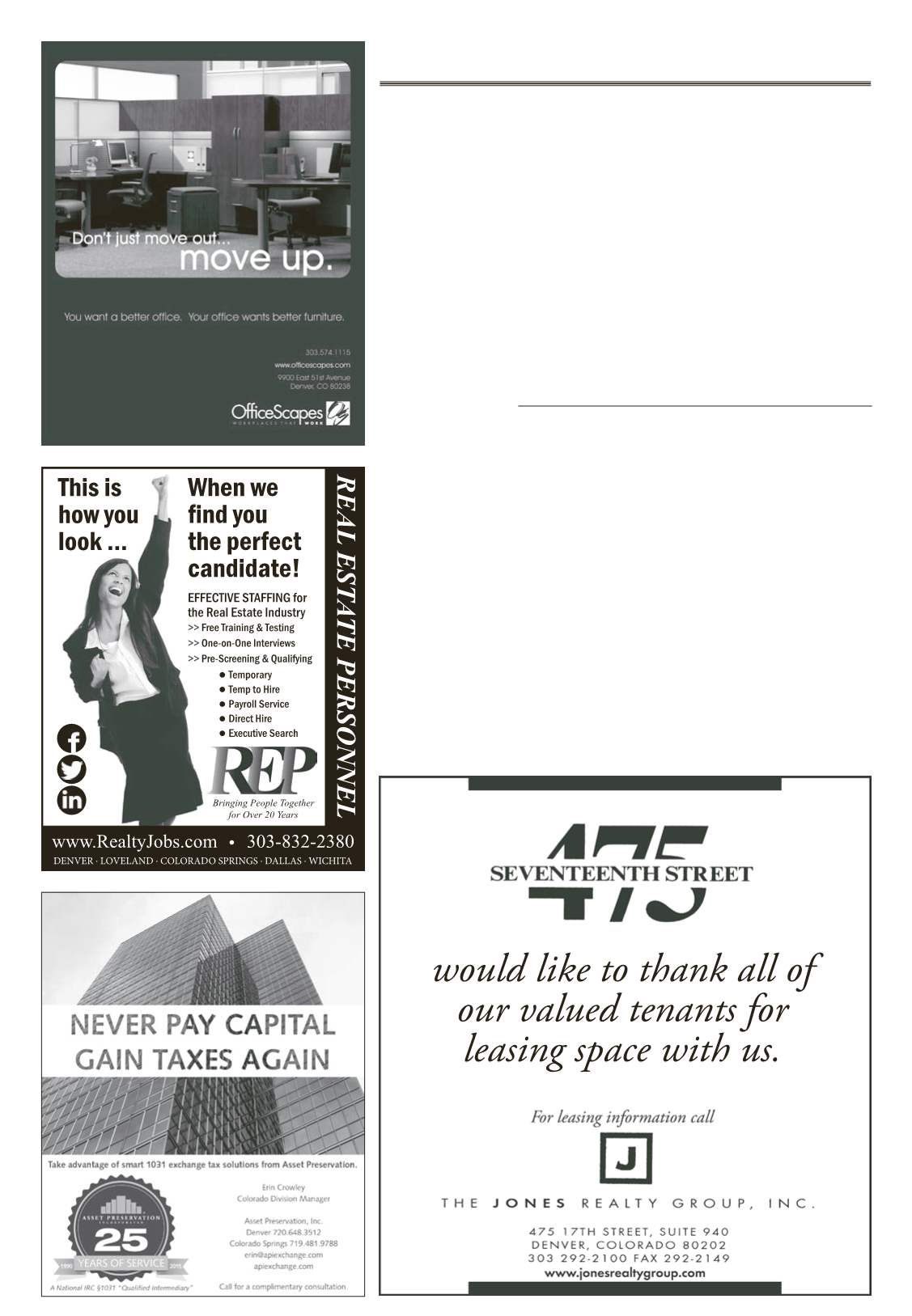 COLORADO REAL ESTATE JOURNAL
— September 16-October 6, 2015
Greater Denver
by Jill Jamieson-Nichols
East West Partners' B Block
near Denver Union Station just
got a lot more expensive, trading
for $456.11 per square foot.
"It's certainly on the higher end
of the spectrum for land sales
per square foot for downtown
and Union Station. No doubt
about that," said CBRE First Vice
President Eric Roth, who was not
involved in the deal. "If there's
anywhere that commands that
type of price, Union Station is it."
East West and joint venture
partner Amstar, an internation-
al real estate investment man-
ager, paid $20 million for the
approximately one-acre site at
1712Wewatta St. East West and a
Starwood Capital Group affiliate
bought the property for $10 mil-
hasn't settled on a development
plan. "We're still in the explor-
atory stages," said Chris Framp-
ton, East West's managing part-
ner in Denver. The site allows for
a building up to 20 stories.
"They're absolutely going to
max out the site at that price per
Although high by downtown
and even Union Station neigh-
borhood standards, the price isn't
a record. In the oil boom days of
the 1980s, some CDB properties
traded around $500 per sf and
one deal was under contract at
$1,000 per sf, but fell through
because of the bust, according to
longtime commercial real estate
veteran John Winslow of Win-
slow Property Consultants. Still,
"It's the consensus by the people
I've talked to that this is the high-
est-priced parcel of land since the
Much of the southeast sub-
market's office space is 25-plus
years old, and tenants are seeking
newer spaces that offer higher
ceiling heights, efficient design
and modern finishes, said Wulf.
"What we're seeing overall in
the southeast market is a real
demand for quality office space,"
he said. Being on the west side of
I-25 near Cherry Hills Village is a
real plus for the building because
it is close to where decision mak-
ers live. "They really like the
quick, easy commute without
having to cross over I-25," he
OneDTCWest will offer a great
location and "fantastic" views.
"The identity on Belleview will
be really compelling," Wulf said.
"We have a great team," said
Niederman. He said the building
is getting good traction from real
estate settlement groups, invest-
ment companies, technology
firms and others that easily could
consume about 20,000 sf. There
also is interest in a 5,000-sf space
at the lobby level that is targeted
for a local or national bank.
KentwoodReal Estatewill have
its DTC sales office on the top
floor of the building, which also
will house its corporate opera-
tions, including finance, informa-
tion technology, marketing and
relocation, in another 4,000 sf.
Kentwood's DTC offices have
been in the Park Plaza building
"What is important to us is
constantly trying to upgrade our
image, and this was a good time
to really take who we are and
what we do to the next level,"
The building occupies the last
development site west of I-25 on
Belleview, he said. It is just west
of the 320,000-sf One Belleview
Station speculative office build-
ing that Prime West and Gold-
man Sachs are developing.
While the two buildings have
similar floor plate sizes and lease
rates will be competitive, Wulf
said the differentiator will be
whether a tenant wants to be a
small tenant in a large building or
a large tenant in a small building.
Niederman and Hutto part-
nered a few years ago to buy 32
luxury units at Centerra Plaza
in the DTC. Two years ago, they
and their spouses also donated
2.5 acres of land worth an esti-
mated $1.5 million to Cherry
Hills Village for an open space
park in honor of Hutto's young
son, Alan, who died in 2006.
Niederman said it's exciting to
partner with Hutto to develop
a new building in the midst of
activity in the tech center.
"It's about acquiring and devel-
oping great pieces of real estate,"