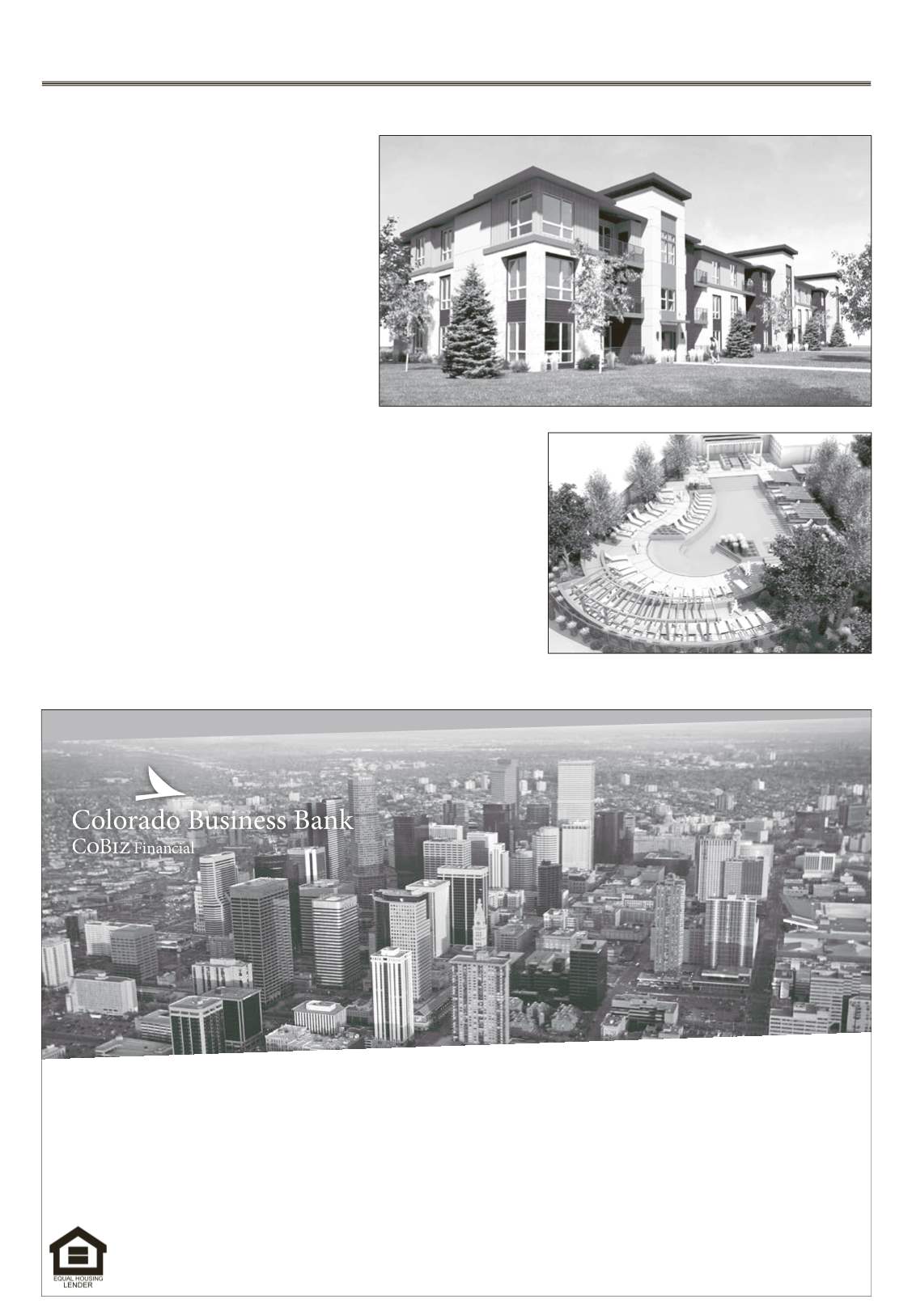 September 16-October 6, 2015 —
COLORADO REAL ESTATE JOURNAL
You and your business are unique. In a unique market with unique challenges.
That's why you need a unique bank. One with empowered, experienced real
estate bankers who can deliver customized products and creative finance
solutions with local decision making.
That's independence to succeed.
Greater Denver
by John Rebchook
This is a scenario that Jason
Smith envisions could be com-
mon when the $80 million-plus
Solana Olde Town Station apart-
ment community, which recently
broke ground next to the future
Gold Line commuter-rail station
inArvada, opens in two years.
"A guy catches a beer with his
buddies after work in downtown,
hops on the light rail, in 17 min-
utes he is home. He puts his skis
in his car and in minutes is on
I-70, heading to the mountains,
while his buddies are still dealing
Smith is a partner with South-
ern California-based Reylenn
Properties LLC, which recently
acquired a 15.3-acre site at 6855W.
56th Ave. in Olde Towne Arvada,
where the 352-unit Solana Olde
Town Station is under construc-
"Tome, this site is the batter box
for mountain recreation, while
at the same time being close to
Only two other apartment com-
munities in Arvada are larger
than Solana Olde Town Station,
scheduled to open in 2017.
The parcel it purchased is by far
the largest infill property in Olde
Town, Arvada's booming histor-
ical district, said Chris Cowan
of ARA Newmark. Cowan and
business partner Steve O'Dell
represented RayLenn in the land
"This wasn't an obvious site,
but the best sites often aren't,"
Smith said. It involved assem-
bling and combining six different
His persistence in pursuing
the deal will pay off, he believes.
When it opens, the Gold Line will
have been open for more than a
"For the first time, you will not
only be able to get to downtown
and the suburbs on light rail, but
you will be able to go straight to
"That's going to be a game
changer," he predicted. "I think
that is going to have an exponen-
The location will increasingly
be attractive to millennials, who
want a convenient, amenity-rich
and more affordable alternative
to downtown Denver and Den-
ver neighborhoods such as LoHi,
"Not only are they close to
downtown and closer to the
mountains than if they were rent-
ing in downtown, but Olde Town
Arvada is great," Smith said.
"Olde Town is like youplopped
Larimer Square down in Arvada
and you have a very walkable
historic district out your front
"Youget a reallyauthentic expe-
rience in Olde Town Arvada,"
he said. "When you are walking
down Grandview Avenue, you
are really experiencing Ameri-
The rents are expected to run
$1.75 per square foot at Solana
Olde Town Station, far less than
the rents the new breed of down-
town Denver buildings com-
Units will range in size from
650 sf to 1,345 sf, with the aver-
age-sized unit at 953 sf.
Amenities at Solana Olde Town
Station will include a half-sized
basketball court, a golf simulator,
yoga and spin studio, a fitness
center and resort-style pool and
"The other great thing about
this location is that if you have a
couple and oneworks downtown
and the other works at Interlock-
en or even Boulder, this is kind
of a good midway point," Smith
ReyLenn's financial partner
on Solana Olde Town is an AIG
Solana Olde Town is being
designed by KTGY Architects
Construction is underway on Solana Olde Town Station.
Shown is the swimming pool for the Solana Olde Town Station that is
coming to Olde Town Arvada.