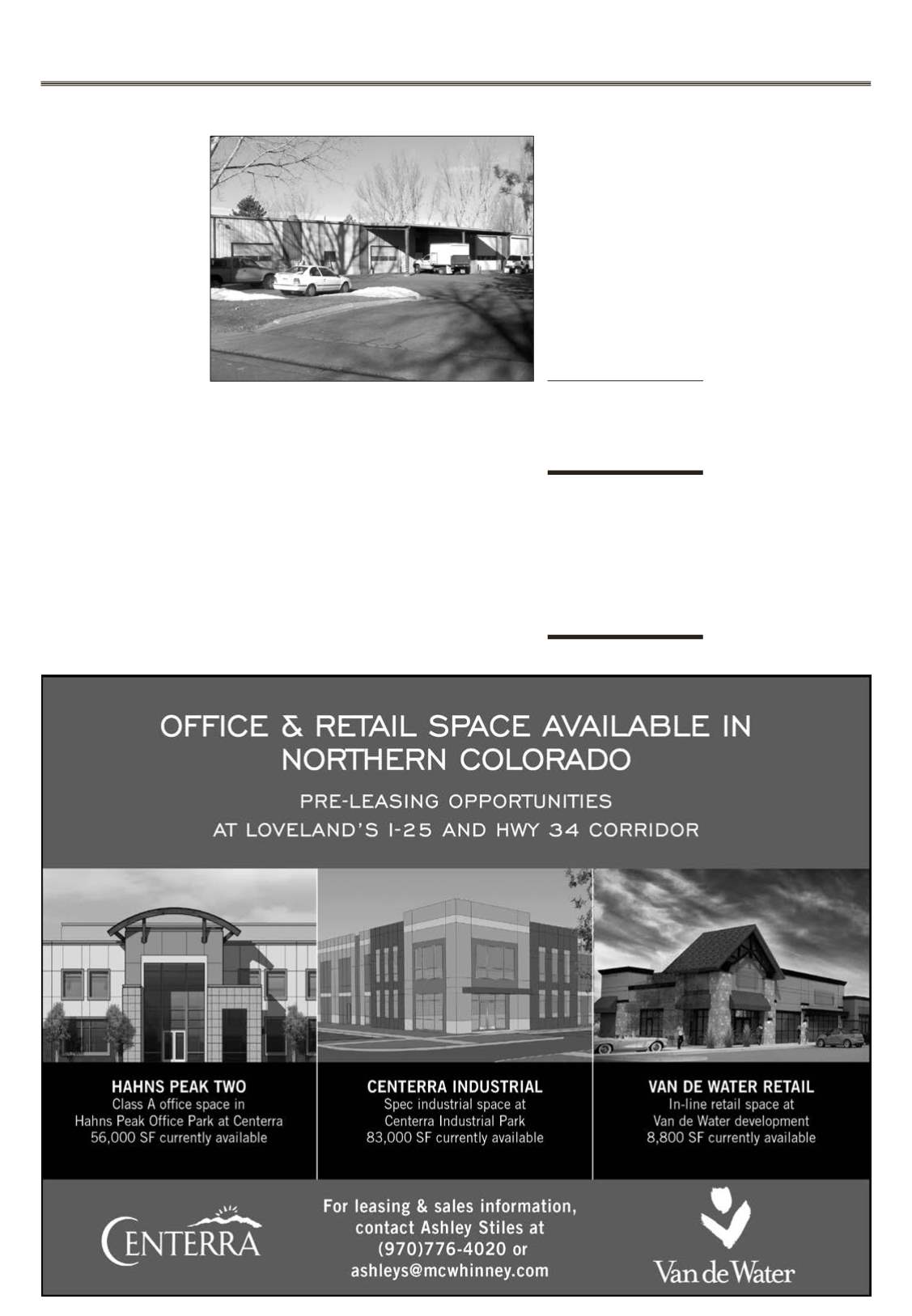 COLORADO REAL ESTATE JOURNAL
— September 16-October 6, 2015
by Jill Jamieson-Nichols
A 22,530-square-foot industri-
al investment property in Love-
land changed hands at $83.22
Frontier Group LLC paid $1.88
million for the warehouse build-
ing at 1531 E. 11th St., which is
leased to R-J Taylor-Wyatt LLC.
R-J Taylor-Wyatt is a general
contractor specializing in the oil
There was a "fair amount" of
interest in the property, which is
located in Ward Industrial Park,
said Bruce Campbell of Realtec-
Loveland, who listed the prop-
erty with Realtec-Loveland's
Patrick O'Donnell. "It was prob-
ably only listed for a couple of
"That whole industrial park
is full right now," he said. The
tenant has some term left on its
lease, but if it chose not to stay
in the building, "I think they
could fill it up pretty quickly,"
Built in 1986, the building is
located in an enterprise zone. It
features 12 drive-in doors and
19-foot ceiling clearance.
Real Estate and Ron Kuehl of
Realtec-Loveland represented
the buyer, a Colorado investor,
Other News
Caninthesand LLC
chased a 4,432-square-foot office
property at 504-506 S. College
Ave. in Fort Collins from
TAV
Property Management
$950,000, or $214.35 per sf.
Erik Broman
Realtec Com-
mercial Real Estate Services
Inc.
Kevin
Bolin
Kevco Real Estate
A 14,440-sf retail property
at 109-117 E. 22nd St. in Greeley
sold for $725,000, or $50.21 per
Forest Equity Partners LLC
Gage Osthoff
Tom
Reznik
Realtec-Greeley
Alex Had-
dad
Cherry Creek Properties
Inc.
The building at 1531 E. 11th St. in Loveland is leased to R-J Taylor-Wyatt LLC.
Larimer & Weld Counties
by Jill Jamieson-Nichols
Having assembled land for
a long-planned redevelopment
to spark new activity in down-
town Loveland, City Coun-
cil is moving toward issuing
a request for proposals for a
lyst project encompasses about
2.75 acres from Back Stage
Alley to East Second Street,
between North Cleveland and
North Lincoln avenues. Lar-
imer County potentially could
develop a new facility for some
of its offices on 1.14 acres direct-
City Council has directed staff
to present a proposed RFP for a
vote at its Sept. 15 meeting.
Loveland Economic Develop-
ment Manager Mike Scholl said
the city is looking for mixed-
use development on the prop-
erty and knows there is consid-
erable interest in multifamily
because of the city's low vacan-
cy rates and escalating rents.
However, "I think what we're
trying to do is solicit input from
developers to hear their vision
"The South Catalyst project
is critical to the ongoing revi-
talization of our downtown
district," he said. "The project
will bring added retail, new
jobs and new residences that
support our existing retail. The
project also demonstrates to the
development community that
downtown Loveland is a good
place to invest. We look for-
ward to completing a success-
If council authorizes the RFP
this month, a developer could
be on board, at earliest, by the
end of the year, said Scholl.
Although the city has been
discussing the South Catalyst
project for more than five years,
it just completed the final land
acquisition for the project in
'The South
Catalyst project
is critical to
the ongoing
revitalization of our
downtown district.'
– Mike Scholl,
City of Loveland