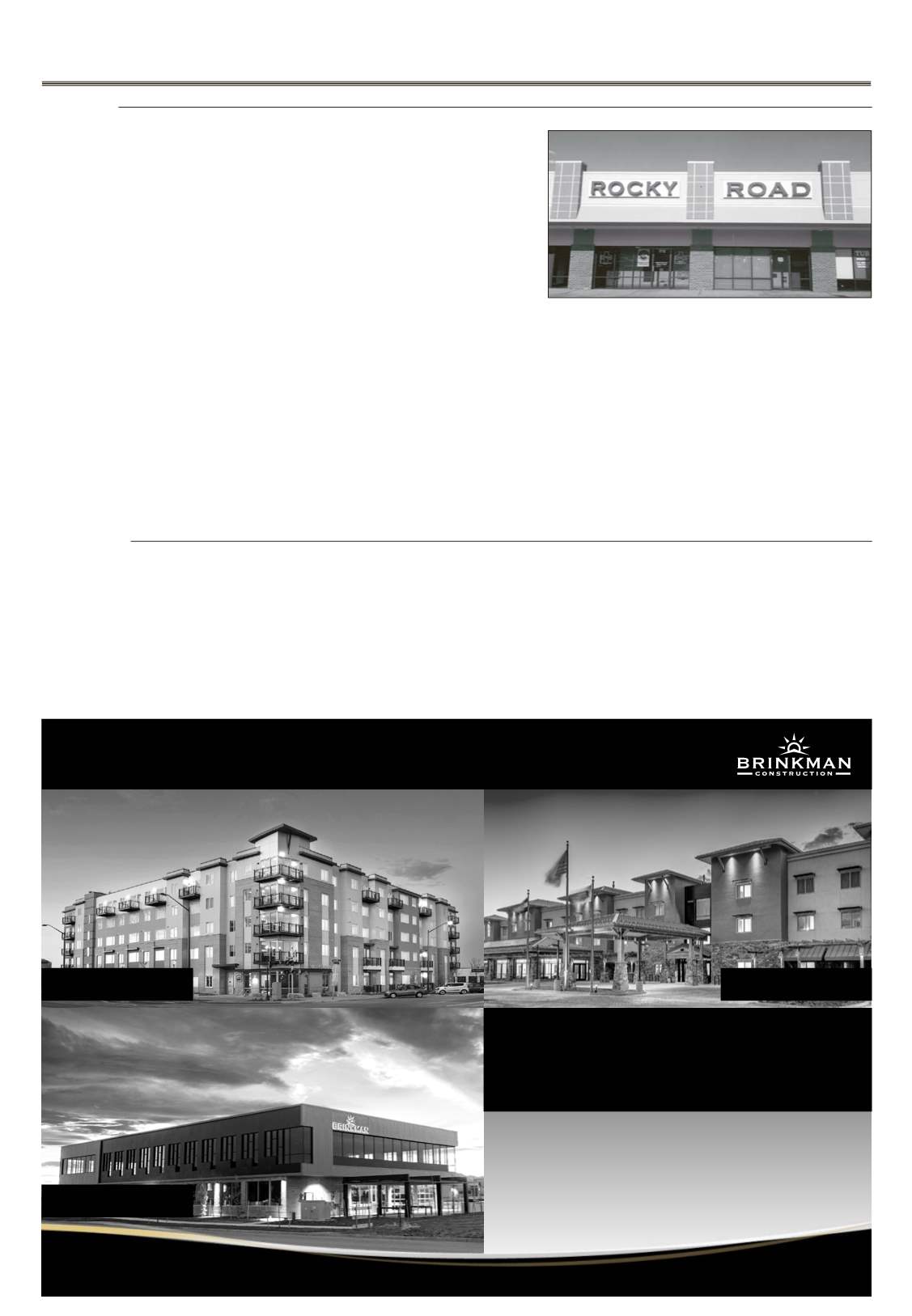 COLORADO REAL ESTATE JOURNAL
— September 16-October 6, 2015
I NTEGRATED REAL ESTATE SOLUT I ONS
Brinkman Construction | 3330 Brighton Boulevard, Suite 201 | Denver, CO 80216 | 303.847.4386
Commercial Brokerage
Construction
Development
Real Estate Management
Brinkman Construction
be a part of bringing our clients' stories to life.
Behind Every Great Building, Is A Great Story.
Old Town Flats
Fuse on Harmony
Hampton Inn & Suites
Greater Denver
So far, the Hemp Centre has
attracted three leaders in the mari-
• Myxed Up Creations, one
Colorado's largest head shops,
which will be expanding into
a 7,000-square-foot space. The
superstore will offer pipes, vapor
pens, electronic cigarettes and
clothing and will open in the
• Grofax, a hydroponics supply
company, is taking about 2,000
sf. This is its fourth store and
provides everything from soil to
lights and expert advice onhowto
growmarijuana and other plants.
• Rocky Roads will occupy
about 2,400 sf for a retail mar-
ijuana store. It was one of the
few applicants to receive a license
Other tenants could be restau-
rants that have a marijuana motif,
However,Wagner's andMeran-
ski's definition of a tenant that
would be appropriate for the
Hemp Centre may surprise some
"We are looking for tenants that
not only directly service the mar-
ijuana industry, but those with
ancillary and complementary
businesses," Meranski said.
They not only want the obvious
cannabis candidates, but also they
welcome tenants who think that
smoking marijuana is not a good
"One of our largest tenants is
a church, and they take a strong
stance that marijuana is not the
answer and God is,"Wagner said.
However, the church was on
board with the Hemp Centre, as it
saw it as an opportunity to poten-
tially reach some pot userswith its
Indeed, Arnie Meranski, Joel's
father, and the founder of West-
ern Centers about 25 years ago,
is a major investor of an online
company called In The Rooms,
which provides access to informa-
tion regarding those with alcohol
Although not associated with
Alcoholics Anonymous or Nar-
cotics Anonymous, the site says it
is home to the largest AAand NA
Potential tenants in the Hemp
Centre could be physicians, coun-
selors and therapists who work
withpeoplewho are abusingmar-
ijuana, according to Wagner and
Indeed, at first Arnie Meranski
had no interest in leasing space
to marijuana businesses, Wagner
"Then, we looked around and
realized that there was a high like-
lihood that if we didn't lease space
to people in the industry, they
likely would go to centers across
the street," Wagner said.
However, if they concentrated
the tenants in one center, they
could have control over things
such as security and the environ-
ment, giving consumers a pleas-
"We're not saying that marijua-
na use is a good thing and we are
not saying that marijuana use is a
Rather, it is a reality that the
industry will continue to grow
and they are dealing with it in a
nonjudgmental way, he said.
He said that most of the existing
tenants in the center are fine with
the marijuana businesses.
One reason is that traffic to the
center continues to grow with the
newmarijuana tenants, he said.
Of course, it is possible that as
some existing leases expire, West-
ern Centers will evaluate whether
it wants to renew them or replace
them with businesses in the mari-
juana trade, according toWagner.
Wagner also emphasized that
Joel Meranski was not hired to
lease the Hemp Centre because he
"It was purely a business deci-
"We needed a broker who spe-
cialized in the marijuana industry
and knows all of the players, and
Joel has carved out a great niche in
the industry," Wagner said.
"Currently, probably 70 percent
to 80 percent of my business is
marijuana related,"Meranski said.
Also, he has been working with
and collaborating with brokers
at smaller brokerage companies
who want to specialize in work-
ing with tenants in the marijuana
Rocky Road is one of the tenants in the Hemp Centre in Aurora.
and is expected to easily qualify
for a Silver LEED certification,
Mark Deven, city manager of
Arvada, said Solana Olde Town
Station will fill a crucial need for
"It takes what basically had
been an under-used property and
brings much needed density to
"Architecturally, it is going to
have good pedestrian access and
the developer has agreed to land-
scaping to buffer it from nearby
residential neighborhoods," he
building a one-acre neighbor-
hood park as part of the com-
Deven can't say enough good
things about Smith's approach to
dealing with the city and neigh-
"He really made an effort as far
as outreach to neighbors and real-
ly listened to them," Deven said.
"His plans were very well
received by the city and the
"It was probably one of the best
development experiences this city
has ever had," Deven said.
"Jason is a master at commu-
nity outreach," Cowan said.
"It is one of his strengths," he
Smith, for his part, said the
credit goes to the city and neigh-
"The neighbors were very kind
to me," Smith said, noting that
has not been the case when infill
developments are increasingly
being attacked by nearby resi-
"We are really excited about
this and it has been a really fun
"Not all developments are fun.
But the city was great, the neigh-