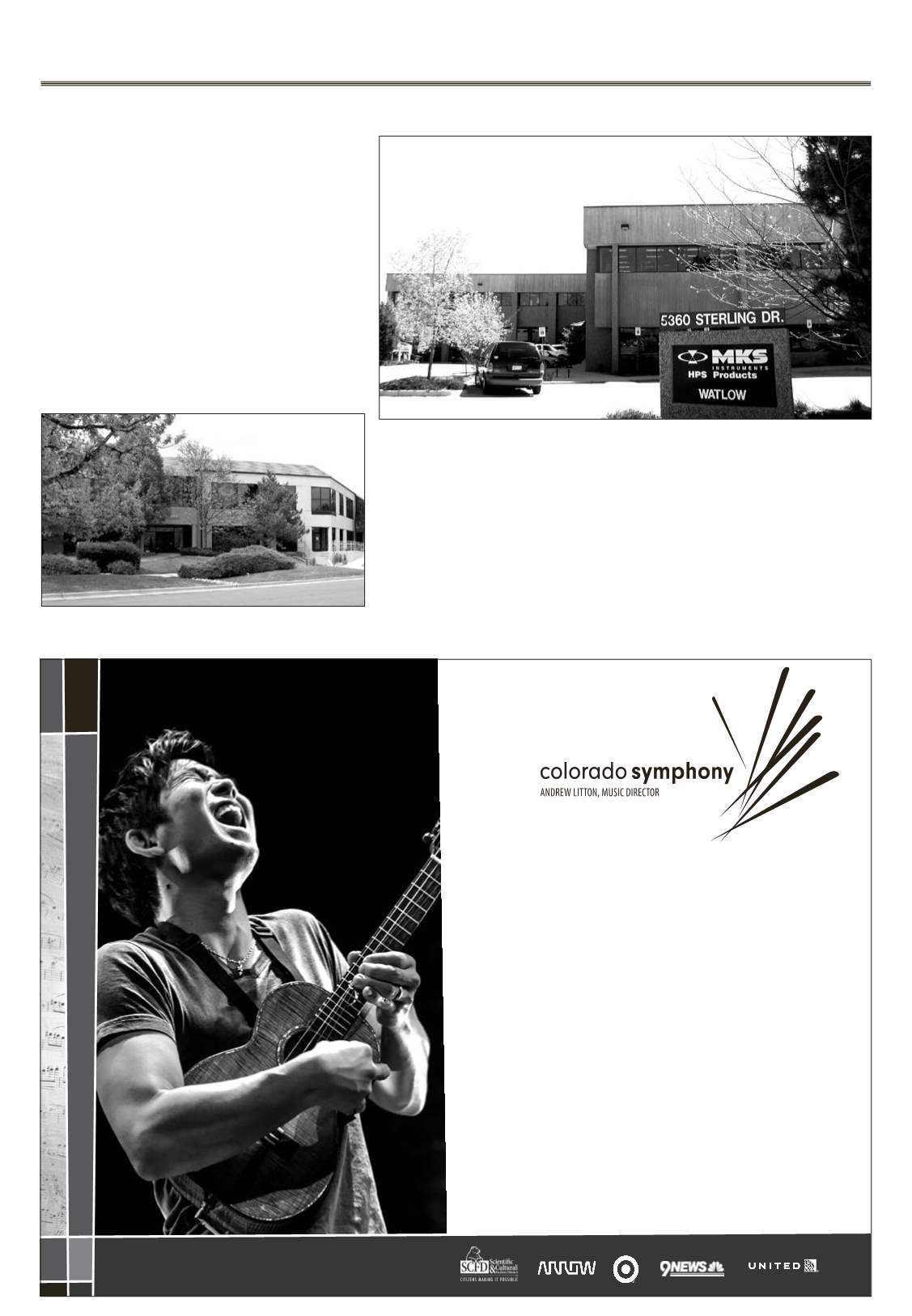 COLORADO REAL ESTATE JOURNAL
— September 16-October 6, 2015
Boulder County & U.S. 36 Corridor
by Jill Jamieson-Nichols
W.W. Reynolds Cos. has pur-
chased four properties in Boulder
for more than $40 million within
The $16 million acquisition of
a 105,000-square-foot office/flex
building at 4775 Walnut St. was
among the most recent deals.
"Real estate in Boulder is still a
pretty solid investment, and we
looked at it as an opportunity,"
said Jeff Wingert, a partner in the
company. "There is some vacancy,
so there is upside potential," said
Wingert, who added that a recent
change to the zoning code opens
the door to medical uses, in addi-
tion to uses already allowed.
The two-story building houses
several large, local office tenants,
including Renewable Choice
Energy, Knowledge Factor and
Microsemi. CRE 4775 Walnut
Street LLC, an entity managed
by Crestone Real Estate LLC, sold
the property, which it acquired for
Truesdale of Keys Commercial
Real Estate represented the seller
W.W. Reynolds also acquired a
pair of flex buildings at 5330 and
5360 Sterling Drive in a $9.1 mil-
lion off-market transaction.
AWR Sterling Properties LLC
sold the buildings, which com-
prise 77,080 sf, for just under $118
MKS Instruments, a global tech-
W.W. Reynolds paid $16 million for the building at 4775 Walnut St.
The building at 5360 Sterling Drive is part of a two-building flex property.
by Jill Jamieson-Nichols
A growing technology compa-
ny signed a long-term lease for
30,427 square feet of office space
at 390 Interlocken Crescent in
Conga, which provides docu-
ment generation and reporting
applications for Salesforce cus-
tomers, will occupy the fifth floor
of the building, as well as 5,317
sf on the fourth floor, Dec. 1. It
is relocating from a significantly
smaller subleased space in an
adjacent building, said Paul Whi-
teside of NewOption Partners,
who represented the tenant with
Blake Harris of CBRE repre-
sented the landlord, Franklin
Conga received a $70 million
investment earlier this summer
from Insight Venture Partners,
a New York private equity and
SEPT 15
Tchaikovsky Piano Concerto No. 1
SEPT 18-20
Colorado Symphony 5k Run/Walk
SEPT 19
"The Music Man" In Concert
Book, Music and Lyrics by: MEREDITH WILLSON
SEPT 26-27
Mozart Performed byMichael Thornton
OCT 2-3
Inside The Score: Symphony 101
OCT 9
Jake Shimabukuro In Concert
OCT 10
Elgar "Enigma Variations"
OCT 16-17
Strauss Conducted By Andrew Litton
OCT 23-24
Symphony at the Movies: Psycho
OCT 30
Jake Shimabukuro In Concert