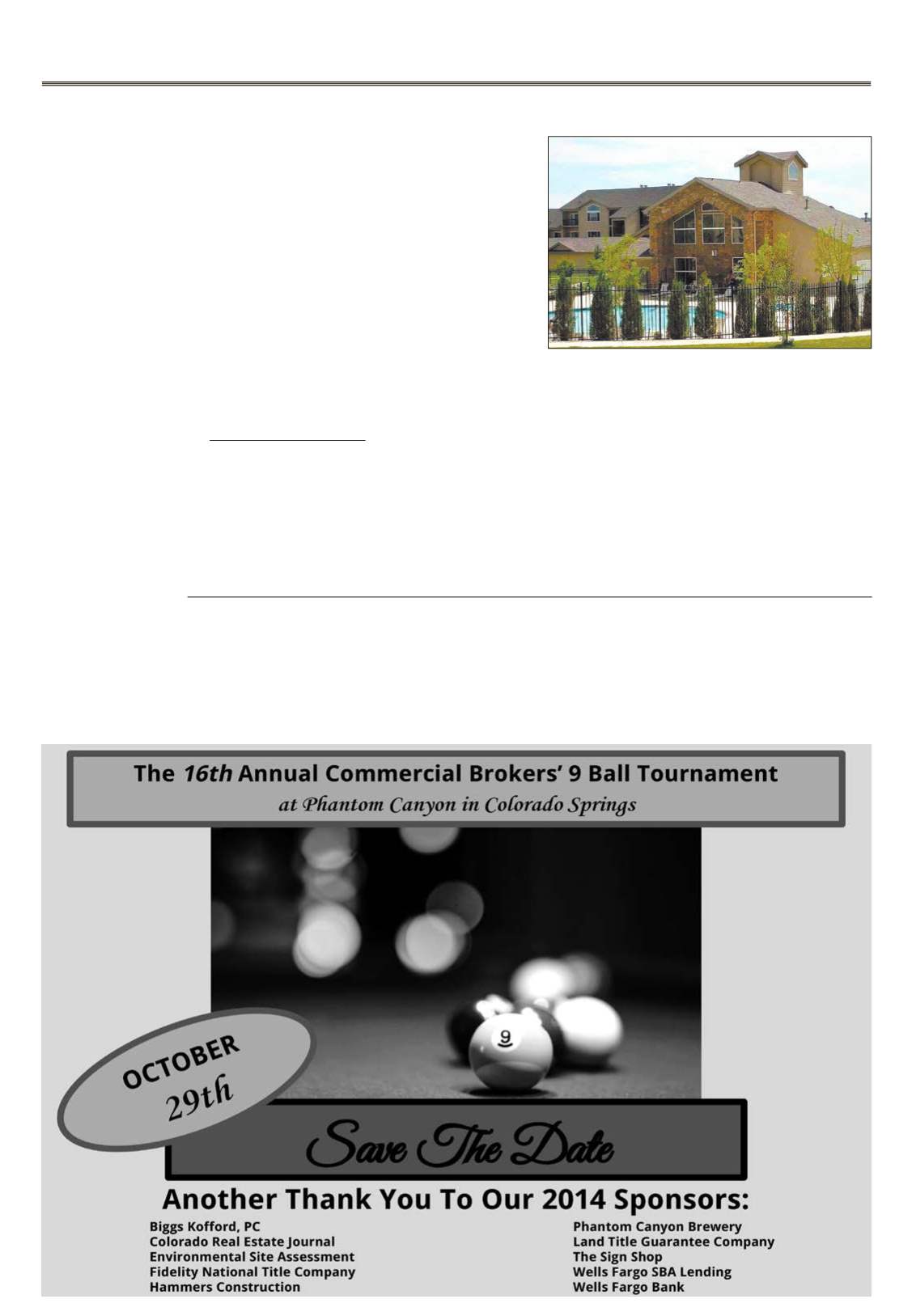 September 16-October 6, 2015 —
COLORADO REAL ESTATE JOURNAL
Colorado Springs/So. Front Range
by Jennifer Hayes
A 236-unit apartment commu-
nity on Pueblo's growing north
side recently sold for $28 million.
The Landings at Eagleridge,
a Class A community at 4749
Eagleridge Circle, was purchased
by a family ownership group.
H.E. Whitlock built and owned
the community, which was con-
structed in two phases in 2002 (140
units) and 2008 (96 units).
The gated community features
84 one-bedroom, one-bath units
that range from 803 to 816 square
feet, 112 two-bedroom, two-bath
units from 1,078 to 1,102 sf and 40
three-bedroom, two-bath units of
The Landings at Eagleridge
also includes 124 enclosed garag-
es, lighted full basketball court,
lighted tennis courts, volleyball
court, heated swimming pool, hot
tub, fitness center, business center,
movie theater and clubhouse.
Additionally, the community is
located in a quality location in the
fast-growing north side of Pueblo
near the Dillon Drive interchange
project, according to Ron Sprag-
gins of Commonwealth. Sprag-
gins, along with Shane and Ryan
Spraggins, represented both sides
Commonwealth also recently
released its apartment sales report
for Colorado Springs' second
quarter, in which 12 communities
with 30-plus units sold for a total
sales volume of $214 million.
Two ClassAcommunities, total-
ing 508 units, sold for $82.05 mil-
lion at an average price per unit of
$161,516. The 194-unit Commons
at Briargate commanded a record
high price of $171,649 per unit, the
During the second quarter, three
Class B sales totaling $72 million
and 748 units closed. The average
price per unit was $96,257 and
Additionally, two Class C com-
munities sold for $32.66 million
while Class D saw six communi-
ties totaling 470units sell for $27.45
Other News
Raytheon
growth of its Colorado Springs
presence after signing a $700 mil-
lion multiyear indefinite-deliv-
ery/indefinite-quantity contract
to support operations at North
American Aerospace Defense
Command's Cheyenne Mountain
Under the NORAD Integrated
Space Support Contract, Raythe-
on will provide 24/7 support to
warning and attack assessment
systems for air, missile and space
threats. The contract was initially
awarded to Raytheon in April
2015; however, protest activity
delayed its execution. TheGovern-
mentAccountability Office denied
the most recent protest August 25.
Raytheon has recently taken
steps to ensure a successful transi-
tionofthecontract,holdingrecruit-
ing events in Colorado Springs
and other locations and acquir-
ing additional office space. The
company plans to hire up to 700
employees in Colorado Springs
by the end of 2016. Recruiting day
events are planned for the com-
ing weeks, and construction on
new office space will be quickly
"With the protest behind us,
Raytheon can now focus even
more on ensuring a seamless pro-
gram transition and, in partner-
ship with theAir Force, delivering
innovative, efficient operations,
maintenance and sustainment,"
Todd Probert,
of mission support and modern-
ization at Raytheon Intelligence,
Information and Services. "We are
focused on expanding our sup-
port to the Air Force in Colorado
Springs, investing in our employ-
ees and enhancing the local com-
Church on the Ranch
ly acquired the Center for Spiritual
Living Colorado Springs for $1.44
The 33,174-square-foot building
is located at 3675-3685 Jeannine
Drive in Colorado Springs.
Center for Spiritual Living,
Colorado Springs
erty andwas representedby
Mary
Frances Cowan
Lisa Czelat-
dko
Quantum Commercial
Group Inc.
Charley Conrad
Olive Real Estate Group.
Olson Motor & Control Co.
recently renewed its 12,800-sf lease
at 1908 Aerotech Drive in Colo-
Acorn 4 Aero-
tech Drive Real Estate LLC.
NAI Highland's Paul Engel
represented the tenant. The land-
Aaron
Horn
Colorado Springs Com-
mercial, a Cushman & Wake-
field Alliance.
The 236-unit community was purchased by a family ownership group.
able to lease up the center's single
vacancy and also sees upside in
adjusting some of the rents tomar-
Wagner said the property has
a good tenant mix that Western
Centers hopes to maintain, and
the company will make improve-
ments to the property as needed.
Some of the tenants have been in
the center since it was developed
Kluck, who handled the sale
with CBRE's Matt Henrichs, said
within a week of being listed, the
property received several offers,
and it was under contract within
The five buildings at 1310, 1330,
1350, 1370 and 1390 S. Parker
Road comprise a rare property
type in Denver, said Kluck, who
noted it is very difficult for certain
automotive users – body shops,
for instance – to find locations. "It's
really hard to find zoned auto-
motive space or space where a
municipality will allow automo-
tive uses anywhere in the metro
Kluck said one tenant looked at
the Parker Road center sixmonths
before it needed space. "They
searched the entire market and
came back six months later and
said, 'We can't find anything,'"
Parker Road Car Center houses
various automotive uses, includ-
ing businesses that specialize in
auto body work, repair, gas and
brakes, for instance.Aconvenience
store is part of the mix.