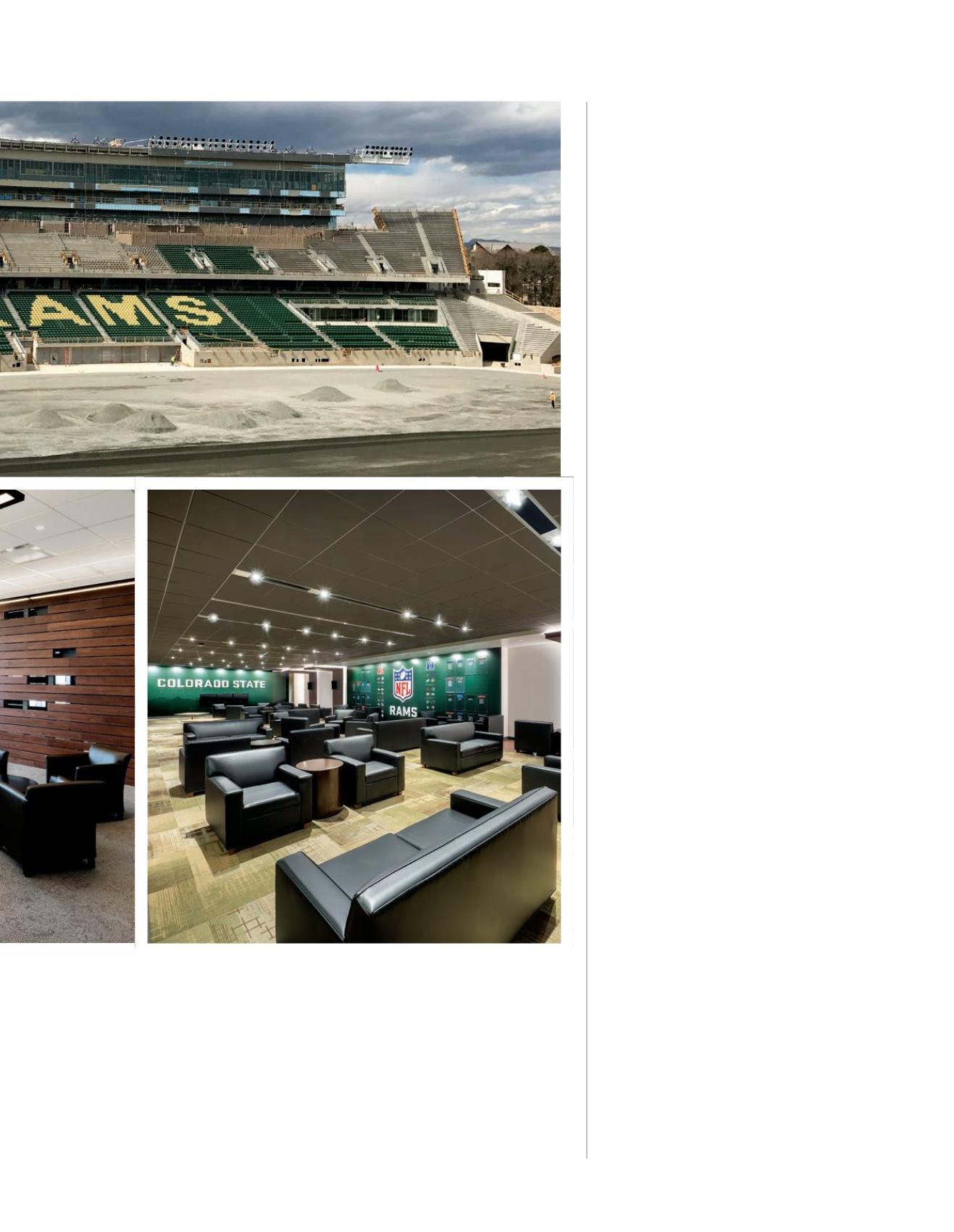 SEPTEMBER 2017 \ BUILDING DIALOGUE \
79
PROJECT TEAM
DEVELOPER:
Colorado State University
OWNER'S REPRESENTATIVE:
ICON Venue Group
GENERAL CONTRACTOR:
Mortenson
ARCHITECT:
Populous
\ Colorado State Stadium: Rams Charge Back to Campus \
OPENING ART:
Testing the lights on the field
FAR LEFT:
The indoor club area features views of
the CSU campus. Courtesy Tim O'Hara
TOP RIGHT:
Installation of the Rams seats on the
west side of the stadium prior to turf
installation.
BOTTOM CENTER:
Suite-level lobbies. Courtesy Tim O'Hara
BOTTOM RIGHT:
Player's lounge. Courtesy Tim O'Hara
lyst for the growth and development of the university, which was a pretty
interesting take," Moss says. "They're looking to use it 365 days a year."
Myron Chase, the project's architect with Populous, says the trickiest task
might have been balancing football uses with other university functions.
"You're designing a stadium for 40,000 people, but you're also designing
it for day-to-day use," says Chase, citing the 80,000-square-foot Alumni and
Academic Center on the east side. "It's not just a seven- or eight-day-a-year
venue."
Chase has worked on stadiums his entire career, including University of
Minnesota TCF Bank Stadium and University of Phoenix Stadium, home
of the Arizona Cardinals. After completing a master plan for Colorado State