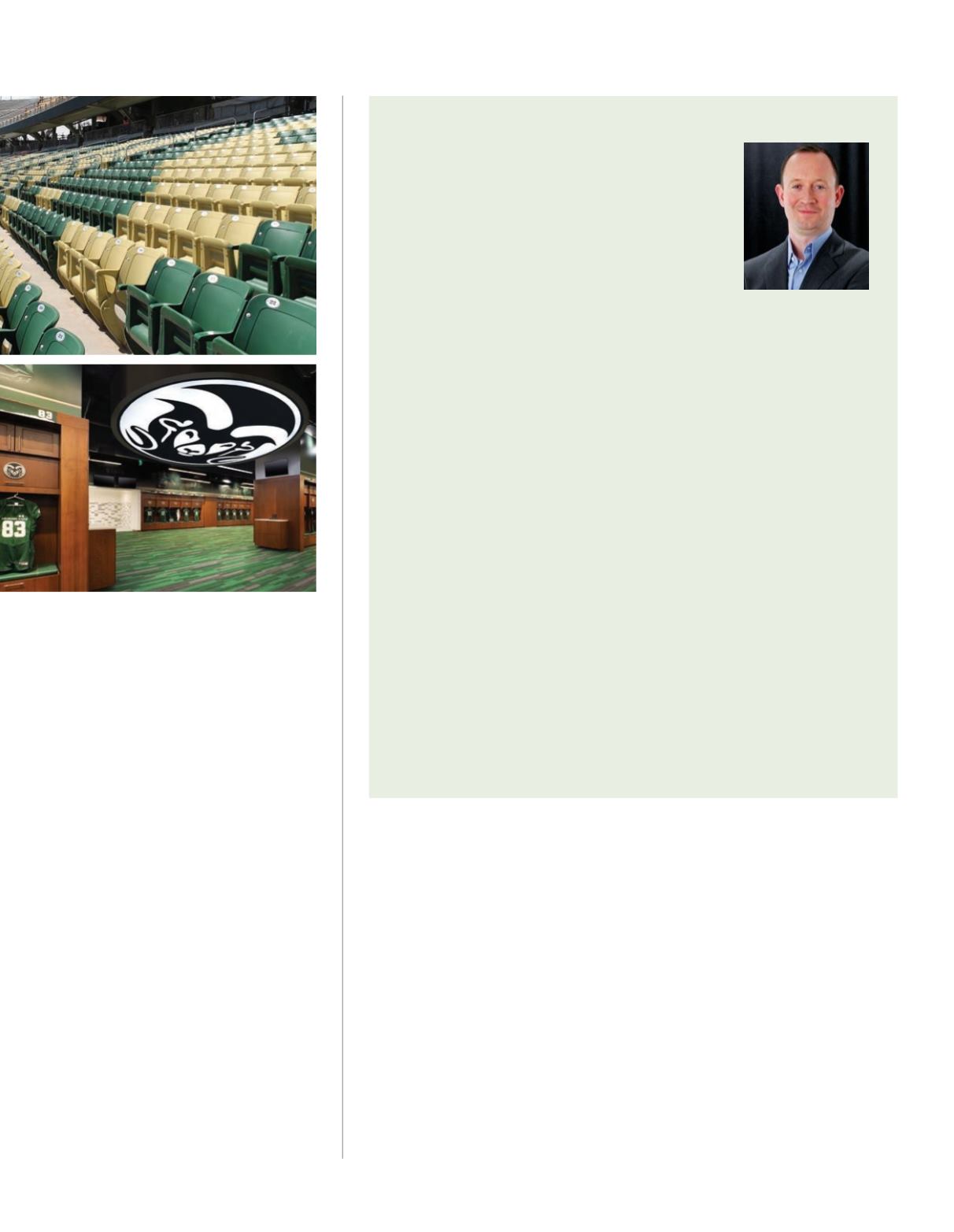 80
/ BUILDING DIALOGUE / SEPTEMBER 2017
TOP
A detail shot of the green and gold
Rams seats
BOTTOM
Locker room with lighted Rams logo
Courtesy Tim O'Hara
/ Colorado State Stadium: Rams Charge Back to Campus /
Stadium in 2012, Chase and this team started working on the stadiumdesign in
2013. He says the goal was "making this fit in with the rest of campus," taking
cues from "vernacular and vocabulary" of the prevailing mid-century mod-
ern architecture and using similar building materials. "Colorado sandstone is
prominent on campus so we used a lot of it," he says. "We really looked at the
campus buildings."
He highlights another notable feature in a craft-beer bar, the New Belgium
Porch on the north end of the stadium. "The hope is to have it open on non-
game days," says Chase. "The weather's beautiful, they have mountain views,
there are great beers."
Chase labels it as one of the smoothest projects of his career.
"There are always budget challenges, but with the collaborative process
working with CSU and ICON and Mortenson, and the back and forth, we were
able to get them what they wanted," he says.
CSU's Parker agrees, and loves the finished product.
"We have, in many ways, built the best stadium in America, for this universi-
ty, for our fans, for our football program, and for everybody who will enter and
experience this facility on a year-round basis," he says.
\\
ICON Venue Group
Dan Loosbrock, senior director for ICON Ven-
ue Group in Greenwood Village, says Colorado
State Stadium was different than most of the
company's venue projects. "First of all, it's one of
the rare new college facilities," says Loosbrock.
"Universities typically try to renovate or update
their facilities. It's not very often that there's a
new building."
He highlights the outdoor coach's terrace,
the New Belgium Porch and the Orthopaedic &
Spine Center of the Rockies Field Club. Of the
last of the three, Loosbrock says, "With roll-up garage doors, it's an
indoor/outdoor space right on the 50-yard line, right at field level."
The front of the Porch bar is just 7 yards from the back of the end
zone, he adds. "You're pretty close," he laughs.
"It takes a special relationship with local partners," he says of suc-
cessful stadium projects. With Populous and Mortenson, the entire
team "plays in this sandbox quite often."
Loosbrock spent nearly a decade with Mortenson before joining
ICON, so he says he has a unique understanding of their stadium
experience.
"When you get this type of group together, everybody has a very
high level of expectations," says Loosbrock. "We have one of the best
clients I've ever worked with [in CSU]. They were very motivated to
make decisions and provide feedback."
There were no major hiccups during construction. "Even with the
experience this team has, you still expect some bumps along the
way." He says the smooth process was the only way the team finished
on time with the 20-month schedule.
Big upcoming projects for ICON include the stadium for the Las
Vegas Raiders and the update to Key Arena in Seattle.
"We've also been selected by CSU to work on their buildings at the
new National Western Center [in Denver]," says Loosbrock. "That's a
great partnership with CSU we've been able to grow."
Loosbrock says it's difficult to watch a horde of rowdy fans come
into a "pristine and new" stadium for the first kickoff. "You take so
much care making sure things are ready for 41,000 people to show
up," he says. "I have to get over that."
Dan Loosbrock