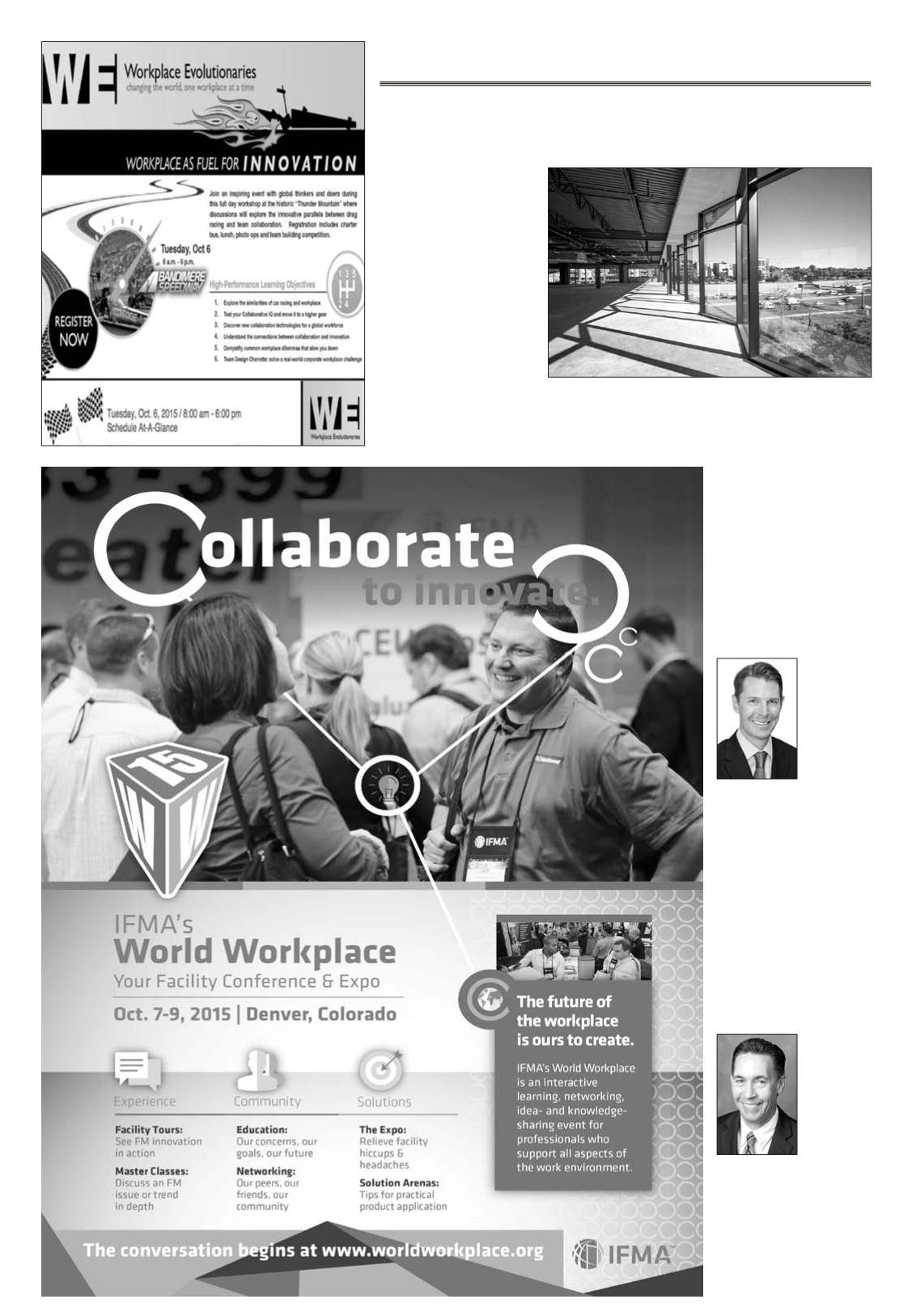 COLORADO REAL ESTATE JOURNAL
— September 16-October 6, 2015
by Jill Jamieson-Nichols
WeWork Cos. to The Lab, a
newly completed office build-
ing at 2420 17th St. in Denver,
has acquired the property.
Soma Capital Partners, in
partnership with CenterSquare
bought the 78,639-square-foot
building from developers Brue
Capital Partners and Confluent
Development. The price was
neither disclosed nor recorded.
WeWork, an international co-
working platform, preleased 65
percent of the building and
is expected to take occupan-
cy by year-end. Soma Capital
Partners previously completed
deals with WeWork in Berke-
ley, California, and Toronto,
Ontario, Canada, and led the
WeWork about Denver in late
2014 because we saw this as
a natural fit for their expan-
sion from gateway markets like
New York and San Francisco,"
said SCP partner Jordan Cas-
pari. "The average WeWork
member is 32 years old with
a focus on work-life balance.
Denver is consistently ranked
top in the country as a desti-
nation for millennials seeking
refuge from big-city life, more
affordable housing, 300 days of
sunshine, world-class moun-
tains and an international air-
York and San Francisco. We
believe that WeWork will be a
tremendous success at The Lab
given what Platte Street has to
JR Bitzer of Lee & Associates
Those included a location in or
near Lower Downtown, River
North or Denver Union Sta-
Office
The Lab features a distinctive saw-tooth glass line.
JR Bitzer
by Jill Jamieson-Nichols
One energy company's loss
was another's 19,592-square-
Laramie Energy Co., which
has outgrown its space at Writ-
er Square, subleased a portion
of Pioneer National Resources
hand in Denver," CBRE Senior
Vice President Greg Holm said
in a press release. "The silver
lining is that, when one compa-
ny makes the decision to vacate
its space midlease, it creates an
opportunity for another grow-
ing company to transition into
Greg Holm