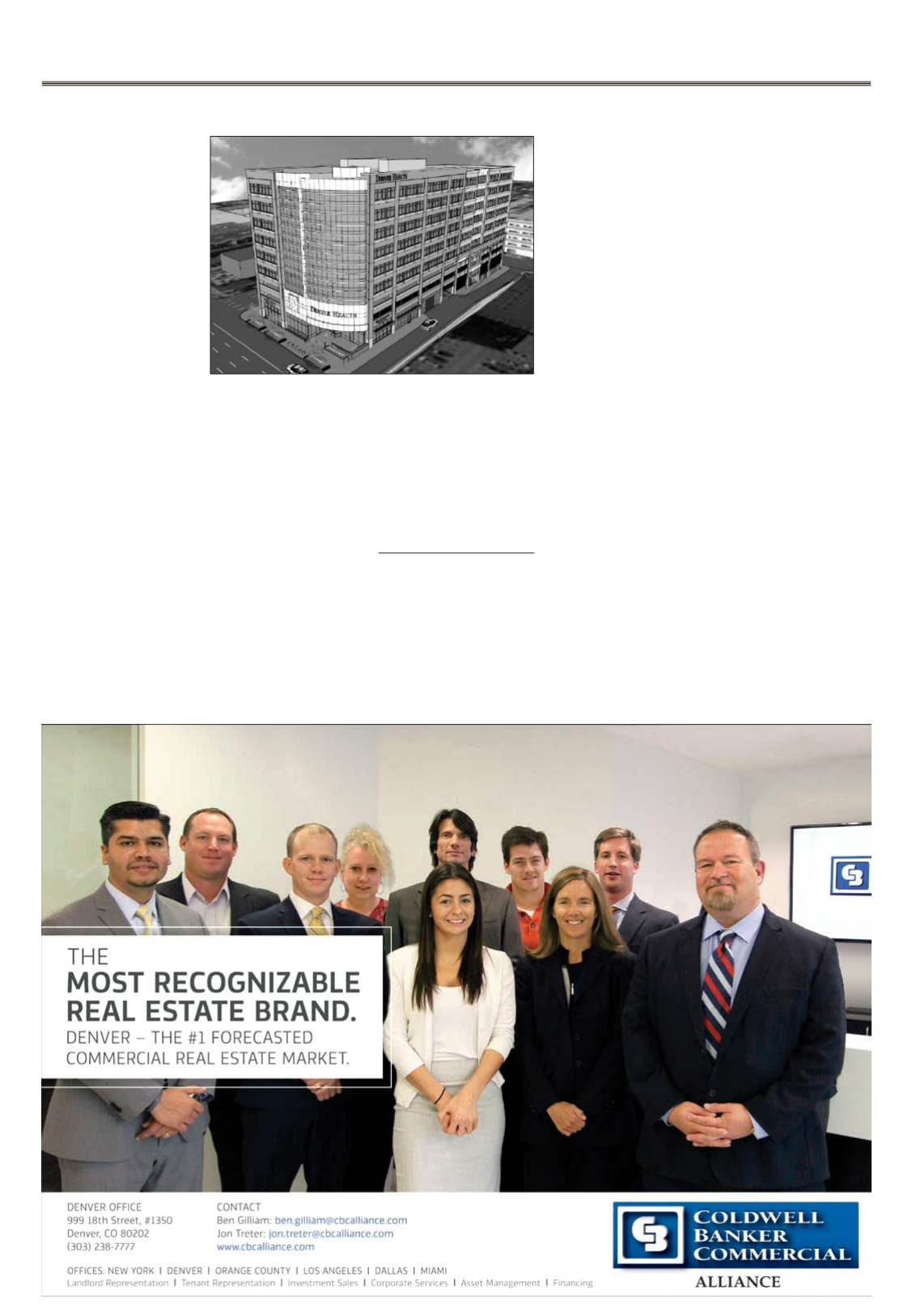 September 16-October 6, 2015 —
COLORADO REAL ESTATE JOURNAL
Health Care
by Jennifer Hayes
The first step in Denver Health's
five-year master facilities plan
designed to improve patient access
on themain campus is underway.
DenverHealthhas starteddemo-
lition on the vacant building at the
corner of West Sixth Avenue and
Broadway in Denver where a six-
story, 180,000-square-foot support
services building will be construct-
ed, in addition to three levels of
parking and 5,700 sf of ground-
The building at 601 Broadway
will house hospital administration,
physician offices and the office of
Denver's medical examiner, all
of which will relocate from their
current home at 660 Bannock St.
once the support services building
is complete, anticipated to be in
Following the move, 660 Ban-
nock will be razed for develop-
ment of theAmbulatory Care Cen-
ter, a single, centralized location
for all of the outpatient services
Denver Health offers versus the
current configuration, which has
outpatient clinics located in several
TheACCbuilding's locationwas
chosen not only for its easy access
to both Sixth Avenue and Speer
Boulevard but also as it has a park-
ing garage behind it and is across
the street from the main hospital,
according to Denver Health.
"Building the Ambulatory Care
Center will give Denver Health
the unique opportunity to reimag-
ine the patient experience and the
way we deliver care," said Art
Gonzalez, chief executive officer
at Denver Health. "Patient needs
and the principles of innovation,
research and cost-effective care will
be incorporated at every level of
Rental income from the 601
Broadway building will help offset
the cost of its construction. In addi-
tion, a private drive will connect
Broadway to Acoma Street along
the north edge of the building,
representing the first time patients,
visitors and staff can access the
campus directly fromBroadway.
While construction is ongoing at
601 Broadway, design and plan-
ning will be completed for the
ACC. The newoutpatient building
is scheduled to open in early 2019.
Trammell Crow is the master
developer for the Broadway proj-
ect, which was designed by Davis
Partnership and is being construct-
ed by Hensel Phelps Construc-
tion Co. Dorit Makovsky Fisher
of Shames Makovsky is marketing
the retail portion of the property,
which is targeted toprovide conve-
nience, service-focused retail ame-
nities for employees and visitors to
Other News
more than 300,000 square feet of
digital health space to Denver has
formally announced the location of
the Catalyst Health-Tech Innova-
Mike Biselli,
entrepreneur, and development
Koelbel andCo.
The Burgess Family
build Catalyst HTI in River North.
The campus will be located on a
full city block on Brighton Boule-
vard between 35th and 36th streets
and is designed to "bring together
private enterprise (startups to For-
tune 20), government, academic
and nonprofit organizations with
health care providers and payers
to accelerate innovation and drive
real, lasting change for the health
care industry and our nation,"
"The Burgess Family has owned
property in the River North Dis-
trict since 1968. Our family has
been patientlywaiting for a unique
opportunity, just like Catalyst HTI,
formany years. We are excited and
honored that our family's resources
will help ignite change for our ail-
ing health care industry," the fam-
"The new Catalyst HTI build-
ingwill be a best-in-class collabora-
tive office ecosystem that will meet
the market's growing demand for
dynamic work environments,"
Carl Koelbel,
of acquisitions and development
at Koelbel. "We believe the office
space of the future will be one that
provides tenants the privacy they
need to manage their core busi-
ness while also providing oppor-
tunity to collaborate and innovate
with their neighbors. The focus
on health-tech will accelerate that
innovation since everybody under
the roof will be working together
Catalyst HTI will be built in
phases. The first phase will com-
prise 180,000 sf, including more
than 10,000 sf of retail space as well
as an events venue. Construction
is slated to start in mid-2016 with
completion in mid- to late 2017.
Features include a rooftop deck,
café, fitness center, bike storage and
a variety of wellness components,
suchas natural light, cleanair anda
layout that encourages activity and
interaction among tenants.
Cascade Commercial Group
recently completed a pair of medi-
cal transactions along the Front
CHER LLC
at 1819DenverWest Drive inLake-
wood. The Lakewood location rep-
resents the 13th Colorado location
Ted Link
Ted Bre-
itenstein
The landlord was represented by
Blake Harris
CBRE.
Dr. Lori Book
Endocrinology inked a long-term
lease for 3,416 sf of space at 1625
Medical Center Point in Colorado
Springs. Book, who has been in the
building for more than 10 years,
relocated down the hall where she
took additional square footage to
bring on "needed" additional staff.
Link and Breitenstein represent-
Peter Scoville
Colorado Springs Commercial, a
Cushman & Wakefield Alliance
represented the landlord.
Harmony Development LLC
leased 2,174 sf of medical office
space at 2021 Battlecreek Drive in
Hecker Institute
LLC.
Cole Herk
Stuart Thomas
Cushman & Wakefield
KatieBeamon
Re/Max Alliance
The six-story, 180,000-square-foot building is the first step in Denver
Health's five-year master facilities plan to improve patient access on the
main campus.