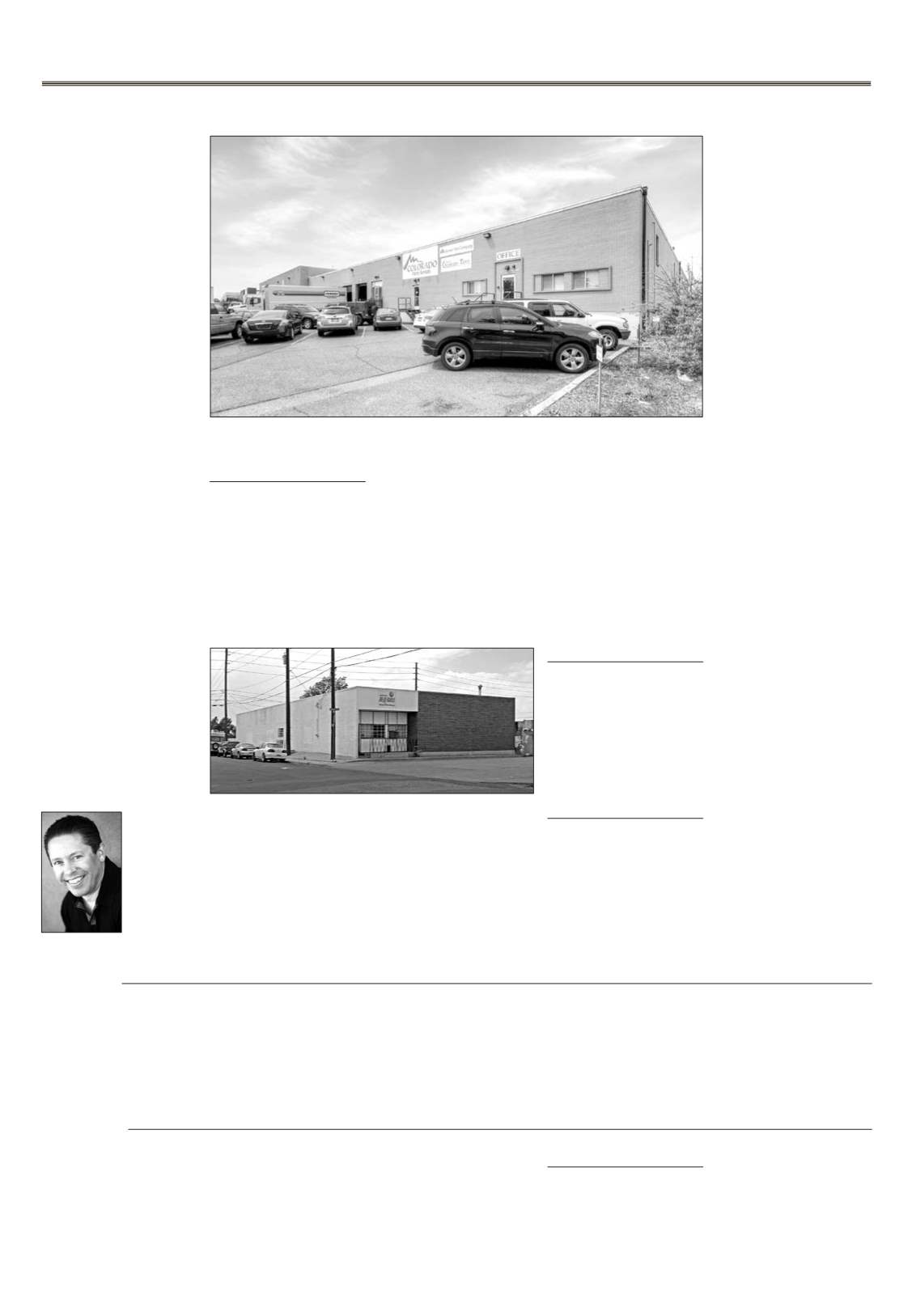 COLORADO REAL ESTATE JOURNAL
— September 16-October 6, 2015
Industrial
by Jill Jamieson-Nichols
property in the Airport-Mont-
bello submarket traded for
$3.33 million, or about $28,000
more than the asking price.
ties bought the 51,640-square-
foot building at 5005 Ironton
St. in Denver from Northstar
price equates to $64.48 per sf,
well below replacement cost,
The building is fully leased
to two tenants: Colorado Party
Rental and Colorado Tent Co.,
each of which has seven to 10
years remaining on its lease.
Northstar brought the ten-
ants to the building when it
acquired the property for $1.3
million in 2011 and recently
invested more than $1 million
in tenant-specific improve-
Industrial investment prop-
erties are highly sought after
in Denver, and CBRE's Jere-
my Ballenger said the prop-
erty "went under contract very
quickly." Ballenger represented
the seller with CBRE's Tyler
Carner and Bill Thompson.
Building features include
dock-high and rail loading, and
16- to 22-foot clear height.
Other News
Green Chef,
that delivers fresh, organic
foods and quick recipes to cus-
tomers, signed a seven-year
lease for 50,176 square feet of
industrial space at Gateway
The company, which is more
than doubling its space, hopes
to be up and running in the
building at 16304 E. 32nd Ave.
Aaron Evans
NewOption Partners,
represented the tenant with
Paul
Whiteside.
The Pauls Corp.
Chris Leino
Precision Steel
long-term lease for 30,000 sf of
industrial space at East Quincy
Energy Park, a 350,000-sf corpo-
rate industrial campus at 34501 E.
The company will move its
headquarters to Building 65, a
160,000-sf manufacturing facility
formerly occupied by Autoliv.
Precision Steel currently is locat-
ed on the South Santa Fe Drive
Zach Smith
Greg Knott
Unique Properties LLC-TCN
Worldwide
East Quincy Holding
LLC.
"One of the landlord's objec-
tives was to acquire a diversified
tenant mix because recent trends
communicate a continuing sed-
entary oil and gas industry," said
Smith. "ConocoPhillips occupies
a significant part of the campus,
making this objective a priority
for me, and we are pleased that
we were able to accomplish this,"
The landlord has made signifi-
cant capital improvements to the
building in the last year, includ-
ing updates to the office and
The property was an "excel-
lent" option for Precision Steel's
headquarters because of the
aggressive lease rate offered com-
pared to historically high rates
in the central industrial market,
according to Smith. The building
has 130,000 sf available for lease.
Carol High
Carol High Com-
mercial Real Estate
the tenant in the transaction.
Denver-based F&F Properties bought the building at 5005 Ironton St. from Northstar Commercial Partners.
by Jill Jamieson-Nichols
A local investor picked up a
set of five industrial buildings
on 2.06 acres along the new
commuter rail line to Denver
International Airport for $2.5
Located at 4200, 4201 and
4220 Madison St., and 4210 and
4230 Cook St., in Denver, the
buildings total 37,212 square
feet and were mostly vacant at
the time of the sale. The buyer,
Sheldon-Gold Realty Inc., who
represented Onival Realty in
Gold said the property is
ideal for a future transit-orient-
ed development because it is
within a couple of blocks of the
East Rail station at East 40th
Avenue and Colorado Boule-
vard. The East Rail, or A Line,
from Denver Union Station to
The seller was the Estate of
Kenneth W. Nelson. Lev Cohen
and Sheldon Hayutin of West-
star Commercial represented
the seller in the transaction.
Correction
An article in the Sept. 2 issue
of CREJ should have stated that
an industrial property at 10975 E.
47th Ave. in Denver sold to
Jolet
Warehouse LLC. Post Invest-
ment Group
in the transaction, and the buyer
is not a marijuana grower. The
building sold for $116.14 per
Other News
Technetix
lease for a 22,878-square-foot
ClassAindustrial building at 8490
Upland Drive in Englewood.
The company will double its
footprint with the move from its
existing, nearby location, accord-
Kirk Vanino
Cushman
& Wakefield of Colorado,
represented the tenant with
Tay-
lor Hazard,
Wakefield. Technetix is a broad-
band cable and telecommunica-
tions equipment supplier that
recently announced the purchase
Arris Supplies Division, which it
is merging into its existing U.S.
While LabCorp occupies adja-
cent space in the building, the
space in which Technetix is locat-
ing hasn't been occupied since the
building was completed in 2004,
according to Vanino. The Class A
space features ESFR fire protec-
tion, office finish, and dock-high
Technetix expects to take occu-
The building recently was
acquired by Hendricks Group.
CBRE
Doug Viseur,
ToddWitty, Tyler Carner
Jer-
emy Ballenger
A local investor bought five warehouse buildings along the new A Line,
which will open next year, including this one on Madison Street.
Eric Gold
ing he's never had to go to
court "on anything related to
the design and construction of
missed a schedule or had to
go back to investors to ask
for more money for a project,
Barber said. "Really that is the
catapult that's made us so suc-
cessful because our investors
have a lot of trust in us."
Barber has been married to
his wife, Kelli, for 20 years,
but their relationship extends
much further – they met on the
first day of school in seventh
grade. They have two children,
16-year-old Mason, and Mae-
lyn, 9, and live in Fort Collins.
Barber loves the outdoors
– mountain biking, camping,
hunting – and being involved
in the community. He is taking
a year off coaching football,
but remains involved with
youths and athletics through
CHAMP (Character in Athlet-
ics – Make it a Priority) as well
as this month's Success Sum-
mit for high school and college
better space and take advan-
tage of below-market rates."
The sublease consumes about
half of Pioneer's former space
in the building. Approximately
20,000 sf remains available.
"We were attracted to the
space because it was already
built out and felt brand-new
without having to undergo a
large capital investment," said
Laramie Energy President and
Chief Financial Officer Bruce
Occupier Advisory and Trans-
action Services group, rep-
resented the company in the
sublease. "We could not have
been anywhere as successful in
this endeavor without Greg's
invaluable business advice and
management of the timetable
at every stop of the way," said
Laramie Energy will occu-
py the entire 14th floor of the
building and half of the 13th
floor Dec. 1. CBRE's Project
Management Services is pro-
viding project management
and move management for the
Other News
CMF Southpark LLC
$800,000, or $127.23 per square
foot, for a 6,288-sf office property
at 1500W. Canal Court B in Little-
ton. Redland, which does devel-
opment consulting, will occupy
the building, which is located in
SouthPark business center, near
Southpark
Office LLC
Jeff Johnson, Matt Ritter
Cody Stambaugh
Pinnacle Real
Estate Advisors LLC
"The seller was able to operate
his business for many years prior
to his retirement, while the new
owner will follow suit. The buyer
will renovate the property and
occupy the space at the end of