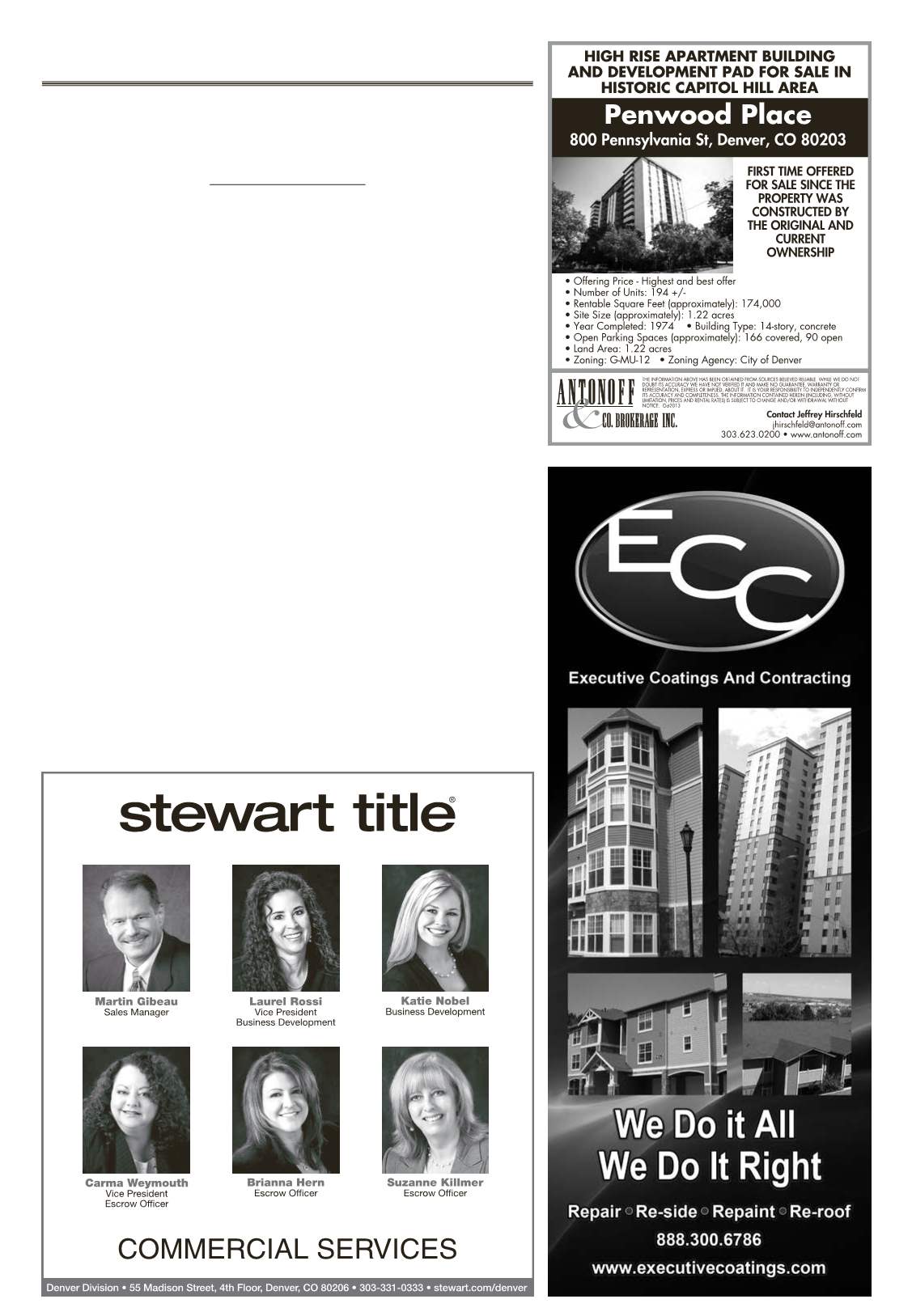 September 16-October 6, 2015 —
COLORADO REAL ESTATE JOURNAL
Multifamily
"Alta City House is a high-
profile project just west of Union
Station, at the hub of the Denver
metro area's light-rail system,"
said Tim McEntee, director for
Wood Partners' Rocky Moun-
tains region. "Overall, we're very
pleased with how well it has
been received." McEntee said.
"It's an exciting, high-profile
project, and we really amped up
Alta City House is LEED Gold
certified by the U.S. Green Build-
It includes one-, two- and
three-bedroom apartments in a
five-story wrap structure with a
garage on slightly less than three
One-bedroomunits range from
645 to 825 sf; two-bedrooms from
991 to 1,227 sf; and three-bed-
room townhomes are 1,300 sf.
The community includes 1.4
parking spaces for every unit, a
higher ratio than many compa-
rable nearby communities.
Residents at Alta City House
have access to a wine locker,
two-story fitness center, cyber
café, two-story clubroom, game
room, a large roof deck with
a year-round outdoor kitchen
facility and a striking view of
There are two large outdoor
courtyards, one with a large pool
area and an outdoor fireplace.
Wood Partners expects the pool
and landscaping to be completed
Wood Partners and East West
Partners previously collaborated
on the highly successful Glass
House high-rise condominium
tower in Riverfront Park in 2007.
Alta City House is the third
apartment community devel-
oped by Wood Partners in the
Paul T. Bergner Associates was
the architect for Alta City House.
Harris Kocher Smith was the
civil engineer and Norris Design
was the landscape architect.
Other News
Bascom Group LLC,
based in Irvine, California,
recently paid $21.6 million
for the 157-unit 52nd Market-
place apartment community in
The sale price equates to
$137,598 per unit and $198.42
The three-building community
sits on 4.22 acres at 7797 W. 52nd
Debt financing was arranged
Brian Eisendrath
CBRE.
Bank of Amer-
ica
financing for the acquisition.
Arvada
Investment Group LLC,
by Sheryl and Glenn Cooper,
according to public records.
The community was built in
two phases, the first in 1974 and
Some 71 percent of the units
are one-bedroom units and 29
percent are two-bedrooms apart-
Amenities include a clubhouse,
fitness center, business center,
pool, poolside barbecue area and
The community is just eight
miles west of downtown Denver
and within walking distance to
"We acquired a well-built, cen-
trally located asset that is ideally
positioned in its submarket to
benefit from revenue-enhancing
capital improvements," said
Paul
Zakhary,
"Hopefully we can buy a few
more like this before the year
Julie Schoenbachler,
vice president of portfolio oper-
ations for the Bascom Group,
added: "Arvada and the sur-
rounding markets continue to
show strong apartment funda-
mentals and household eco-
nomic statistics relative to other
submarkets. Fifty-Second along
with the neighboring properties
are all high 90s occupancy with
healthy resident analytics."
Allante Properties
million for a 15,000-sf parcel of
land at 3885 Tennyson St., where
it plans to build a five-story,
81-unit apartment building.
Billy Riesing,
Pin-
nacle Real Estate Advisors,
resented the seller in the transac-
Jamie Mitchell,
adviser at Pinnacle, represented
"This piece of land is located
on the Tennyson corridor in the
heart of the Berkeley neighbor-
An unidentified buyer paid
$1.46 million, or $97,333 per unit
and $144.53 per sf, for the 15-unit
Hoyt Apartments at 4385 Hoyt
The property was constructed
Josh Newell,
Pinnacle Real Estate
Advisors LLC,
the local buyer and seller in the
An unidentified buyer paid
$700,000, or $100,000 per unit,
for a seven-unit apartment build-
ing at 3150 Harlan St. in Wheat
Matt Lewallan
Kevin Cal-
ame,
both senior advisers with
Pinnacle,
and the seller in the transaction.
"The buyer is excited to com-
plete a renovation of the proper-
ty and add this as a nice asset to
(its) portfolio," Lewallen said.