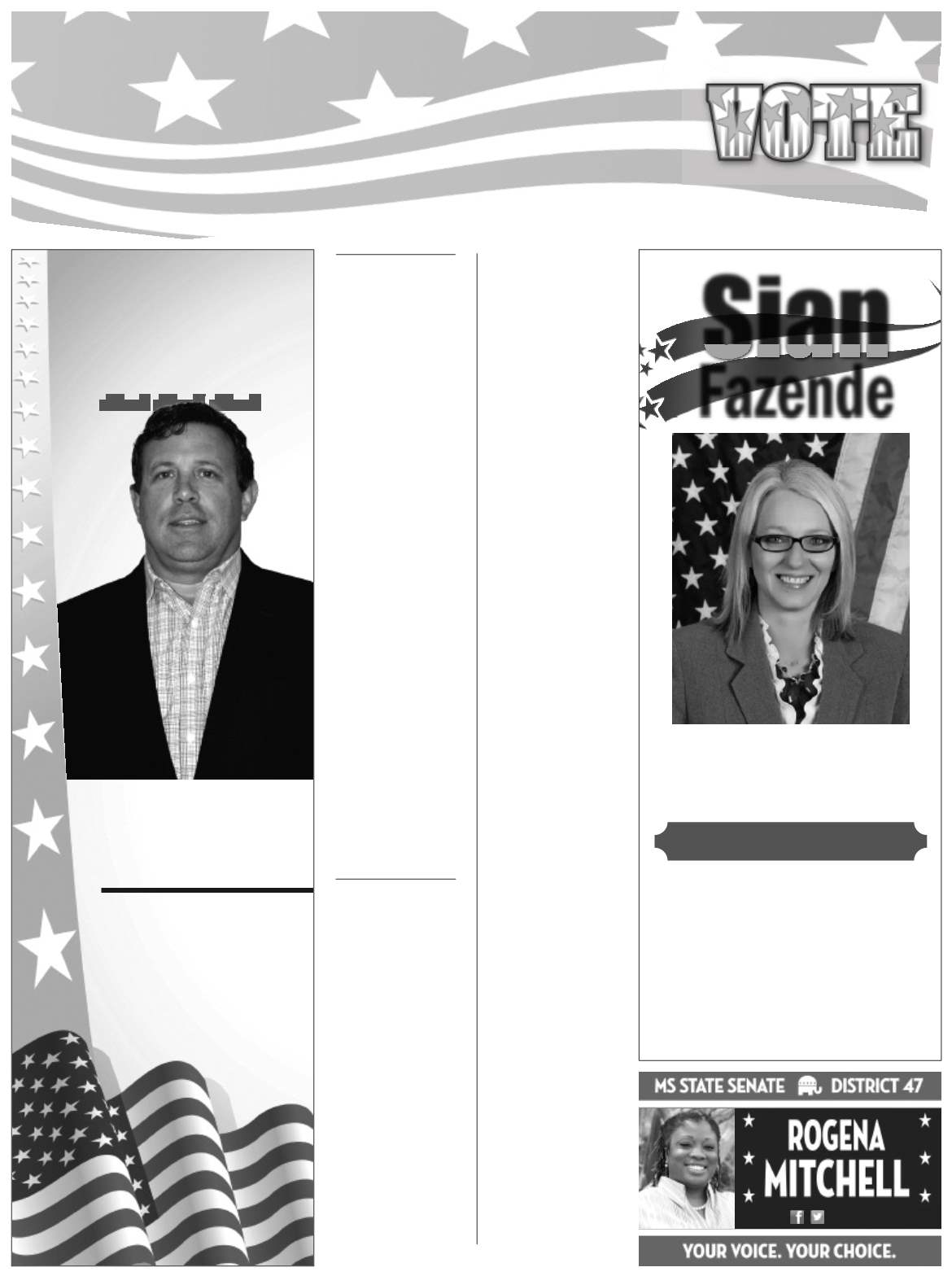 State Primary Election |
Tuesday, August 4
th
| 7am - 7pm
These Fine Community Leaders Encourage You to
Pearl River County, Mississippi
Governor
Valerie Adream Smartt Short
Lt Governor
Secretary Of State
Attorney General
State Auditor
Comm. Of Ag & Comm
S. Public Service Comm
S. Transportation Comm
State Senate 47
State House Of Rep 93
State House Of Rep 108
Circuit Clerk
Coroner
Tax Collector/Assessor
Supervisor1
Patrick 'Stone Head' Collins
Supervisor 5
Pearl River County, Mississippi
Governor
Lt Governor
Secretary Of State
Attorney General
State Auditor
State Treasurer
Comm. Of Ag & Comm
Comm Of Insurance
S. Public Service Comm
S. Transportation Comm
District Attorney 15
State Senate 40
State Senate 44
State Senate 47
State House Of Rep 93
State House Of Rep 106
State House Of Rep 108
Chancery Clerk
Circuit Clerk
Coroner
County Prosecuting Attorney
Sheriff
Tax Collector/Assessor
PRC Dist. Supt. Of Ed.
Supervisor1
Supervisor 2
Supervisor 3
Supervisor 4
Supervisor 5
N. Justice Court Judge
North Constable
E. Justice Court Judge
East Constable
Larry P. 'Dusty' Dillard Jr.
W. Justice Court Judge
W. Constable
J. Patrick
LEE
SUPERVISOR
It's
that Matters.
mitchellsenate.com 228-249-9791
Sian has 21 years of hands on experience in the Circuit Clerk's
office. Not only did Sian have the privilege of being trained by
and work for two Circuit Clerks, she has worked under four
Circuit Judges and a County Court Judge. Sian knows all the
rules and procedures for our Circuit County Court, election
and voter lows and marriage laws.
As Circuit Clerk, Sian would be able to stepinto the position
with more than 20 years experience to her credit, which
means she would begin serving the people of Pearl River
County from day one. She understands election law and was
most recently contracted by the county election
commissioners to implement re-districting county-wide.
"It would be my highest honor to serve the people of
Pearl River County as their next Circuit Clerk"
Swap Shop News |