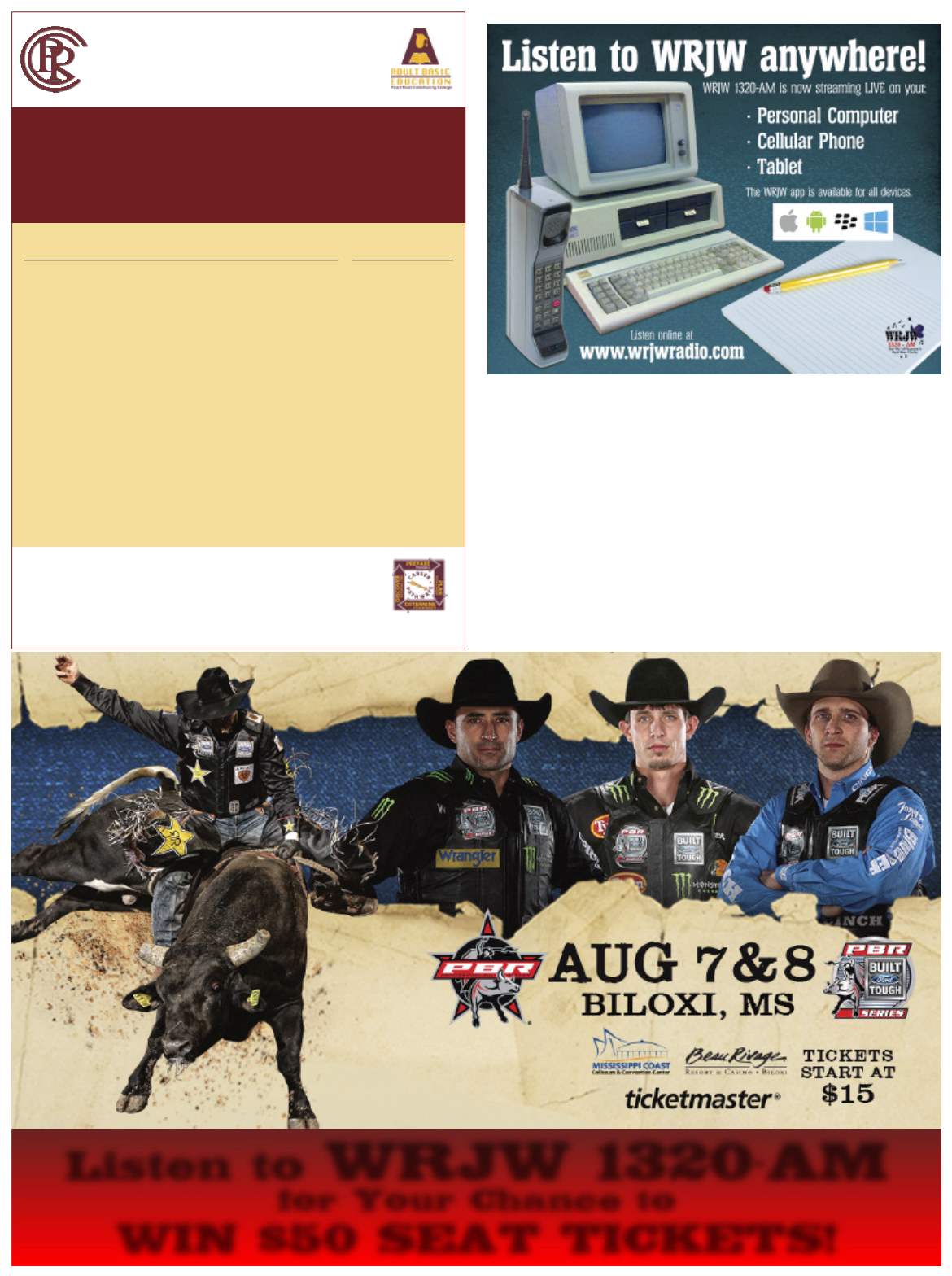 PETS AND
LIVESTOCK
FOR SALE:
FS: Variety of Ban-
tam
chicks
(BB
Reds, Silkies, Gold
and Silver Seabright,
Bard Rock) Variety
of
baby
Quail
(Chuckar Pharoah)
and Pheasants. Call
601-795-6397.
FOR SALE:
FOR SALE:
FOR SALE:
FOR SALE:
A single sunbeam is
enough to drive
away many shadows.
St. Francis of Assisi.
LAWN & GARDEN
& FARM EQUIP
FOR SALE:
FOR SALE:
FOR SALE:
Hattiesburg
: PRCC Forrest County Campus Wednesday, Aug. 12
(Modular Trailers by Allied Health) Thursday, Aug. 13
Poplarville
Jeff Davis Hall (2nd Floor)
Hancock
Carson
Jefferson Davis Vo-Tech Center Monday, Aug. 17
Wednesday, Aug. 19 3:30 - 6:00 pm
Columbia
Carl Loftin Vo-Tech Center
Pearl River Community College offers
FREE Adult Education/GED Classes
for individuals 17 years of age
who are not currently enrolled in high school.
Day and night classes are available in most areas.
For more information call
601-554-5551
or
601-403-1431
ADULT BASIC EDUCATION
2015-2016 New Student Registration
Pearl River Community College offers equal education and employment opportunities. We do not discriminate on the basis of race, religion, color, sex, age, national origin, veteran status, or
disability. For inquiries regarding the nondiscrimination policies or to request accommodations, special assistance, or alternate format publication, please contact Tonia Moody, ADA/Civil
Rights Coordinator, at P.O. Box 5118, Poplarville, MS 39470 or 601-403-1060.
Swap Shop News |