1 / 76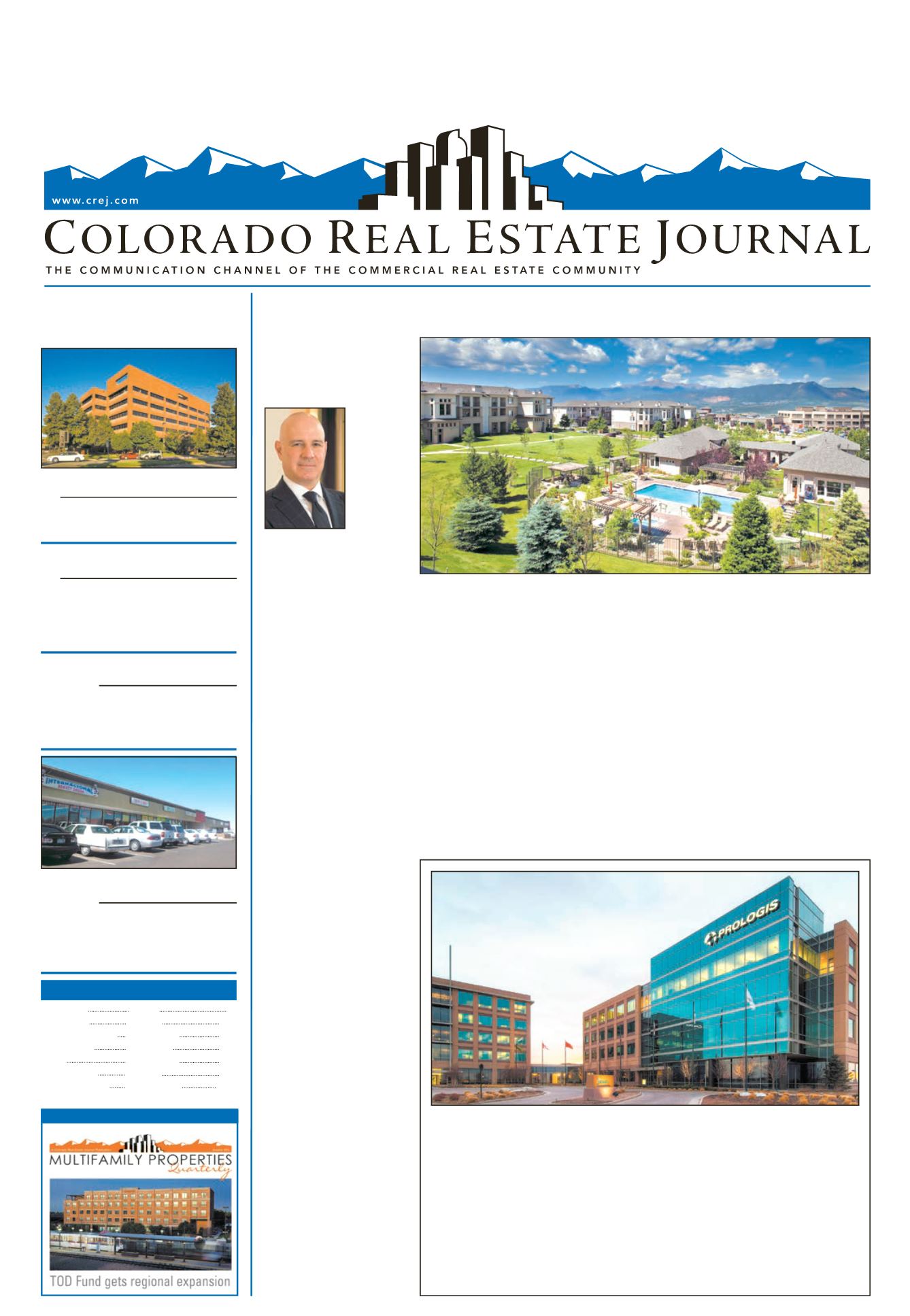 JANUARY 21-FEBRUARY 3, 2015
by Jennifer Hayes
A Denver-based multifam-
ily investment and manage-
ment firm is keeping true to
its plans to be "always buy-
ing, always
s e l l i n g "
with
its
recent dis-
positions
of a pair of
Colorado
S p r i n g s
apartment
properties.
G r i f f i s
Re s i den -
tial sold the Sagebrook and
The Oasis in separate trans-
Springs apartments sell for $88.8 million
The Sagebrook apartments, one of two communities recently sold by Griffis Residential, sold to a
Boulder buyer for $48.8 million.
David Birnbaum
by John Rebchook
Last year was one for the
record books when it came to
apartment sales in the Denver
area.
Cary Bruteig, principal of
Apartment Appraisers &
Consultants, reported there
was a record $3.25 billion in
multifamily building sales in
the Denver area in 2014.
Bruteig, in his Apartment
Insights quarterly report,
which tracks sales of apart-
ment communities with at
least 50 units, showed that the
sales volume was about 78
percent higher than the $1.8
billion in sales in 2013.
However, the volume of
20,273 units sold last year as
only 41.5 percent higher than
the 14,326 units sold in 2013.
When just communities
with 100 or more units are
included, which has been
the metric that Bruteig has
been using for more than two
decades, the total came to just
under $3.1 billion in sales.
"The next highest was $2.5
billion in 2012," for the sale of
communities with at least 100
units, Bruteig said.
Not only did more units
sell, but also they fetched sub-
stantially higher prices, Bru-
teig reported.
The average unit's price
was $157,051, 25.2 percent
more than the average unit
sales price of $125,403 in 2013.
On a per-square-foot basis,
sales averaged $181.29 in
2014, 21 percent higher than
$140.14 per sf in 2013.
Monthly rents, meanwhile,
booked a "stunning" 12 per-
cent year-over-year gain,
according to Bruteig's report.
The rent increases came at
a time when the inflation rate
hovered around 2 percent.
Almost certainly, that pro-
vided the biggest the larg-
est increase ever in terms of
"real" dollars and not just
nominal dollars.
Apartment experts said
that Bruteig's report is right
on target.
Jeff Hawks, a principal of
the Denver office of ARA,
said it is important to put last
year's apartment market into
historical perspective.
"I would say it is highly
likely that we hit sales last
year of 50 percent higher
than our previous biggest
year," Hawks said.
"I think the $3.2 billion in
sales is bigger than what the
entire market sold during the
decade of the 1990s," Hawks
said.
Investors'appetite for Den-
ver-area apartments drove
up prices to never-before-
seen levels, he said.
"For the first time, we saw
multiple transactions above
$200,000 per unit and some
cases of more than $300,000
per unit," Hawks said.
"Even the 1970s value-
add properties were going
for more than $100,000 per
unit," he added.
Few analysts predicted
such a gangbuster year.
"I didn't see it coming,"
Hawks said.
Buyers pay a record $3.25B for apartments
by Jill Jamieson-Nichols
A global company will
make a big statement in Den-
ver with a move to a high-
profile building near Denver
International Airport.
Kärcher North America
leased an 87,000-square-
foot Class A office building
at Interstate 70 and Peña
Boulevard for its North
American headquarters.
The building at 4555 Air-
port Way is next to Prologis'
operational headquarters,
and, like Prologis, Kärcher
Kärcher will lease the building at 4555 Airport Way from Prologis.
Kärcher leases building near
DIA for NA headquarters
Please see
Kärcher,
Page 6
Please se
e
Apartments,
Page 13
In this issue…
Inside
Adding up
CapRidge Partners has added two
more assets to its Denver portfolio
Big time
A Denver commercial real estate
company that decided to "go big" now
is part of DTZ, the third-largest
company of its kind in the world
Nice move
Lowe Enterprises Investors
pays $51 million for an apartment
community in 'a great value-add play'
First purchase
A California-based company
buys Greenbriar Plaza Shopping
center in its first Colorado acquisition
CONTENTS
Greater Denver
4
Boulder County
10
Larimer & Weld Counties 12
Colorado Springs
13
Finance
15
Law &Accounting
18
Property Management
20
CDE
25
Office
2AA
Health Care
3AA
Industrial
4AA
Multifamily
5AA
Retail
6AA
Who's News
13AA
4
8
1AA
6AA
Please see
Buyer,
Page 24
Please see
Buyers,
Page 24