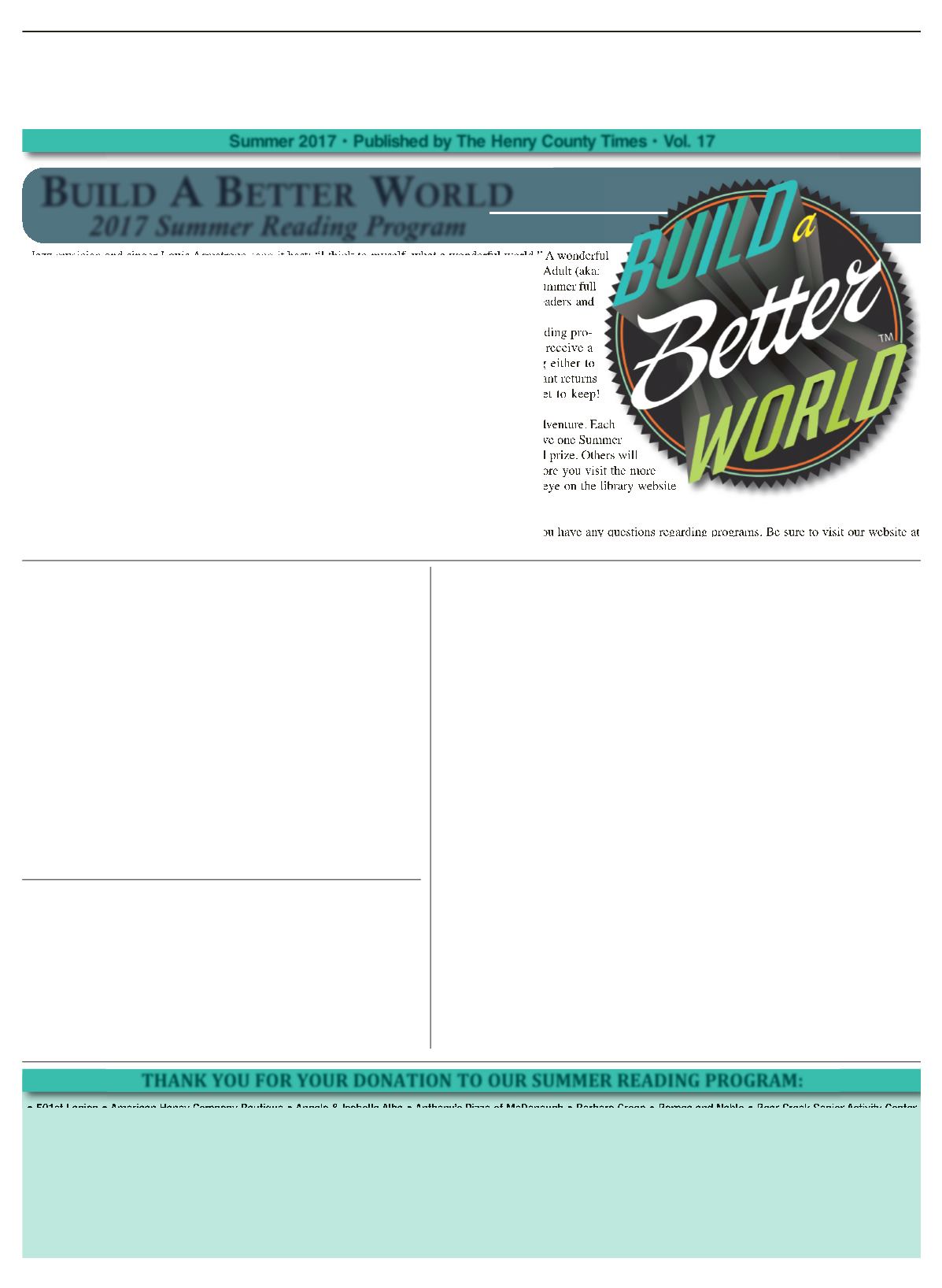 THE GSU BIO-BUS AT YOUR LIBRARY
Summer 2017 • Published by The Henry County Times • Vol. 17
The Library Times
Jazz musician and singer Louis Armstrong sang it best; "I think to myself, what a wonderful world." A wonderful
world of imagination and discovery is waiting for you at your local library. The Children's and Young Adult (aka:
teen) services members at all branches of the Henry County Library System have been constructing a summer full
of excitement for patrons of all ages. As we try to build better readers, we aspire to create future leaders and
encourage children of all ages to visit the library.
Children from birth to 6th grade
are encouraged to visit the library, register for our summer reading pro-
gram, and join in the "Build a Better World" phenomenon. Upon registering, each participant will receive a
reading folder in which they can write down the books read in June and July, with the goal being either to
complete 20 books or to spend a total of 10 hours reading. Once they achieve this goal, the participant returns
to the library, to receive a certificate of completion and a prize, a book of their choosing they get to keep!
Registration begins June 1st.
Teens and tweens ranging from 6th to 12th grade
follow a different path on their summer reading adventure. Each
day a young adult (teen or tween) checks out items at their local Henry County Library, they will receive one Summer
Reading scratch-off ticket. Some of these tickets will be an instant winner entitling the teen to a special prize. Others will
not be an instant winner, but will be submitted into a drawing to win an tablet (1 per branch). The more you visit the more
chances to win! Each branch will be offering a variety of programs for teens and tweens so keep an eye on the library website
(www.henry.public.lib.ga.us
) for summer programming calendars.
All programs offered by the libraries are free but seating is limited and some events do require
pre-registration. Please feel free to call your library to obtain information about special events or if you have any questions regarding programs. Be sure to visit our website at
www.henry.public.lib.ga.us
. Our world is precious; let us all make it even better by building better readers.
The Bio-Bus itself is a 30-foot long, self-con-
tained, mobile laboratory that accommo-
dates up to 15 students at a time. Bio-Bus
brings relevant, participatory, and - above all
– FUN science presentations to students all
over Georgia. The Bio-Bus Program is com-
prised of students and educators at Georgia
State University who are committed to build-
ing a learning community that serves all
Georgians. This year, four of the Henry
County Libraries will feature the Bio- Bus.
STARWARS-themed geological series Bio-
Bus will take place at Locust Grove Public
Library. Pre-registration is required.
Children up to age 12 will be welcomed on
Friday, July 14, at 10:15 and 12:30 for these
amazing programs.
"Biotechnology: Forensic's" Bio-Bus for
Teens ages 12 and up with an interest in
forensics will be at Locust Grove Public
Library. This event takes place July 14 at 1:45
PM immediately following the children's
program.
"Heart andYour Health" Bio-Bus will be at
McDonough Public Library on June
30th.The Bio-Bus program will take place
from 11 AM-12 PM for children ages 7-12,
and for teens 12-17 from 2-3 PM. Children,
teens, and their adults will be introduced to
the basic anatomy and function of the mam-
malian heart and circulatory system. The
high point of this program is the opportunity
to handle a preserved cow heart. Signups
are required to attend.
"Water in the Environment" Bio-Bus will be
at Cochran Public Library on June 14 at 2:00
PM. This module also introduces students to
the basic properties of water that allow life
on Earth to exist. Emphasis is placed on
understanding the harmful effects of pollu-
tants in our lakes, rivers, streams, and
groundwater. Sign-up are required.
"Chemistry: States of Matter" Bio-Bus will
hold two sessions at Fortson Public Library
on Friday, July 7. This module focuses on the
properties of the states of matter with
demonstrations to illustrate the concepts
and gain familiarity with lab practices. Our
11 AM session will be specifically tailored
for teens and adults with developmental dif-
ferences. Sign-up required, intended for
those 8 years old and up.
"Chemistry: Acids, Bases, and Indicators"
Bio-Bus take place at Fortson Public Library
on Friday, July 7 at 3 PM. Participants will
conduct hands-on experiments while learn-
ing about the properties of acids and bases,
the use of pH indicators, and scientific think-
ing and methodology. Sign-up required,
intended for those 8 years old and up.
Building the Mind and Building the
body, with FREE lunch at the Library!
With summer right around the cor-
ner, it's time to think about keeping
children eating healthy while school
is out. In addition to fun, free and
educational summer programs to
build the mind, Henry County
Library System is also helping to
build healthy kids. From June 5
through July 31, Henry County
Library System branches will pro-
vides free meals to children ages 18
and younger. This summer, meals
will be served Monday through
Friday at all five Henry County
Library System Branches. Locust
Grove Library, Fortson Library,
McDonough Library and Fairview
Library will serve lunch from 12:30 -
1:30 pm Cochran Library will serve
lunch from 12:00 - 1:00 pm.
There are no income requirements or
registration. Each year, the U.S.
Department of Agriculture partners
with local organizations like the
Henry County Library System and
The Literacy for Youth Foundation to
provide free meals to children for the
summer. Any child under age 18 may
come and eat. For more information
about the national Summer Food
Service Program, visit http://www.
fns.usda.gov/cnd/summer.
• 501st Legion • American Honey Company Boutique • Angela & Isabella Alba • Anthony's Pizza of McDonough • Barbara Green • Barnes and Noble • Bear Creek Senior Activity Center
• Bio Bus from Georgia State University • Brittany L. Montrois, CPA • Castillo Real Mexican Cocina & Bar • Chattahoochee-Oconee National Forestry Service
• Chick-Fil-A @ Hwy 20 • Chick-Fil-A @ Lake Dow • City of Hampton Police Department • City of Locust Grove • City of McDonough • City of Stockbridge
• Stockbridge Mainstreet Program • Central Georgia EMC • Connie Baptiste • Craig Elrod & Daughter, McDonough City Council District III • Deron R. Hicks, author
• Delta Community Credit Union • Dairy Queen of McDonough (Hwy 20) • Debbie Loflin • Dr. Favers • Dr. Richard Arroyo-Diaz • Friends of the Library • Fun Bowl of Henry County
• Gale Cengage Learning and
ChiltonLibrary.com
• Georgia Forestry Commission & Smokey the Bear • Georgia Piedmont Region K-9 Search & Rescue • Georgia State Parks
• Gezzo Surf & Grill, McDonough • Great Clips, Locust Grove • Hampton Service Center • Hare House - Sandy & Kayla Campbell • Henry County 4-H Council • Henry County Chamber of Commerce
• Henry County Fire Department - Station 5 • Henry County Public Library Staff • Henry County Parks & Recreation Therapeutic Recreation • Henry County Water and Sewerage
• Institute of Musuem & Library Services • Kaiser Permanente of Georgia Educational Theatre • LEGOLAND of Atlanta • Metro Metal Works • Mobile Dairy Classroom
• Publix Corporation • Queen Bee Coffee Company • R. Brian Strickland, Smith, Welch, Webb & White • Smashburger • Veterans of Georgia • Wendy's of Locust Grove
B
UILD
A B
ETTER
W
ORLD
2017 Summer Reading Program
PASSPORT TO HENRY –
A self-guided tour through Henry County
This program is for families or individuals to visit different locations (in
Henry County) listed in your passport. The goal of the program is to expand
your knowledge and participation within the community. As you visit differ-
ent locations, you will have them marked off in your passport booklet either
by an employee at the location or by showing a selfie from the location to
library staff. You may request your passport from the McDonough or Locust
Grove Library Branch. Return the completed passport and receive a prize.
THANK YOU FOR YOUR DONATION TO OUR SUMMER READING PROGRAM: