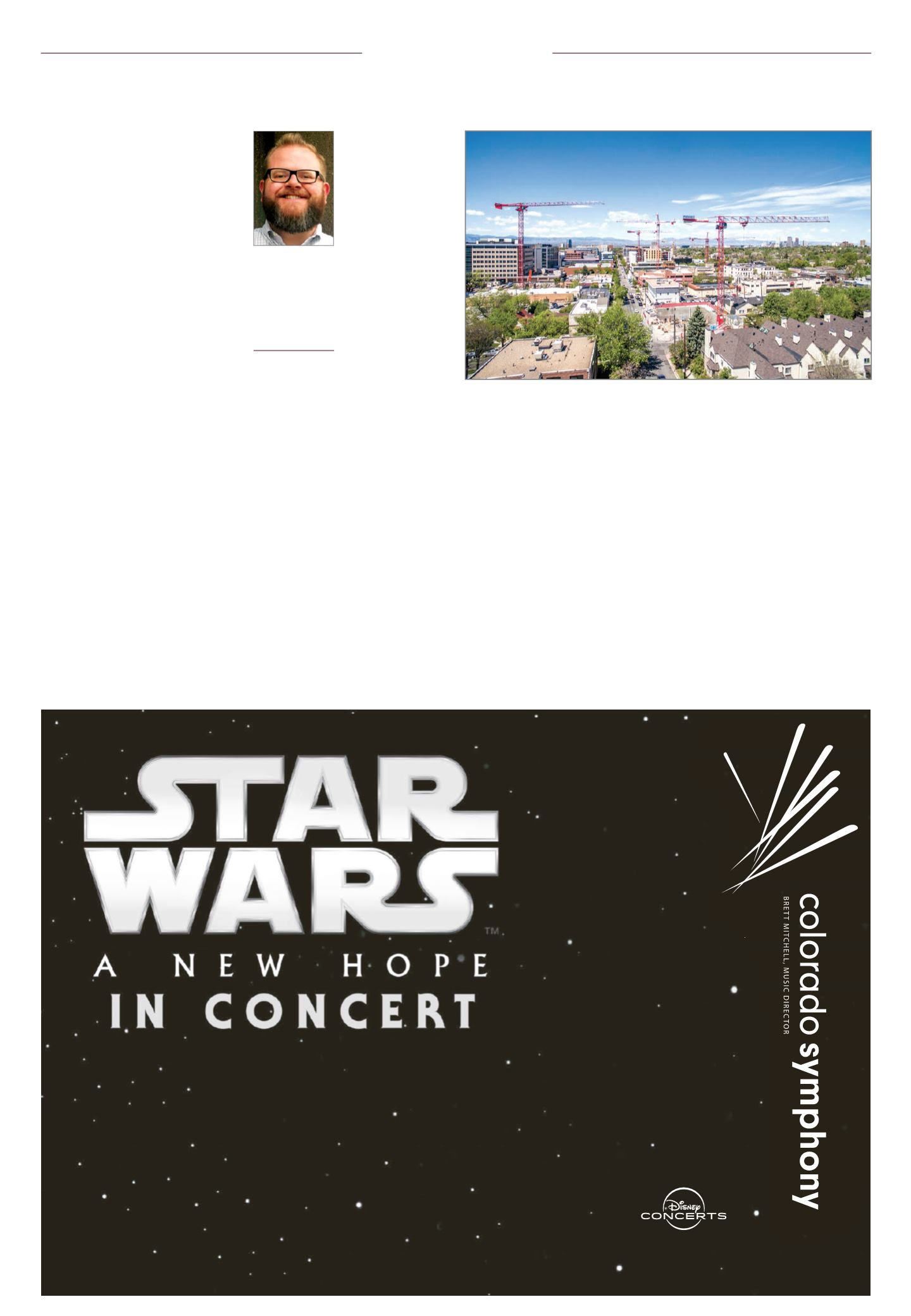 Page 24
— Retail Properties Quarterly — February 2018
www.crej.com
FILM LIVE WITH COLORADO SYMPHONY
BRETT MITCHELL, CONDUCTOR
MUSIC BY
JOHN WILLIAMS
THU MAR 22 & SAT MAR 24
1STBANK CENTER, BROOMFIELD, CO
ALTITUDETICKETS.COM
PRESENTATION LICENSED BY DISNEY CONCERTS IN ASSOCIATION WITH 20TH CENTURY FOX,
LUCASFILM AND WARNER/CHAPPELL MUSIC. © 2017 & TM LUCASFILM LTD. ALL RIGHTS RESERVED
"PRESENTATION LICENSED BY
T
he city of Denver contin-
ues to see incredible levels
of investment. This year
is expected to be another
record year with several
major development projects under
construction or planned that will
add to the city's growth and trans-
formation.
In Cherry Creek North, this trans-
formation is even more profound.
Cherry Creek North, the 16-block
area extending from University
Boulevard to Steele Street and
First to Third Avenues, has long
been known as the home for inde-
pendent and luxury retailers in
Colorado. The area boasts over 2.46
million square feet of office and
retail space, more than 5,000 park-
ing spaces and businesses employ-
ing over 7,300 people. Cherry Creek
North's total commercial assessed
valuation has doubled over the
past five years. With a Walk Score
of 95, Cherry Creek North is the
most walkable area in the city of
Denver. The larger Cherry Creek
area employs 18,000 and is home
to more than 7,000 residents.
The Cherry Creek North Business
Improvement District has been
the management entity for the
16-block area since its establish-
ment in 1989. The BID's mission
is to actively plan, manage and
promote Cherry Creek North as a
premier destination for shopping,
dining, living, working and visiting.
"Cherry Creek is widely known as
the city's premier shopping desti-
nation," said Julie Underdahl, presi-
dent and CEO of the Cherry Creek
North BID. "The area is evolving as
a mixed-use destination with more
hotels, restau-
rants, living, office
and retail spaces
coming online. We
are working close-
ly with public and
private partners
to ensure that the
area continues to
be the number one
destination for
premier shopping,
as well as the
top destination
in Denver to live,
work and stay."
The BID works
to support its
local, national
and international retailers. Begin-
ning in 2008, the BID financed and
managed the design and construc-
tion of an $18.5 million streetscape
renovation project called "The New
North." The improvements were
designed to retain and attract visi-
tors, to protect and preserve the
area's character, and keep it a com-
petitive retail environment. The
streetscape frames and supports
an active and attractive public
realm that continues to draw new
investment and new businesses
and enhances the visitor experi-
ence in the area.
Today, Cherry Creek North is the
largest home of small businesses
in the Rocky Mountain region. Of
its 250 retailers, 70 percent are
independently owned and oper-
ated. Long-standing retailers
continue to celebrate milestone
anniversaries that range 20, 25 and
30-plus years of doing business
in the area. These entrepreneurs
are the foundation of the business
community and give the area its
unique character.
"There is no question that Cherry
Creek North is what it is because
it is an authentic space that has
organically grown over time," said
Rosella Louis, founder of The Brass
Bed: fine linens & furnishings. "It
is the kind of place where you can
buy a simple lunch or a gourmet
dinner, a pair of flip flops or a dia-
mond bracelet … a place where
independent retailers and nation-
als coexist. And now a place where
many people live and work, it's
why we've thrived here for almost
two decades!"
In summer 2017, the district con-
ducted a Visitor Intercept Survey
that provided new insight into con-
sumer perceptions and spending
patterns in the district. According
to the results, visitors to Cherry
Creek North are highly educated:
48 percent have a college degree
and 26 percent have an advanced
degree. Visitors also have high
annual household incomes with
44 percent earning over $100,000.
Respondent's top reasons for visit-
ing the district were shopping or
dining and the average number
of visits per month was between
one and five. Overall, Cherry Creek
North was ranked highly by visitors
for its landscaping, feeling of safety
and overall cleanliness.
Small businesses thrive in Cherry Creek North
Retail Highlight
Brian
Phetteplace
Director of
economic
development,
Cherry Creek
North Business
Improvement
District, Denver
Ryan Dravitz
Six major construction projects in Cherry Creek North will be completed in 2018,
adding 201 hotel rooms, 236 residences, 110,000 square feet of office space and over
50,000 sf of new or renovated retail space.
Please see Phetteplace, Page 27