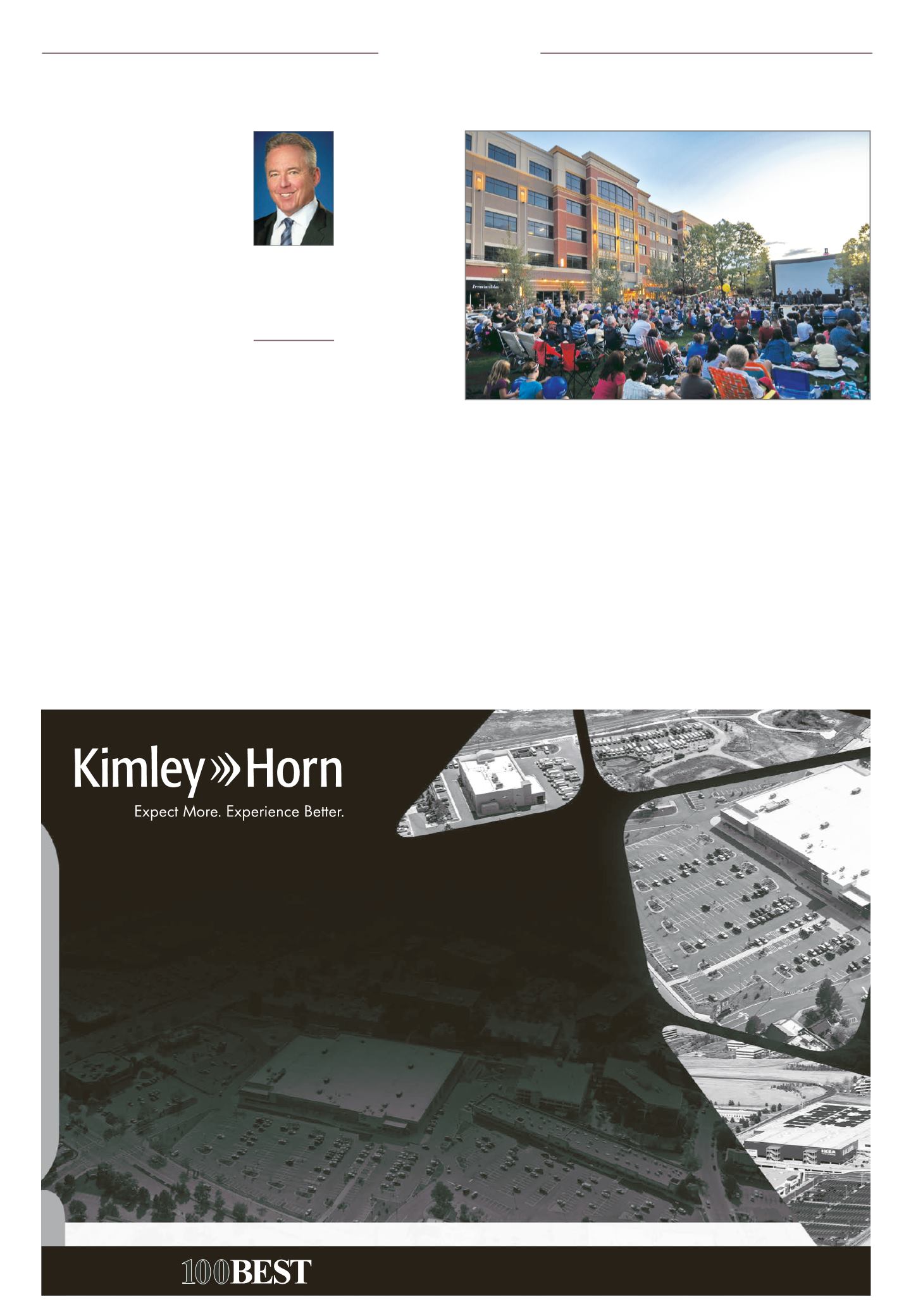 February 2018 — Retail Properties Quarterly —
Page 21
www.crej.com
Denver:
4582 S. Ulster St., Ste. 1500 • Denver, CO 80237 • 303.228.2300
Colorado Springs:
2 N. Nevada Ave., Ste. 300 • Colorado Springs, CO 80903 • 719.453.0180
FORTUNE
M A G A Z I N E ' S
WE ARE
ONE OF
COMPANIES
TO WORK FOR
Explor
e
Kimley-Horn.com
for more information.
RETAIL SERVICES
Site condition assessment
Pedestrian access
Site renovation solutions
Retrofit site design
Peer review
Agency permitting/entitlements
Pavement management/evaluation
Utility design/coordination
Traffic
Roadway
Infrastructure
Build-to-Suit
Landscape Design
ENR RANKINGS
#21 of the Top 500 US Design Firms
#6 of the Top 100 Pure Design Firms
#2 for Retail
#2 for Multi-unit Residential
#7 for Airports
#8 for Highways
#8 for Solar Power
#9 for Transportation
#10 for General Building
#16 for Mass Transit and Rail
#16 for Water Treatment
and Desalination
#18 for Sanitary and
Storm Sewers
#29 for Water Supply
#43 for Sewer and Waste
RETAIL CLIENTS
IKEA
Bank of America
Darden
Target
CVS Pharmacy
Chick-fil-A
Starbucks
Kroger
LA Fitness
Macy's
Kohl's
Discount Tire
T
he one constant in retail is
change. Whether managing
through fluid financial mar-
ket cycles, the natural life
and death cycles of specific
retailers as shopping habits change,
or adapting and repositioning a
development project midconstruc-
tion to adjust to the market or ten-
ant realities, change management
always has been paramount in the
retail development world.
Reading the headlines today, one
could easily surmise that bricks-
and-mortar retail is rapidly on the
decline (see Retail Apocalypse!)
with the end not too far over the
horizon. Sales of commodities such
as electronics, office supplies and
books are migrating online. Class B
and C malls that primarily feature
"middle ground" retailers that are
neither luxury nor value oriented/
discount are under severe duress,
and many, if not most, will be repo-
sitioned over the next five to 10
years and beyond. The department
store model also is challenged with
retailers like Sears and J.C. Pen-
ney Co. on a severe downturn. This
could mean that a 1-million-square-
foot retail center might reposition
to have that leasable retail area
reduced and convert the balance to
a mix of amenities that bolster the
property and restore vibrancy to the
center.
While it is no secret that pres-
sures from e-commerce, and par-
ticularly Amazon, along with other
online shopping is impacting the
physical store dynamic, we are
strong believers that it will never
replace well-designed, properly
curated shopping
centers. What
e-commerce can-
not offer is the
human interaction
and experiences
that consumers
crave.
Our most suc-
cessful centers
here in Colorado
focus on develop-
ing public com-
munity spaces and
then activating
those with year-
round events.
While great archi-
tecture creates the framework for
these spaces, we focus on mature
landscaping, a variety of water
features and fountains, fireplaces
and comfortable seating that are all
accented by a comprehensive floral
program.
The real key is activation of the
space. Programs such as summer
concert series and farmers markets
in the shopping center's parks and
plazas (with those spaces convert-
ing to ice rinks in the winter time)
serve to draw the community as
they embrace these events and
make them their own.
The goal here is experiential
retail, creating the opportunity for
the consumer to socialize, linger
and thrive, and, ultimately, spend
more time shopping. It is critical
for retailers to focus on creating
an experience that simply cannot
be duplicated online. Omnichannel
retail is a great example of retailers
rolling out innovative technologies
that add value to the in-store expe-
rience. Stores are deploying wire-
less beacons that send promotions
to nearby shopper's smartphones,
along with augmented reality apps
that allow customers to visualize
clothing or how furniture might
look in their home. These new tools
add interactivity and fun to the
physical store.
To this end, as we look to our
development pipeline here in Colo-
rado, we are focused on creating
active, vibrant, mixed-use develop-
ment projects that incorporate 21st
century technology today's consum-
er expects and requires. Combining
residential over the right mix of
retail and adding an office compo-
nent to help drive daytime demand
for our restaurants is key to suc-
cess. Retail uses that include gro-
cery, theater, fitness, entertainment
and food help to generate the traffic
and recurrence of visits that will
benefit the balance of the shopping
center and are fairly well insulated
from the e-commerce threat.
One of our challenges with two of
our existing centers here in Colo-
rado is addressing the demise of the
department store. Retailers, such
Space activation key to create successful centers
Retail Trends
Bryan
McFarland
Principal,
development,
Alberta
Development
Partners LLC,
Greenwood Village
Wonder Works Studio
Centers should focus on developing public community spaces and then activat-
ing those spaces with year-round events, such as this movie night at The Streets at
SouthGlenn.
Please see McFarland, Page 27