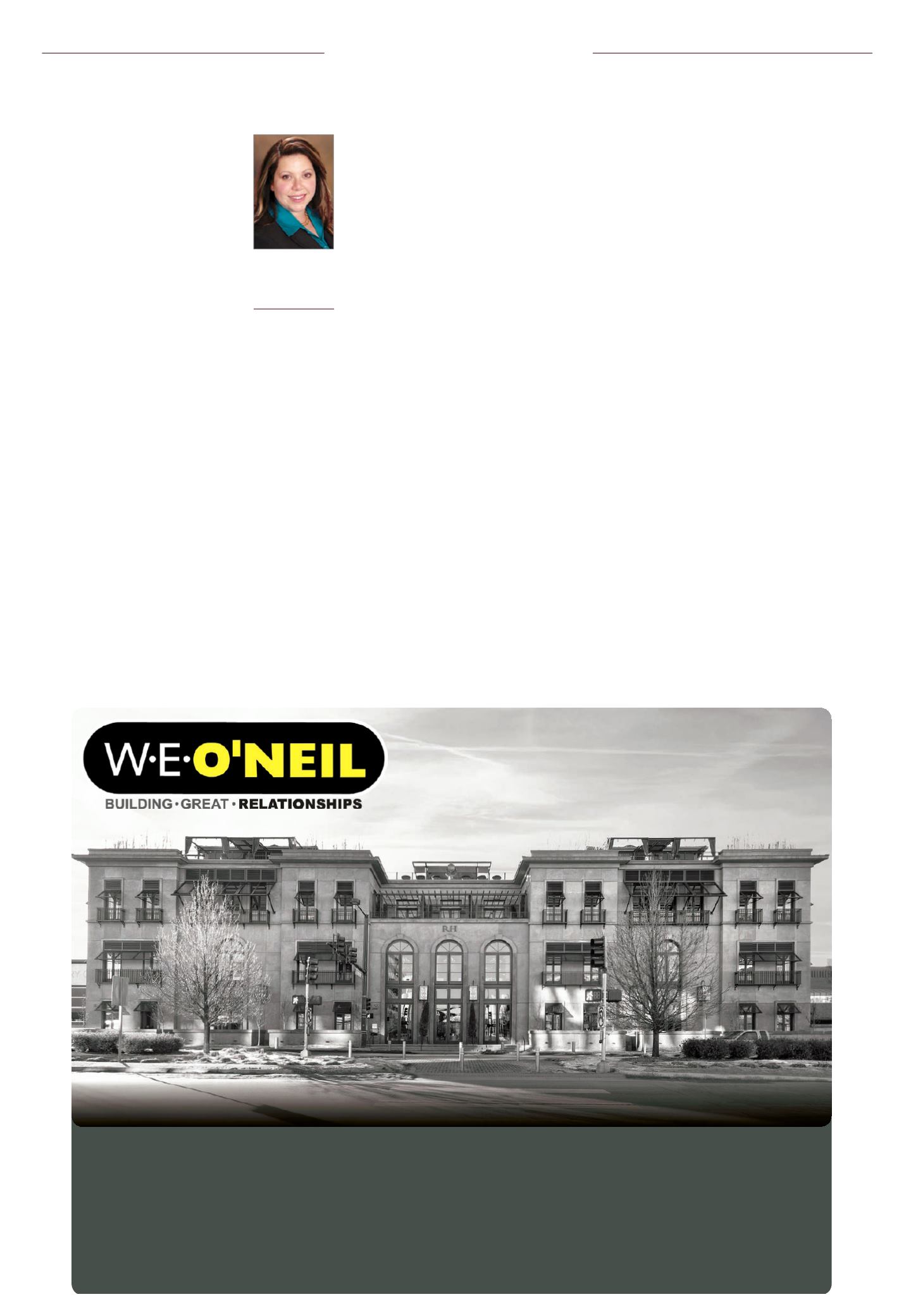 Page 22
— Retail Properties Quarterly — November 2017
www.crej.com
Associations: RMSCA
| K-12 | Higher Education | Retail | Municipal | Advanced Industries |
229Vallejo Street Denver CO 80223 | P 303.238.7900 F 303.462.212
8 www.weoneil.com
Empowering Our Clients for over
90
Years
A
s diverse and unique as the
retail industry is in the Denver
metro area, there is one orga-
nization that unites us all – the
Rocky Mountain Shopping
Center Association. Rooted within the
industry for over 20 years, the RMSCA
continues to carry out its mission: to
provide a forum for the mutually ben-
eficial exchange of information among
shopping center developers, owners,
managers, brokers, investors, retailers
and all professionals serving the Colo-
rado retail real estate industry.
The association's membership com-
prises retailers and vendors. Some
of the retailers include Cherry Creek
Shopping Center in Denver, Southlands
in Aurora, Aspen Grove in Littleton and
The Promenade Shops at Briargate
in Colorado Springs, to name a few!
Vendor members, those serving the
industry and offering a wide range of
services, include Swingle Lawn,Tree &
Landscape Care, All-Phase Restoration,
Colorado Lottery, Denver Commercial
Property Services, CAM Services and
Metro State Fire.
Having been an RMSCAmember for
more than 10 years, and now serv-
ing my first year as the association's
president, I personally can attest to the
high level of camaraderie and invalu-
able education I've gained throughout
the years. An investment with endless
returns, some of RMSCA's member-
ship benefits include discounted event
membership fees, International Council
of Shopping Centers continuing edu-
cation credits for RMSCA educational
events, members-only networking
events, discounted fees at local ICSC
events, access to a private online
resource directory, and the ability to
post job openings
on the RMSCA web-
site and share with
those in its email
database.
Our events are
social and educa-
tional – in other
words, we have fun
and learn a lot along
the way. Events
in 2017 included
multiple luncheons
that featured timely
topics and notable
guest
speakers.We
kicked off the year
withTom Clark, CEO of the Metro Den-
ver Economic Development Corp., and
executive vice president of the Denver
Metro Chamber of Commerce, present-
ing the 2017 Economic Forecast. In the
spring, we hosted a mix and mingle
with members and guests at Northside
Tavern in Broomfield, and in June we
came together for an evening happy
hour at Southlands – the state's largest
outdoor shopping district. Our most
recent luncheon featured Colorado
state demographer, Patricia Silverstein,
sharing demographic trends and fore-
casts impacting the Denver metro area.
•
Mark your calendar.
Nov. 9 from 11
a.m. to 1:30 p.m. marks the fifth annual
RMSCA Star Awards.This event recog-
nizes outstanding retail real estate proj-
ects and industry leaders in Colorado
and will be held at the Curtis Ballroom
at The Landmark.
New categories added toThe Star
Awards this year include Extraordinary
Service Provider and Retail Property
Management TeamMember of the
Year. Additional categories include
marketing campaign, social media
campaign, public relations/community
outreach involvement, sustainable
enhancements, value enhancements
through renovation/remodel or new
construction, and innovative leasing
concepts.
We are seeking sponsors and nomi-
nations in all categories. Sponsoring
the RMSCA Star Awards supports the
retail real estate community and puts
businesses in front of industry leaders.
Tiered sponsorships include a host of
benefits with the bronze sponsorship
starting at $300. I invite those working
in the commercial retail industry to
partake in the event as we recognize
local industry leaders, network and
learn about the fantastic initiatives tak-
ing place in our very own backyard.
•
Forward thinking.
It's been a produc-
tive year thus far, and 2018 promises to
be just as dynamic. A sneak peek of our
future programming includes an explo-
ration of the current trends and the
evolution of retail, discovering the best
social media marketing techniques,
and discussions about best practices in
new retail developments.These educa-
tional luncheons are open to the public;
however, RMSCAmembers pay a dis-
counted price – a membership perk!
Along with our educational lun-
cheons, we will continue to host happy
hours specifically designed to build
connections and community.These
events are empowering and invite us
out from our workspaces for face-to-
face conversations and sharing of our
own best practices.
•
Meet our directors.
RMSCA's board
of directors is representative of our
membership that draws frommultiple
specialties.
• Diana Fiore – president; general
manager,The Shops at Northfield Sta-
pleton with Forest City RealtyTrust
• Jackie Herbst – past president and
communications committee; account
manager,Team K Services
• DeanTitterington – vice president
and co-chair of the programs commit-
tee; managing partner, Peak Property
Management
•Tom Gendreau – secretary and com-
munications committee; operations
director,Town Center of Aurora with
Washington Prime Group
• Kelly Goodnough – treasurer; senior
associate, Alberta Development Part-
ners
• Melissa Koenig – membership chair;
client liaison, All Phase Restoration
• Steve Barone – membership com-
mittee; business development, Metro
State Fire
• Joyce Rocha – communications
committee; director of marketing,
Southlands with Northwood Retail
• Ran Meng – ICSC committee;
regional property manager, Regency
Centers
With nearly 20 years' experience
in commercial management, includ-
ing the last three years as the general
manager of The Shops at Northfield
Stapleton, my time has been greatly
enhanced because of the connections
and relationships I have made through
RMSCA. I'd like to take this opportunity
to invite those in the industry to join us
and take advantage of all of the ben-
efits that our organization offers.
For more information about RMSCA
and to join, visi
t www.RMSCA.net.
▲
Where insights and knowledge are always in store
Diana Fiore
President, Rocky
Mountain Shopping
Center Association,
Denver