1 / 28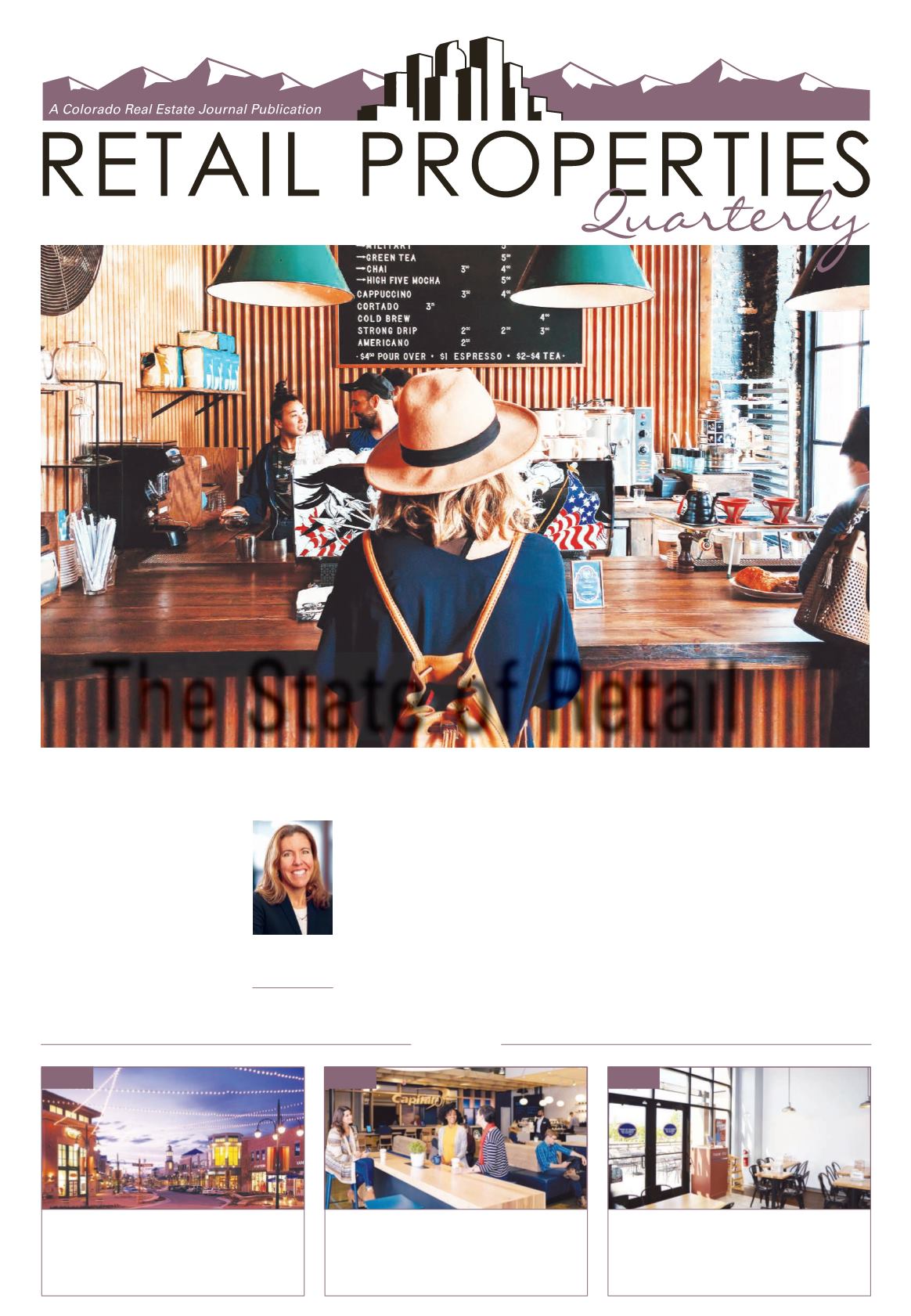 While not immune, Colo. adapts to retail shift
INSIDE
M
ost retail real estate own-
ers have been bracing
themselves for bad news.
With all of the news
of store closures and
e-commerce growth, it would seem
that retail vacancy rates would be
well over 20 percent and that retail
rents would have plummeted by
now. But the fact is, this doom-and-
gloom storyline is overblown. What
goes unmentioned is the expand-
ing retailers, including food stores,
gyms, restaurants and other service
or entertainment venues that do
not fit the usual
retailer profile.
In the Colorado
markets, the num-
bers have largely
stayed flat in
three of the larg-
est markets (Boul-
der, Denver and
Colorado Springs)
while Fort Collins
has seen vacancy
rates increase from
14.2 percent from
the end of 2016 to 15.7 percent at
midyear. Colorado Springs has seen
vacancy rate increase 0.2 percent to
13.6 percent at midyear; Boulder's
vacancy rate has remained flat at
12.4 percent; and Denver's vacancy
rate also stayed flat at 9.7 percent.
On a year-to-date basis through
June, asking rents have increased
2.6 percent in Denver, 0.2 percent
in Colorado Springs, 0.5 percent in
Boulder and 0.1 percent in Fort Col-
lins.
A more surprising yet reassuring
statistic is the growth in retail jobs
in the state. Looking at the growth
in average retail employment in the
first five months of 2017 compared
to the first five months of 2016
shows that retail has grown in line
with the overall economy. Retail
employment has grown 0.5 percent
in Boulder, 4.3 percent in Colorado
Springs, 1.2 percent in Denver and
3.4 percent in Fort Collins. In less
populated areas where there are
no retail real estate statistics, the
employment numbers are just as
buoyant: Pueblo has seen year-over-
Many Colorado malls are evolving to
answer new consumer demands.
The state of retail
PAGE 12
Help ensure your next retail tenant improve-
ment project is on time and on budget.
Planning TI projects
PAGE 24
Capital One is designing its new real estate
locations to embrace the digital generation.
Banking reimagined
PAGE 18
Please see Page 25
August 2017
Barbara Byrne
Denham
Senior economist,
Reis Inc., New York
The State of Retail