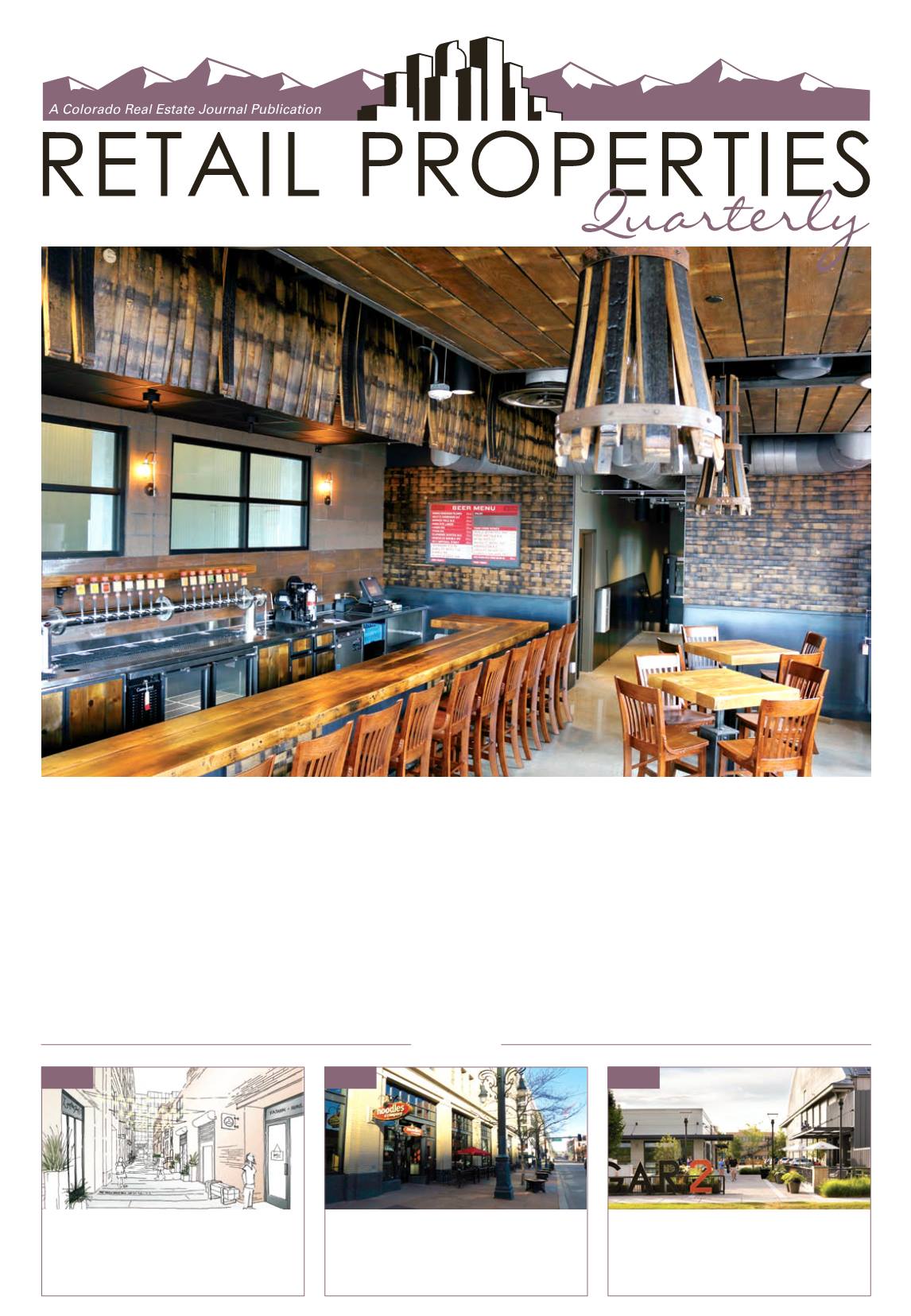 As the alcohol-beverage production
industry becomes a larger economic
contributor to the state, its commer-
cial real estate footprint increases
exponentially. And as this industry
evolves to embrace a robust front-of-
house as well as production, the retail
component becomes more important.
"I think it's kind of an evolution of
the bar business," said Nate Heckel,
vice president with Cushman &
Wakefield in Fort Collins. Over the
past five years, conversations have
shifted from opening a bar to opening
a brewery, he said. "I joke that there
are not really bars anymore, they're
Historically, alcohol-production
companies were located in manu-
facturing and industrial space, but
this is changing as many are finding
themselves outgrowing their space
due to high customer demand.When
moving to new locations, companies
are putting a larger emphasis on
front-of-house retail as a way to grow
For example, when The Infinite
Monkey Theorem opened in 2008, it
had a footprint of about 8,000 square
feet that consisted of a courtyard
and two buildings – one for produc-
tion and the other for offices, said
Ben Parson, winemaker and CEO. In
2012, the winery moved to a 30,000-sf
footprint, with a 10,000-sf winery, a
2,500-sf taproom and 2,500 sf of office
The new site had to have enough
room for production and space for
more retail-oriented opportunities. "It
really just had to be a certain size and
in a certain neighborhood," Parson said.
The beverage production industry,
both alcohol and nonalcohol beverag-
es, was identified as a major employ-
ment and economic contributor by
the Metro Denver Economic Develop-
ment Corp., which tracks industry
clusters for a nine-county region that
includes Adams, Arapahoe, Boulder,
Broomfield, Denver, Douglas, Jefferson,
Larimer andWeld counties.
About 180 beverage companies
Photo courtesy Great Divide Brewing Co.
Destination breweries, like Great Divide Brewing Co.'s new spot in RiNo, often offer tourist attractions, including brewpubs, restaurants, gift shops, private event spaces and beer gardens.