1 / 24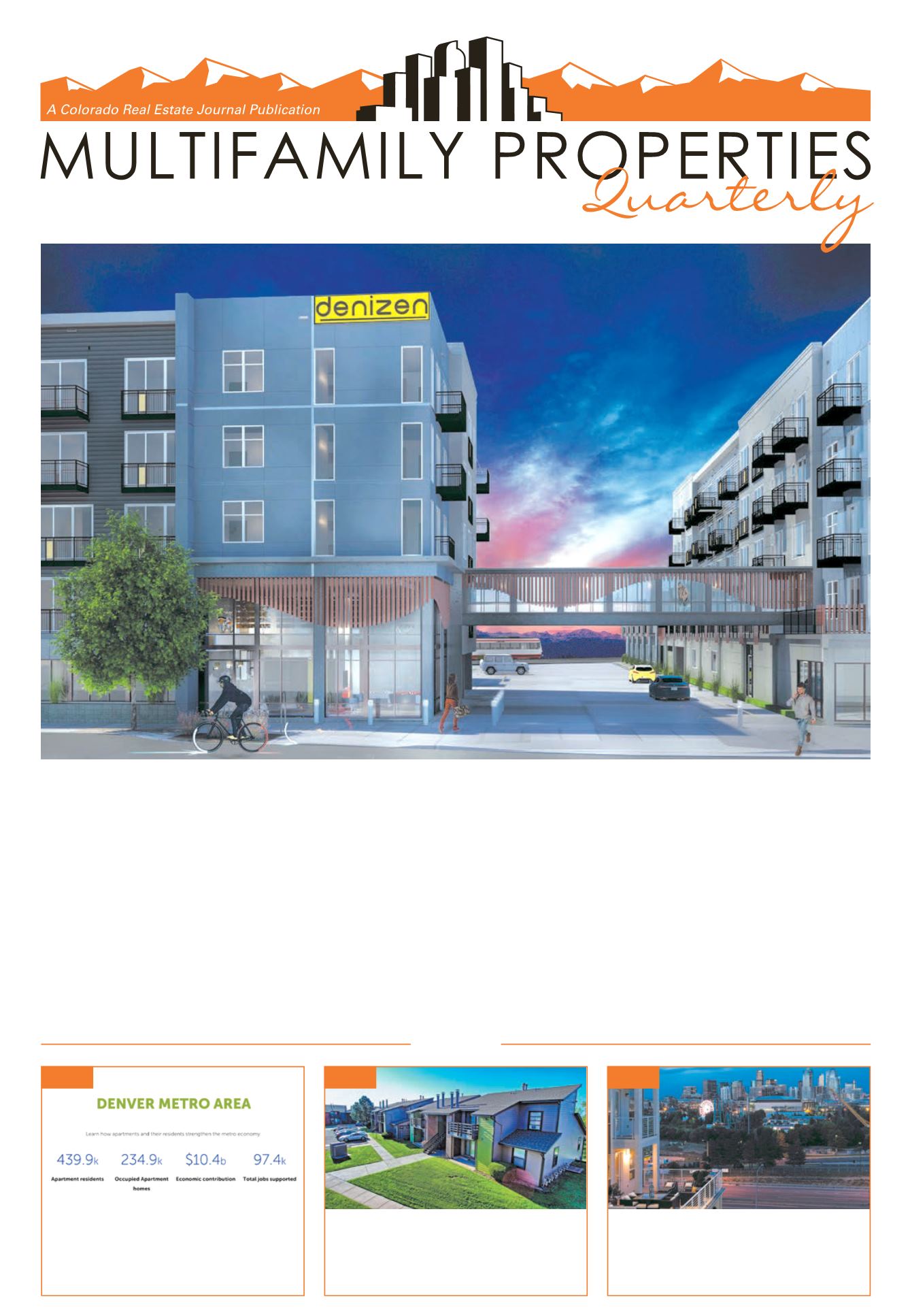 INSIDE
by Ryan Gager
The connection residents feel to
Colorado and the desire to take care
of the state are merging with new
development, and the results speak
for themselves. The U.S. Green Build-
ing Council recently released its 2014
list of the Top 10 States for LEED, the
world's most widely used and recog-
nized green building system. Colorado
came in at No. 2. Since 2008, 160 LEED
buildings were built or are under con-
struction, according to the Colorado
Energy Office.
"It's a testament to the collective
consciousness in Colorado," said Dan
Cohen, development manager of D4
Urban. "I think we generally live in
a more progressive state, and from
a developer perspective, we are try-
ing to build a product to cater to the
people living here."
D4 Urban is currently under con-
struction on Denizen, a multifamily
project that is pursuing LEED Plati-
num certification, which would make
it the first market-rate multifamily
project in the state to achieve the
certification. The 275-unit Denizen,
located at the Alameda light-rail sta-
tion, is the first phase of a broader
densification of the Denver Design
District. The light-rail station is situ-
ated next to a rail yard and behind
big-box store loading docks, giving it
an industrial feel.
"The idea is to transform a hidden
station into a vibrant and dynamic
place," said Cohen. Because of its
open location, which does not border
a main street, the site required mul-
tiple sides of activation, which, along
with pursuing LEED certification,
added to the cost.
Cost is one of the challenges fac-
ing developers pursuing LEED cer-
tification for their buildings, but it
doesn't stop there. "Denver's growth
spurt provides both challenges and
opportunities," said Sonrisa Lucero,
sustainability strategist, Denver Office
of Sustainability. "The city is sprawl-
ing out and building up, becoming
more dense, so there are some chal-
lenges with land costs while preserv-
ing neighborhoods at the same time.
But this is an exciting time, a time to
push innovation and creativity."
LEED certification costs differ
depending on if the building is new
construction or if upgrades are made
to an existing property. Mainly, the
The multifamily market has a direct and
positive effect on Denver's economy.
Economic Impact
PAGE 4
Apartment developments attract renters
with great amenities in prime locations.
Amenity Trends
PAGE 18
Several cities in Colorado are thriving in
the apartment rental industry.
Submarket Reports
PAGE 10
Photo courtesy: D4 Urban
Denizen is a multifamily development pursuing LEED Platinum certification.
Please see Page 14
April 2015
Colorado's
consciousness
toward
energy
efficiency