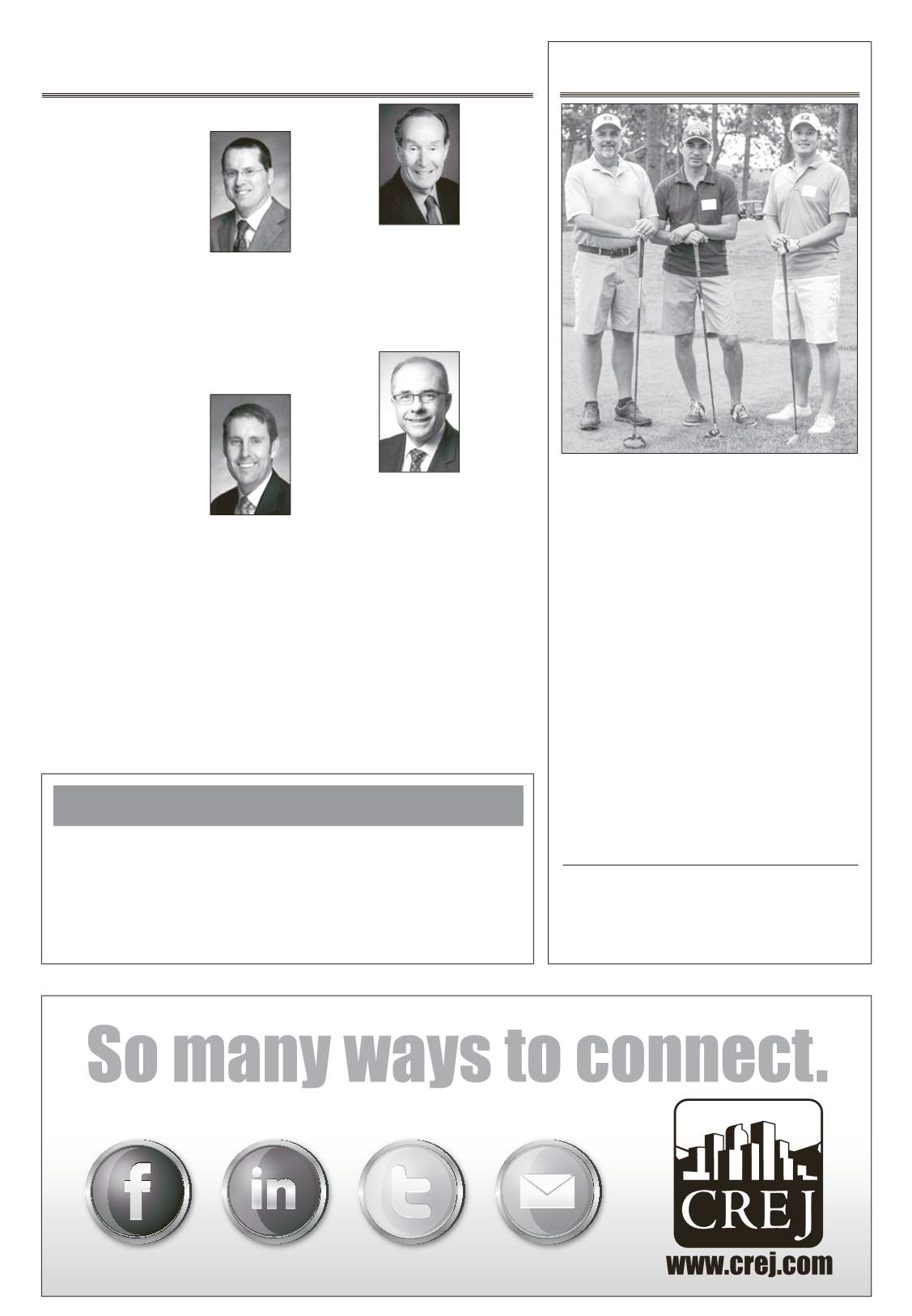 COLORADO REAL ESTATE JOURNAL
— September 16-October 6, 2015
Real Estate Consultants of
Colorado LLC
members to its buyer/tenant rep-
Tyler R. D'Egidio
commercial consultant to REC.
D'Egidio attended the Univer-
sity of Colorado's law school.
He earned a bachelor's degree in
business administrationwith an
emphasis on real estate from the
Prior to joining REC, he worked
for the U.S. Department of Hous-
ing and Urban Development and
the U.S. Bankruptcy Court, and
has experience dealing withmat-
ters surrounding the Fair Housing
Act andAmericans with Disability
Act and single-asset real estate
Elizabeth M. Leder
the firm, which provides buyer/
tenant representative services, as a
As an attorney, Leder previously
practiced inmultiple areas, includ-
ing litigation involving commer-
cial lending practices, mortgage-
backed securities and bank fraud.
She received her lawdegree
from the University of Denver
and a Bachelor of Science inmedia
studies and a minor in political
science from the University of
Nathaniel Wallshein
Otis, Bedingfield & Peters LLC
He joined the law firm after
most recently serving as a law
clerk for R. Michael Mullins of
the Denver District Court and as
a judicial fellow for Norman D.
Wallshein received his under-
graduate degree from the Univer-
sity of Connecticut and earned his
Juris Doctor from the University
His practice at the firmwill
focus on complex commercial
litigation, probate litigation and
JLL
Kevin Foley
AndrewWillson
20 years of experience in com-
mercial real estate, joins the firm
fromCBRE, where, as a senior
vice president on the leasing team,
he was directly responsible for
the completion of more than 700
leasing transactions totalingmore
than 5 million rentable square feet.
He is a graduate of Regis College.
Willson joined the professional
lion sf of office space in the metro
Denver area. He has 14 years of
commercial real estate experience
in landlord representation. Willson
received his bachelor's degree and
his Master of BusinessAdmin-
istration from the University of
John W. Madden III
G.
Brent Coan
Payne LLC were included in the
The Best Law-
yers in America
Madden was selected for his
work in construction law and
Coan was selected for inclusion
for corporate and real estate law.
Madden has significant experi-
more than 35 cases. He also was
a named partner at Brownstein
Hyatt Farber &Madden for 18
years and served as regional
director for the Federal Trade
Commission's Denver office.
Coan's law practice focuses
on corporate and real estate
to financial institutions and
lender/creditors' rights involving
real estate and commercial loan
Layer Cake Creative
Jason J. Zotara
Madeline
"Maddy" Meehling
Zotara is a digital marketer
with more than 15 years of con-
centrated experience in market-
ing strategy, implementation and
analysis across a wide range of
Meehling is a graphic designer
who joined the marketing, pub-
licity and digital service firm. A
graduate of Marquette University,
she has five years of experience in
client-facing roles. Prior to joining
the firm, she worked for a Chica-
go-basedmarketing agency.
Who's News
High Fives!
2002 and is the primary fun-
draiser for the ACEC Colo-
rado Scholarship program,
$40,000 in 2015-16 scholar-
ships to high school and col-
lege engineering students.
"Supporting the education
of engineering students is an
investment in our industry,"
said ACEC Colorado Presi-
"We are committed to grow-
ing the scholarship fund,
which is one of the ways we
support the future engineer-
Applications for the 2016-
17 College Scholarship Pro-
gram will be available in
org/scholarships-awards/.
full-time students pursuing
a bachelor's degree from a
university engineering pro-
accredited by the Accredi-
tation Board for Engineer-
ing Technology. Applicants
also must be college juniors,
seniors or fifth-year seniors
in a five-year program by
fall of the 2016-17 academic
year; be a U.S. citizen; and
Joyce and Ray Jones
Yeh & Associates' golf team took first place in ACEC Colorado's
golf tournament, a benefit that supports scholarships for Colorado
engineering students. From left are Bill Scheuerman, Ty Ortiz and
Calvin Yeh.
High Fives! recognizes good deeds and accomplishments
by companies and individuals in the Colorado commercial
real estate industry. Please share your good news
and photos with us by emailing
Submissions should be 200 words or less.
Kevin Foley
Andrew Willson
John W. Madden III
G. Brent Coan
Mark Jenkins
Rapid
Restoration & Construction
vice president of construction.
Jenkins spent the last 10 years
at AMLI inAtlanta. Jenkins
was promoted to regional ser-
vice director in 2007 and subse-
quently became the director of
building operations in 2012.
During the majority of his
time as director of building
operations he was responsible
for operational support and
capital projects for the Denver,
Chicago, Southern California
"I am excited to start a new
challenge within Rapid Resto-
ration & Construction and look
forward to working with the
team to further develop their
already extensive products
and services," he said. "I am
fortunate to be joining such a
respected company that prides
itself on top quality service."
Jenkins will provide a high-
level due diligence and consul-
tation service for commercial
and multifamily properties.
Property Management Who's News