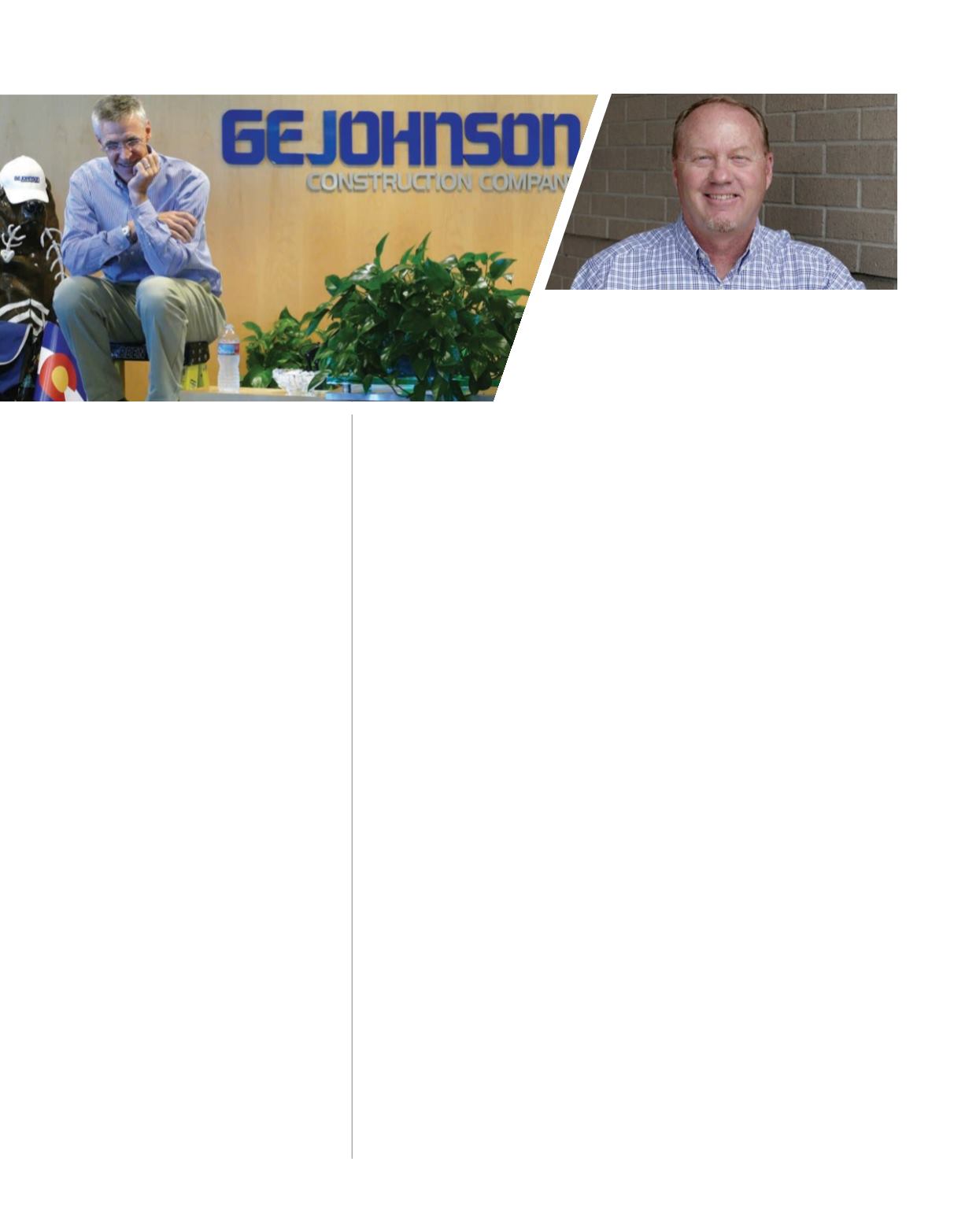 86
/ BUILDING DIALOGUE / SEPTEMBER 2017
/ Life Moves Pretty Fast /
LEFT:
GE Johnson CEO Jim Johnson reflects
on 50 years.
RIGHT:
Tim Redfern, an employee-owner,
joined the company in the mid-80s as
a carpenter's apprentice, working his
way through the ranks.
manage the large operation the firm had become,
Jim sought new types of business professionals
to support him. After three years with Jim at the
helm, Gil passed in 2000 and GE Johnson Construc-
tion, a family held business of 33 years, was ready to
evolve.
"I transitioned the company to an employee-owned
business," Johnson shares proudly. "To be competitive I
knew we needed to grow the company and I felt like making the employees
the biggest beneficiaries of the firm's hard work made sense."
Tim Redfern is an employee-owner, one of many longtime employees
who has earned Jim's deepest trust by sticking with him through the transi-
tion. Redfern joined the company in the mid-80s as a carpenter's apprentice,
working his way through the ranks. He began leading high-profile projects
in the '90s including the U.S. Olympic Training Center expansion beginning
in 1992, his first project as superintendent.
"It's great to be able to look back over more than 30 years with the same
outfit and feel like I've helped build a lot more than just buildings," says
Redfern, now a senior superintendent. "I look at our list of superintendents
and see lots of guys I brought up. It feels good to know I helped these people
become respected professionals who can build anything there is."
In the years since the transition to employee-owned, GE Johnson has
continued to ride industry and economic tides, including the recession,
new alternative delivery strategies, and the constant struggle to maintain
high-quality subcontractors and skilled labor on projects spread across Colo-
rado, Wyoming, Oklahoma and Kansas.
"Taking the company nonunion in 2009 had to be the bravest decision
we've made as an employee-owned business," says Johnson confidently. "The
trust between the field staff and superintendents who selflessly mentored
so many guys compelled people to choose to invest their futures here rather
than with a union."
Today the challenge of skilled labor availability remains, and GE John-
son once again is aiming to make an impact on the individual level where
change takes root. In 2016, The GE Johnson Construction Company Commu-
nity Foundation awarded $250,000 to Pikes Peak Community College Foun-
dation and the Foundation for Colorado Community Colleges to create a
pipeline of future skilled workers to Colorado's construction industry, while
providing scholarships to students at rural community colleges statewide. It
also is investing in getting vocational trade programs back into local high
schools and has partnered with several Colorado school districts to rebuild
curriculums by providing guidance and resources.
"Today we are building all kinds of exciting projects," say Johnson. From
Agilent's high-tech pharmaceutical manufacturing project in Frederick, to a
29-story mixed-use high-rise for Shea Properties and the Pikes Peak Summit
Complex, which will welcome 750,000 visitors a year, GE Johnson is building
a bit of everything.
"Tim is back home with an old client building the new U.S. Olympic Mu-
seum in Colorado Springs, continuing a relationship he started for all of us
some 25 years ago," says Johnson with a nod toward Redfern. "It's important
to stop and reflect on 50 years of hard work and success. I'm grateful that GE
Johnson is still family."
\\